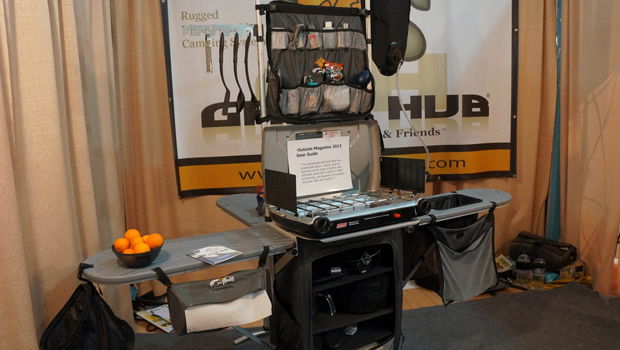 Grub Hub Portable Camping Kitchen
The Grub Hub Portable Camping Kitchen makes camping easy by providing a compact camp kitchen and eliminating the need for multiple bags and bins to haul cooking gear. Along with other camp kitchens the Grub Hub provides the benefits of hauling gear and providing workspace, but it is different because of its compactness and portability. It is built with modular aluminum and molded components. Fully loaded with gear the Grub Hub measures 38" x 24" x 15". Being so compact it fits easily in small cars, motor boats, and canoes. There are many built in features such as a tower to support lighting, air dry bags, paper towel holder, litter bag and folding sink. The Grub Hub is functional and aesthetically pleasing keeping everything at hand with shelving and organizers. The Grub Hub is very convenient for campers and is a well-engineered, serious piece of equipment built for extended outdoor use in all conditions.
The Grub Hub is great for any outdoor enthusiast but is especially great for families because of the ease of set up and take down. Cooking at your campsite can be a pain since you pretty much have to bring a mobile kitchen in tubs and containers. The Grub Hub makes it easy allowing all of your camping kitchen to be stored away and set up in minutes. It gives families the opportunity to make cooking outdoors enjoyable and enjoy a real meal rather than a dehydrated or hot dog over the fire.
The Grub Hub can even be useful on boat camping trips in a canoe, raft, motorboat or pontoon. It is lightweight and compact enough to easily fit and gives you many more options for cooking. It can also act as a hub to store other items on a trip where space is key.
Price: $379