Guppies Fishing Adventures for the win!
Los Angeles is a crazy place. Four million people in only 469 square miles make Los Angeles County the most populated county in the country. It's dense, busy, and it takes forever to get anywhere. When I think about the city of Los Angeles, fishing is not something that comes to mind. My Midwestern upbringing tells me that fishing is just something that can't happen in that city, and it turns out that I'm wrong about that.
When I was planning the Los Angeles Field trip for 50 Campfires, I stumbled across a company called Guppies Fishing Adventures. I called them up and spoke with the owner, Lorenzo Sandoval. "Sure! I take people out all the time, right in the heart of LA. We kill it on Lake Balboa." This didn't compute for me, but I was curious, so we set aside an entire day to fish with Lorenzo on Lake Balboa.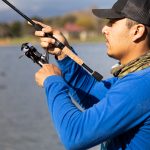 On this day of fishing we were outfitted with two Zebco combos that I highly recommend.
The Roam combo is perfect for beginners that might be doing more bobber fishing, and the Spyn combo is ideal those looking to do more bait casting, due to the faster retrieve. Both worked flawlessly all day and you can't beat the price.
When I rolled up Lorenzo had already set up shop. He had a tent and table set up with merchandise and information about his guided fishing trips. I also have to mention that Lake Balboa was a happening scene. A food truck was roasting barbacoa, and the playground was full of kids. It would be a fun place to spend the day even if you weren't fishing. So, with all of this going on, Lorenzo from Guppies Fishing Adventures sets me up to catch carp and before you know it one hit. I've never caught a carp before, and to be honest we don't really fish for them in Minnesota, but what a fight! The carp ran over 100 yards roasting my drag the entire way. After about 15 minutes I thought my forearms were going to explode, but Lorenzo's expert guidance prevailed! "Lean this way! Now lean that way! Let him run! Reel slowly!" I did everything he said and ended up holding a good sized carp for the picture. I would have never guessed that carp fishing would be that exciting but wow – the fight reminded me of northern pike here in the Midwest. It was incredible.
Guppies Fishing Adventures works with all ages and all types of fishing. He can take your family out in the city for a chill afternoon on Lake Balboa or out on a boat for some saltwater adventure. When it comes to any outdoor guide, their demeanor makes or breaks the day, and Lorenzo is one of the most encouraging and positive people I've ever met. I can't recommend him highly enough. If you're looking to get your kids away from the electronic devices for a day, this would be a solid choice.