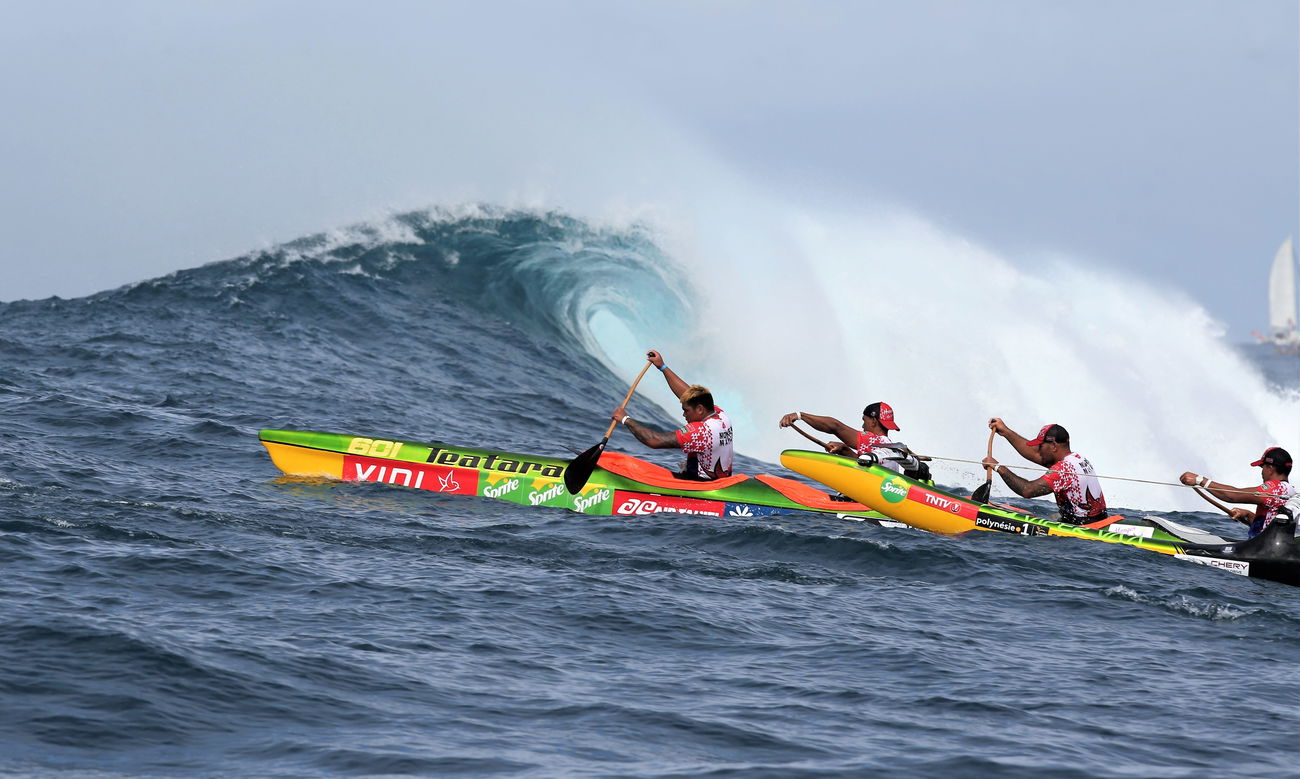 Big Adventure: Hawaiki Nui Va'a, The World's Biggest Open-Ocean Canoe Race is As Badass As it Sounds
As I clutched the side of the boat, drenched, shivering and desperately trying to keep my breakfast down, I couldn't help but remember that Steve had tried to warn us.
Steve was one of a handful of journalists who, like me, had been dispatched to Tahiti in late October to cover the Hawaiki Nui Va'a, the biggest open-ocean canoe race in the Pacific, a grueling, three-day event that connects four islands via three open-ocean crossings. But unlike most of us, Steve lived in nearby New Zealand and had been to Tahiti before. He knew what the waves would be like. And he knew the captain.
"Just so you know," he'd confided to me that morning, jerking a thumb toward Captain James. "James there has two speeds: Standing still, and gunning it." At the time, I just shrugged. I was here to follow a boat race. The lead paddlers — most of whom were Indigenous Tahitians with decades of paddling experience and thousands of years of generational history in the sport — would be fast. Surely it couldn't be a bad thing if we were faster?
Then James hit the throttle.
The floor surged beneath my feet as the bow lept up to meet the waves, sending me tumbling into another journalist at the back of the boat. Two other writers clung to the sides, white-knuckling the buoy ropes, cheeks practically rippling away from teeth with the speed of the charge. Steve sat perched in the stern, laughing. Later, I learned that he and Greg, the other Kiwi on board, had made bets on which of the writers would vomit first.
The fishing boat rode the swells like a bull rider, crashing into troughs and catching foam on every crest. Seaspray battered my face. Whole waves poured in through the neck of my rain shell and out through the hem, soaking the rest of me in the interim. I tried to laugh, but it came out a weird, broken gurgle through my chattering teeth.
I turned to the writer next to me, Nick, who was shivering.
"Are you OK?" he asked. "Your lips are blue." Just then, I heard Valeria retch over the side of the boat. Steve and Greg all but high-fived.
This was just day one.
The Pre-race Buzz
I arrived in Tahiti on October 24, a few days before the start of the Hawaiki Nui Va' race. On the way to my hotel, I asked my Uber driver if he planned to watch. He nodded. "Of course. Everyone follows the Hawaiki Nui Va'a." Then I asked him if it would rain. He shook his head: It never rains in Tahiti. He was right about one of those things.
Before I arrived, I had no idea how popular this race would be. In the states, canoes are tools of summer camp kids and retirees; I never actually thought they could be cool. But in Tahiti, the boats are sleek and beautiful, sized to fit six paddlers and wicked fast on the water. Here, canoes were definitely cool. And so was the Hawaiki Nui Va'a.
For locals, the Hawaiki Nui Va'a is a proud symbol of Polynesia's long history of ocean travel. And this race — the first one held since 2019, before the start of the pandemic — was an especially poignant symbol of resilience.
Covid-19 hit the islands hard. A pervasive mistrust of Polynesia's French government undermined vaccination efforts. During the last two years, hundreds of people have died. Some speculate that whole Indigenous communities may have disappeared. But now, we stood on the other side of all the tragedy. The race was finally back. The only trouble was the weather.
"The wind is strong," worried Haamatai Leon, one of the athletes. I chatted with him the day before the race. We sat on metal chairs in a grassy yard, while palm trees thrashed against a gray sky. He looked up at the clouds. "I've been paddling for 15 years, and this is the first time I have ever seen wind like this." The waves were big enough to break a canoe. He said he'd be surprised if they didn't snap at least a couple.
Still, it wasn't about to deter him.
"My father and grandfather all used to paddle. I've been paddling since I was seven years old," he said. "Paddling is in my blood. I cannot live without it. And the Hawaiki Nui Va'a is the most beautiful race in the world." Besides, he added, his team was like his family. Both they and his real family — including his one-month-old son — were counting on him.
"This race is big for me," he said. "It makes me proud to be Polynesian. It makes me proud of my culture." So, come wind or high water (or, likely, both) he was going to be at the starting line tomorrow.
It wasn't until after the interview that I learned the meaning of his name. Perhaps fittingly, Haamatai is the Tahitian word for wind.
Polynesian Pride
The cultural pride Haamatai spoke of is no small thing. Maruia, our guide for the weekend, told me that when she was in school, many of her classmates lied about being Indigenous. They chose to learn English or Spanish in school (in addition to French, the official language of French Polynesia) instead of Tahitian. Everyone pretended to be of European descent, she said, and many people her age felt ashamed to be Indigenous. They wanted to hide their roots.
Now, the Hawaiki Nui Va'a may be helping reverse that trend, especially among the new generation.
"It's the sport of all Tahitian people. It makes us connected to the ocean," explained Ranitea Mamatui, a champion 18-year-old paddler who lives and trains in Tahiti. When she was young, she chose rowing over dancing as her extracurricular activity, bucking tradition. Now, she's fallen in love with the sport — and the way it's made her feel more connected to her roots.
Women on the Water
Ranitea's goal is now to share the sense of empowerment that paddling has brought her — and help other women to experience the same.
Historically, there haven't been a lot of women in open ocean racing. Despite Tahiti's matrilineal culture (and 2,000-year-old tradition of putting women in roles of power), French Polynesians have long looked down upon women's participation in athletic competitions. Now, Ranitea says, women are finally becoming more interested in traditional sports.
Even so, Hawaiki Nui Va'a organizers still only let women row one of the three legs of the race course — the middle leg, which would happen Thursday. The prize purse is also much smaller for women than it is for men, Ranitea says. But if trends continue, we may one day see a women's field just as big as the men's.
At the end of our chat, I had one last question for Ranitea: I asked her if she was worried about the weather.
She just laughed.
"Tahitian people are not afraid to cross the ocean," she told me through a translator. "It's a part of our story and culture, and it's what our ancestors have always done." Ahead of the race, she isn't scared, she says. She feels strong and ready. The ocean is a part of her. It feels familiar. And she knows it will take care of her as it has been taking care of her people for thousands of years.
Ranitea's Race
On day one of the men's race, I only wished I shared Ranitea's confidence. By that evening, we bedraggled journalists were drenched, nauseous and mildly hypothermic. Nick and the photographers slept on a catamaran while two of the other writers and I slunk off to a hotel for hot showers.
That night, we watched heavy rain smack against the windows and did what we could to dry our clothes. No boats had broken on day one, but we weren't sure what day two would bring.
As if by a miracle, by the time Ranitea's race started on Thursday, the sun had come out and the winds had calmed. We could see visible relief on the faces of the athletes, even from our boat. They were moving faster now, like they'd caught hold of some kind of invisible power. The rhythm of the ocean, maybe. Or that kinship with the waves that Ranitea had said runs in Polynesian blood.
Regardless, their spirits were up. And mine were, too. Ranitea did well, finishing first in her category. Now, there was just one leg of the men's race left. At a whopping 36 miles, it was the longest. And after two days of hard paddling, the men were already exhausted.
We loaded onto the boat early Friday morning. Thanks to James's madcap driving, we got to Bora Bora, the final island of the course, a little too early. So, he stopped the boat to let us swim.
I grabbed a snorkel and dove in. The water was clear and shot through with beams of sunlight. Spotted reef sharks, small and docile, drifted beneath us. I started to understand what Ranitea had said about how familiar the ocean could feel. Here, it did feel comforting — like it was taking care of us.
Fighting for Victory
A few hours later, James pulled the boat into the translucent blue waters of the Bora Bora lagoon. Steve, Greg and I jumped out and splashed through the shallows to get to the finish line. There, we joined hundreds of other people elbowing for a clear view of the finish.
When I spotted Haamatai's boat coming in hot for a proud third place, I started screaming. The athletes strained against the oars, heads down. I cheered until I was hoarse. Watching Haamatai cruise across the finish line — and then hug his infant son on the shore — was more emotional than I expected. I think I told Steve it was just the salt water, but I had tears in my eyes.
Most of the time I go on an adventure of this caliber, I look at them as a bucket-list item to be checked off and forgotten. But now I know why Steve and Greg keep coming back year after year. I'd never seen anything like this. I'd never been so immediately and fully immersed in another culture or given such a poignant sense of the ancient power of a place.
After the race, I watched the athletes, decked out with traditional flower crowns and ear-to-ear grins, as they dismantled their canoes and began to pack them away. All around me, people were already talking about next year. They'd be back, they said.
And with any luck, so would I.
Do It
Here's what you need to know to visit French Polynesia and experience the Hawaiki Nui Va'a race for yourself.
When to go
This year's Hawaiki Nui Va'a takes place November 1-4, 2023. I recommend arriving two to three days ahead of the event to relax and adjust to the time zone, and staying two to three days after to see the islands and try your hand at va'a in one of Bora Bora's lagoons.
Where to stay
There are a number of great hotels and inns throughout the islands. I recommend the Te Moana Tahiti Resort on Tahiti, the swanky Maitai Lapita Village on Huahine, and the Bora Bora Holidays Lodge and Villa, which is more affordable than some other options and has a great sustainability focus. (It's also close to the Bora Bora Yacht Club, which is a wonderful local hangout right on the water). If you're feeling fancy, you could also book a stay at the Vahine Island Resort and Spa, a gorgeous private island with five-star dining close to the race course.
What to eat
French Polynesia boasts a unique mix of South Pacific fare (think Hawaiian-style pork, sushi, and poke bowls) and French cuisine. Be sure to try Tahitian poisson cru, which is a traditional fish dish marinated in coconut milk. As for restaurants: I recommend Poke Bar II, a fun food truck in Tahiti with awesome poke bowls and smoothies. On Bora Bora, be sure to check out Bloody Mary's, a local classic that's been frequented by a vast roster of celebrities over the years.
Other must-dos:
Hire a charter boat to swim with sharks, go snorkeling among the coral reefs, check out the swell at world-famous surf spot Papara, or try ocean paddling for yourself with any number of local outfitters.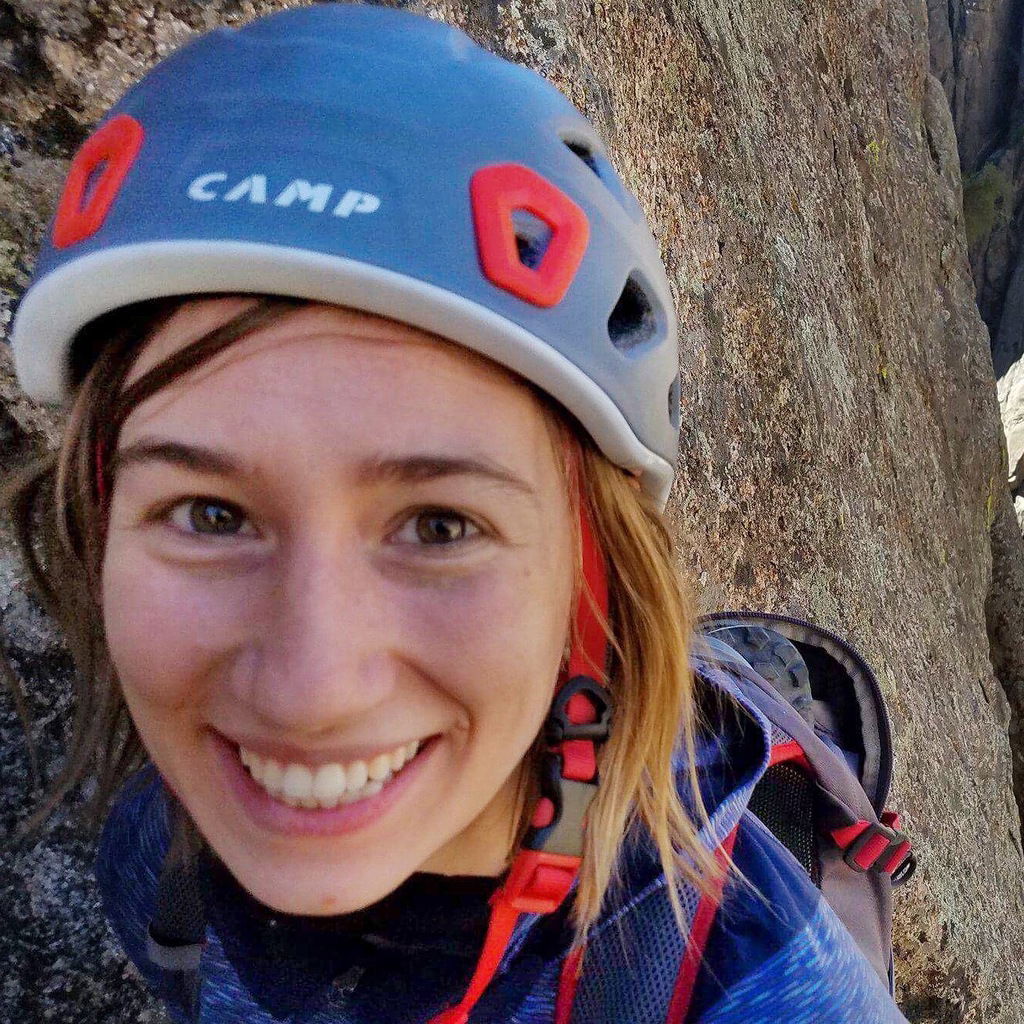 Corey Buhay is a Colorado-based writer and editor and a former member of the U.S. Ice Climbing Team. Her work has been featured in Outside, Backpacker, Smithsonian and Alpinist.
The featured image for this story is by Steve Dickinson, New Zealand-based photographer and director of Adventure Magazine.