Hike to Glenwood Springs … and Back
Glenwood Springs, Colorado is a little town in a canyon where the Colorado River and the Roaring Fork River converge. As you roll into town, you'll wind through a 12-mile stretch called Glenwood Canyon, which was one of the most picturesque drives of 50 Campfires Field Trip: Heart of the Rockies.
Glenwood Springs is hailed as "one of the most walkable towns in America" so it only made sense the team decided to set out on foot from Glenwood Canyon Resort to explore the city. Lucky enough to nab a campsite right on the Colorado River, this is a terrific campground we can recommend highly. The showers were clean, the campground was spacious, and the staff was helpful and welcoming.
From Glenwood Canyon Resort they were able to hop right on the Glenwood Canyon Recreation Trail. It's only a two-mile walk into town, but the entire trail is 16 miles long. You could walk all the way to Hanging Lake if you have the time and inclination.
The Boys set their sights on a closer destination – the Glenwood Hot Springs. So they headed into town. The trail has a slight decline in that direction and has won awards for its design because you're unable to see the interstate highway from most of the path even though you're very close to it. It makes for a beautiful and relaxing walk.
Arriving at Glenwood Hot Springs, the size of the mineral pool is astounding. At 405 feet long, it's the largest natural hot springs pool in the world and is longer than a football field by 33 percent.
After a few runs down the waterslide and a few hops off the diving board, Nick, Clint and the guys from COAST settled into the 104-degree mineral pool. No trip to Glenwood would be complete without settling in for a soak here, so don't miss it.
After achieving maximum "chill" (as in attitude not temperature) in the pool, they decided a stop at the Glenwood Canyon Brewpub was in order. If you get a chance to drop in, we'd recommend the Vapor Cave IPA and the Grizzly Creek Raspberry Wheat.
The beer was free flowing at the brewery, and the team ended up staying a little longer than planned. The hike back to the camp would be in the dark. Thankfully in the company of our friends from COAST, and there are always plenty of headlamps and flashlights that need field testing. They were especially happy to have an abundance of lumens after being told that cougars have been spotted on the trail after dark!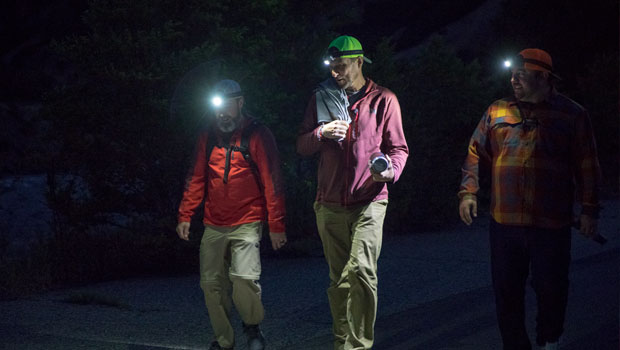 It would be easy to spend an entire camping vacation in Glenwood Springs, just tackling all the spectacular hiking trails. The area is perfect for outdoor adventures and gets all thumbs up from 50 Campfires.