11 Incredible Tiny Houses for Rent
You've seen the show celebrating "Tiny House Nation," where people live in compact homes year round. While you may not want to mimic the lifestyle, perhaps a short stay in a tiny house could satisfy your itch for a simpler life? 
Whether you're looking to rough it and go off the grid or be in a luxe abode with modern amenities, we rounded up the best tiny home experiences for you here.Just one recommendation: Pack light!
1. One-stop shopping with Getaway House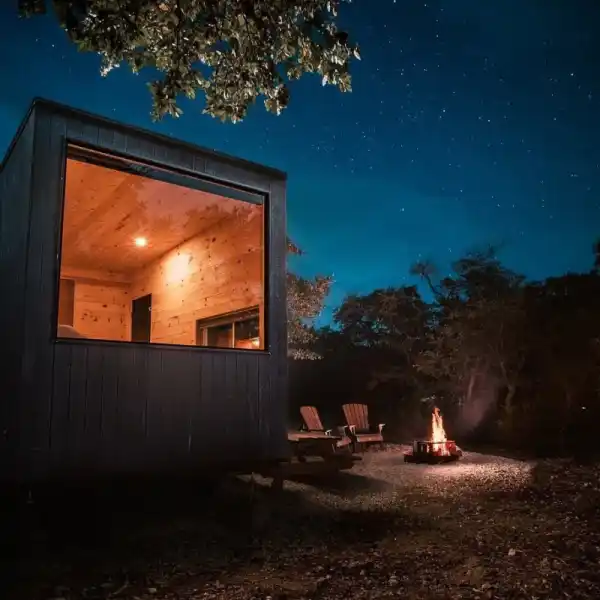 Location: Getaway offers tiny house rentals across the United States, including areas around Los Angeles, Seattle, Austin, Chicago, Atlanta, Nashville, Boston and the Catskills.
Rates: Varies
Sleeps: Varies
What to expect: If you want a remote camping experience with the convenience of a boutique hotel-like management experience, Getaway is for you. At each location, you'll find clusters of tiny homes in one vicinity—so you won't feel super secluded from the world—with a comfortable living space with a giant window so you can see the great outdoors that surrounds them. Each tiny home at Getaway comes with a kitchen stocked with essentials, a bathroom and a cozy bed or beds, depending on which cabin you book based on how many need to sleep inside. 
2. Shack Attack House in Joshua Tree
Location: Joshua Tree, California
Rates: $320 and up per night with two-night minimum stay
Sleeps: 2
What to expect: Based in a secluded corner of Joshua Tree, this desert Airbnb boasts 500 square feet of home amenities like comfy seating, a full kitchen, king-sized bed, a bathroom with a walk-in shower, and a record player with a nice selection of vinyl. You'll even find a partially enclosed dining area, which is perfect for nice days and nights, plus a soaking tub outside.
3. ShangriLaLa Tiny House Mountaintop Getaway
Location: Topanga, California
Rates: $320 and up per night with two-night minimum stay
Sleeps: 2
What to expect: Close to the hustle and bustle of Los Angeles, this lovely tiny home has treehouse vibes. There, you'll find flowers, trees, a tranquil garden and canyon views. Naturalists will appreciate its decor of earth tones with cedar walls and ceilings and bamboo floors. Be aware: This home's bathroom is located outdoors and the access to the bedroom is by stepladder.
Book ShangriLaLa Tiny House on Airbnb
4. The Helm Two-Story Container Home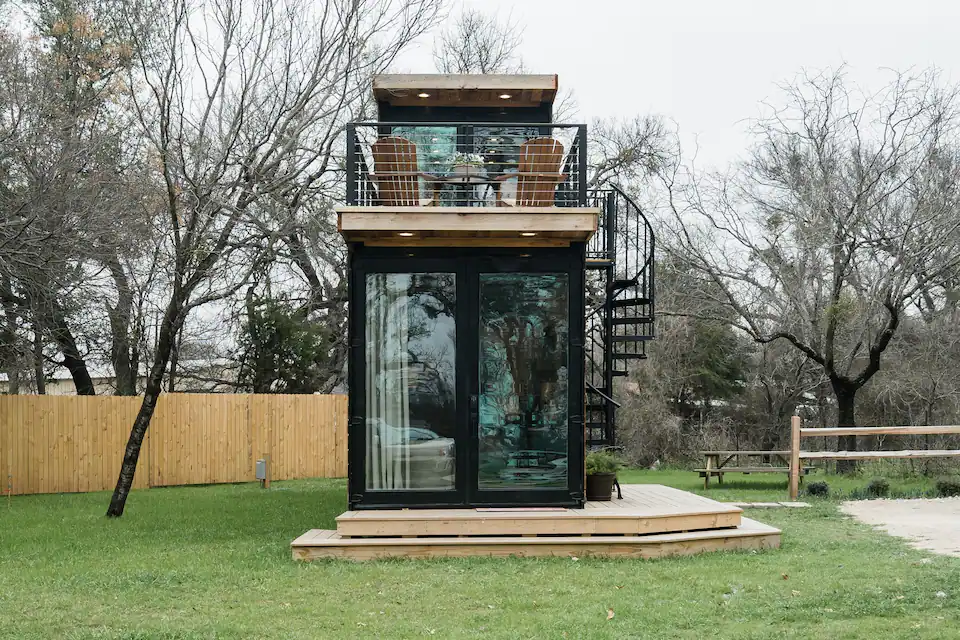 Location: Waco, Texas
Rates: $266 and up per night
Sleeps: 6
What to expect: If you plan to visit HGTV hosts Chip and Joanna Gaines' Magnolia Market, you should consider a stay in this tiny home in Waco, surrounded by trees and even cattle occasionally passing by. It's created from two shipping containers that have been insulated and designed fabulously, using pine shiplap and barnwood—so appropriate for a "Fixer Upper" fan! You'll find a deck on the second story, which is perfect for stargazing.
5. Enchanted Tiny Tower
Location: Lee, Massachusetts
Rates: $298 and up per night with two-night minimum stay
Sleeps: 2
What to expect: This tower looks straight out of a fairy tale, but it's located in the Santarella Estate in the Berkshires of Massachusetts. This two-story tiny home is well designed, with a kitchenette, sitting area, a romantic canopied bed and a dining room. You'll love the big mill windows offering beautiful views of the sky and trees surrounding this French country-inspired space. Outside your window, you'll also see lovely gardens, a lily pond and a running brook.
Book Enchanted Tiny Tower on Airbnb
6. The Bermuda
Location: Orlando, Florida
Rates: $168 and up per night
Sleeps: 4
What to expect: While this tiny home has all the beach vibes, its high-end materials make this lakefront property luxurious. Outside, you'll find a lake steps away where you can do yoga under the sun, fish, kayak, and more. This rental is equipped with a full kitchen, a sleeping loft for three, two fishing poles, paddleboard and a two-person kayak.
7. Off-Grid Inn Tiny Home
Location: Fall Creek, Wisconsin
Rates: $284 and up per night
Sleeps: 3
What to expect: Relax in nature without sacrificing the modern amenities of home. This Wisconsin tiny home can sleep three, and includes a kitchen with an electric stove, mini fridge and cooking essentials, plus an electric toilet and high-efficiency shower. On chilly evenings, you'll enjoy the fire pit and free firewood provided.
Book Off-Grid Inn Tiny Home on Airbnb
8. Mount Hood Tiny House Village
Location: Welches, Oregon
Rates: Varies
Sleeps: Varies
What to expect: Pick from six different tiny houses at the Mt. Hood Tiny House Village, located in Welches, Oregon. Each one has a very specific yet sweet mood. For instance, the Zoe has wild and free vibes, while the Anderson is modern and minimalistic. Adventure awaits outside this cluster of tiny houses: hike to see Trillium Lake, mountain bike at Sandy Trail, see Ramona Falls, just to name a few.
9. Transforming and Peaceful A-Frame Cabin
Location: Bonner, Montana
Rates: $234 and up with two-night minimum stay
Sleeps: 2
What to expect: Connect with nature at this pet-friendly, A-framed tiny home. The quaint oasis is surrounded by 100 acres of trees to explore, and you may even spot wildlife, such as deer, elk and bears. Located on the premises while not right at the cabin are bathrooms with a solar-powered shower, a hot tub that accommodates two and a kitchen.
Book Transforming and Peaceful A-Frame Cabin on Airbnb
10. The Ark Tiny House
Location: Virgin, Utah
Rates: Varies
Sleeps: 2
What to expect: It may look petite, but you'll be amazed at the array of amenities in this desert house. Inside, you'll find a kitchen, a fireplace, a large bathroom with a bathtub and shower, a mud room and washer/dryer. This Zion getaway is the ultimate retreat, thanks to the campfire, hot tub and cozy porch.
Book The Ark Tiny House on Expedia
11. Phoenix House Epic Tiny Home
Location: Pahoa, Hawaii
Rates: $244 and up per night
Sleeps: 2
What to expect: Not many people can say they slept mere feet away from a volcano, but renting this 450-square-foot tiny home will give you that opportunity! This off-the-grid tiny home offers a front porch for taking in the incredible volcanic scenery. Inside, you'll find a lofted bedroom, kitchenette and hot shower for your comfort.