James Island County Park Campground in South Carolina
Camp South Carolina: Well, we are speaking with Pamela today about the camping opportunities at James Island County Park Campground. How are you doing?
Pamela: I'm doing well. How are you today?
Camp South Carolina: I'm very well. Much colder than you are, but doing good.
Pamela: Well, we are lucky with our weather in Charleston.
Camp South Carolina: Absolutely. So, kind of getting into the questions here for you. So, when was James Island County Park Campground started?
Pamela: We're going on our 25th year. We tried to open in '89, but Hugo came through and kind of shut us down for a year. So, we had started. Now we are going on our 25th year.
Camp South Carolina: Awesome. So certainly some history behind it and had been able to be around for quite a long time.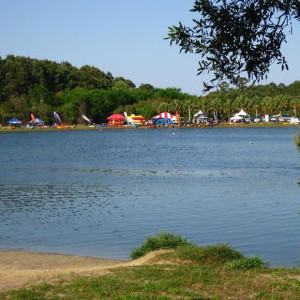 Pamela: Yes, we're very fortunate with where we are. We're only four miles from Downtown Charleston, and we're just six miles from the ocean beach, which is Volley Beach. So we're kind of in between the two.
Camp South Carolina: Absolutely. That's definitely an awesome place to be. And so, while people are at the campground, what are usually the most popular activities kind of in the area for them or while they're at the campground? So, if they're going to be staying there for the weekend and don't really want to leave, what would, I guess, be the most popular activities?
Pamela: Well, we are really fortunate to be within our County Park, which has 650 acres approximately. So, we've got lots of paved walking trails that you can walk or bike, or do your inline skating because it's just all been repaved and it's nice and smooth. We're right off the (Unclear 1:37.9) River, so there are trails that walk down through the marsh and out to a fishing dock so you can go fishing and crabbing. People love to crab because it's right out with the tidal creek, so it's brackish water out there.
Camp South Carolina: Yeah.
Pamela: We have a freshwater lake that we keep stock, so you can go fishing in the freshwater. We've got one big lake and a few different ponds. Of course you can do biking. We have paddleboats and kayaks that you can rent over on the lake. We also have the largest outdoor climbing wall here in the Park, so we have a huge, over 50 feet climbing wall. We have a climbing wall. We have the slack line. That's something new.
Camp South Carolina: Yeah.
Pamela: And then we also have the disc golf. We have an 18-hole disc golf throughout the woods. So, its great to walk through the woods and be able to play and still be a part of nature. It's so nice because we're really heavily wooded right on the marsh, so there are lots. You feel like you're way far away even though you're only miles from downtown.
Camp South Carolina: Absolutely. That seems like a perfect place to come and be able to bring the family. There's pretty much an activity for every person, whether they want to be on the water or just in the Park.
Pamela: Yeah. And then, during the summer, right across the street from the campground, we have a water park. So we've got a lazy river. We've got two slides. We have the zero entry pool with a PlayStations. We also have a spray play over at our playground. We have a nice, big playground that's geared to the children, and then a spray play, which is free for everybody that can run around and play in the fountain.
Camp South Carolina: Perfect. And you kind of answered this already for me, but kind of where is James Island County Park kind of located within South Carolina?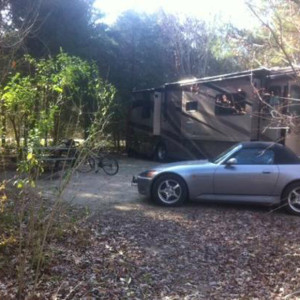 Pamela: We are west of Ashley River from Downtown Charleston, so about four miles from Historic Downtown Charleston. We're actually in the city of Charleston, proper, if you're talking about our zip code. And then we're six miles from Folly Beach, which is our barrier island right on the ocean. So, it's a quick ride down to the beach, where we have the big fishing pier and a County Park with lifeguards that you can go swimming in the summer, or even the spring and fall because the water is usually pretty warm. And then Historic Charleston is just across the river, or the peninsula, but we're within like seven miles of Patriots Point with York Town. We have all the historical things downtown with an aquarium. Historical houses. We have the River Dog Stadium, so you can watch a ball game.
Camp South Carolina: Yeah. So, if you're going to venture out there, certainly plenty of things to do kind of right around that area.
Pamela: Oh, yeah, definitely. The plantations. All the historic houses. Children's museums. Regular museums. And of course like two hundred fabulous restaurants downtown.
Camp South Carolina: Yeah, I've always heard Charleston. You go there and you have some really good food. You're never going to be disappointed.
Pamela: No, you never will. It's great. Food for everybody. From low country to seafood to Italian, you know.
Camp South Carolina: Absolutely.
Pamela: Something for everybody.
Camp South Carolina: Yeah, can't beat that. And I guess coming back to the campground side of things, what are the campsites like? Is there RV and tent camping?
Pamela: We have 124 sites that are in the campground itself. Those have water, sewer, and electric. We've got like six sites that are just water and electric that tens and pop-ups can use, and then all the rest are full hook-ups with water, sewer, and electric. Each site has 20amp, 30amp, and 50amp, so there are three different plugs on each site. So even the big rigs can come or you can just plug in a lamp or something. And then each site has your own fire ring with grill, a picnic table, and you can pull right in onto your site. And of course the campground is wooded.
Camp South Carolina: Yeah, absolutely. I know that seems like a great place to kind of have enough for everyone who wants to come, whether it's tent or RVs.
Pamela: Right, and then we have our primitive tent area. That's a separate area where you have to walk into that area, but it's an open meadow. It's surrounded by trees. There are about thirty picnic tables and fire rings out there. That area is not assigned to any one in particular. There's no assigned place out there because it's just the open meadow, but that way people can find a nice little niche for them, sit out there and put the tents up.
Camp South Carolina: Yeah.
Pamela: Beautiful area.
Camp South Carolina: Absolutely. And one last question for you. If you could spend just one night at James Island County Park Campground, which campsite would you choose and why?
Pamela: Ooh, which site? That's hard. We have so many really good ones. I love Site 6. It's right as you come in. It's nice and wooded, but it's not too far from the bathhouse. Because I'm a tent camper, so I don't have one of these big, fancy RVs, so I like being close to the bathhouse, but still all tucked back in.
Camp South Carolina: Absolutely. I would agree with you there. That seems like it would be a great spot. I also tent camp usually instead of a rig. So, perfect. Well, that was great information. It seems like such a unique campground. Obviously close to Charleston, yet so many things to do when you're there, plus that feeling of still being far away.
Pamela: Yeah, and right now we have our holiday festival lights going on. We usually have a six-week festival during November and December, and we have over three million lights and a three-mile drive throughout the entire County Park. So, there's like a carousel, a train, a portable climbing wall. We have all kinds of fun things going on and different contests, and then an enchanted forest. So that's very popular, so we sell out a year in advance for weekends in November and December.
Camp South Carolina: Absolutely. Well, thank you so much for talking to us. We really appreciate it.
Pamela: You're welcome. You have a lovely holiday.
Camp South Carolina: You as well.