KEEN is well-known for their quality sandals that cover the toe for durability. But they also make a great hiker with that same durability and quality. The KEEN Durand Low WP is the newest edition to the KEEN hiking shoe family and it holds up to be a great rugged shoe.
Appearance: The KEEN Durand Low WP hikers have the innovative KEEN.PROTECT toe built in to defend against any unwanted contact. It's a thick rubber that runs from the sole of the shoe up and over the toes. This protectant is great for any type of collision to the toe area. The shoe also has a red accent throughout the side of the shoe and lace that brings a great hint of color to the neutral body.
Ease Of Use: These shoes have an awesome foot bed built in to them. A great shoe can turn into a nightmare on the feet and knees if it doesn't support your body the right way. The KEEN Durands take care of that with the internal support mechanism engineered with arch support and a form fit around the foot. With as well-built as these hikers are, I was expecting to need a week or two to break them in, but that's not the case. The sole is built with a perfect roundness to get out right away in them. There's a natural roll off the foot to these hikers that makes for comfort when first putting them on to walk through the woods. The shoe runs a half size small. We suggest ordering a half size larger than your normal size.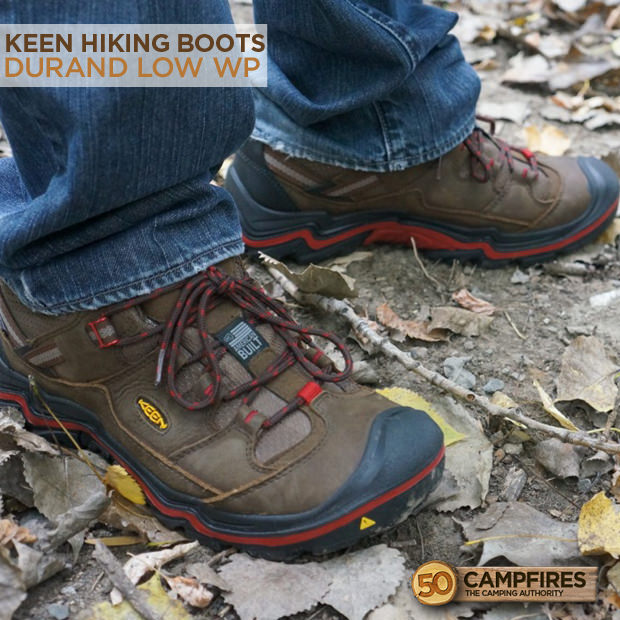 Durability: I was impressed with how strong these shoes were. Like mentioned in the appearance section, the KEEN.PROTECT rubber toe is built really well. The toe mechanism alone makes this shoe a fantastic hiker as far as durability goes. With the KEEN.DRY technology, a waterproof layer covers the outside of the shoe while still allowing breathability. Having the waterproof capabilities was important for me, but I was super pleased with its ability to still breathe and not overheat my feet.
Weight: The KEEN Durands weigh 17.8 ounces, so they're not boulders on your feet, but they do have some weight to them. I assume this comes from the heavier material used for the KEEN.PROTECT material, so it's not useless weight. These are fairly light compared to thicker hikers that try to incorporate the same level of protection and durability. When taking into consideration the features of this shoe, I think it's great quality with very reasonable weight. These hikers are still light enough to go on longer day or weekend hikes, but would be fantastic for the rugged shorter hikes.
Value: At $160.00 you're getting an awesome rugged hiker. Like mentioned above, there's not many low hikers with this type of durability, while staying away from adding unneeded weight. Overall, these hikers would be a worthy addition that would last a long time of trekking around and protecting your feet on any hike.
Want To Win A Trip To The KEEN Headquarters?
For your chance to WIN a pair of KEEN Durand Low WPs and a FREE trip for two (2) to the KEEN Headquarters in Portland, Oregon, click here to check out the KEEN Follow Your Feet Sweepstakes!
Enter To Win A Pair Of KEEN Durand Low WP