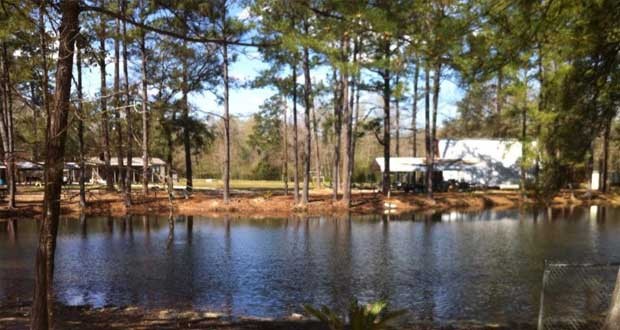 Land-O-Pines Family Campground Louisiana
On the hunt for a family-friendly camping destination in Louisiana? Definitely check out the Land-O-Pines Family Campground. We had the opportunity to speak with LeAnne from Land-O-Pines, and she filled us in on the activities in the park, where to spend a single night, and of course – the water slide. Listen to our full interview here:
Land-O-Pines Family Campground Louisiana
Camp Louisiana: I'm talking with LeAnne from Land-O-Pines Family Campground in Louisiana. How's it going today, LeAnne?
LeAnne: It's going great, thank you.
CL: So, let's start off with I have a lot of questions, because you guys have a really interesting, fun-looking campground there, but let's start off with how long it's been there and how guys got started.
LeAnne: We've been here for 27 years.
CL: Wow, okay.
LeAnne: And yeah, basically, I don't know. My parents, who were the owners, had a very large family. Lots of kids. Lots of us, and they just decided. You know, we'd always camp, growing up, and they just decided, when they got older, that that's something they'd like to do. You know, open a family business, where, you know, the kids could work, and pretty much everybody that works here is a family member. So, you know, kind of a way to grow a business and employ a large portion of this family.
CL: I love that. Now, I've talked to a lot of RV Parks and, you know, generally, because of the long-term rentals and that kind of thing, you generally see a strong community and activities, but you guys are blowing it out of the water on here. You have a ton happening there. So, tell me a little bit about some of the more popular activities there.
LeAnne: Well, as far as, you mean the activities, not the amenities so much. You mean like the planned stuff that we have on the weekends?
CL: Amenities and activities. You know, if I came to stay there for the weekend, what kinds of things could I be getting involved in?
LeAnne:
Okay. Well, from the first weekend in March through October, we have planned activities every single weekend. Gosh, what don't we do? We have festivals. We have battle of the bands. We have swap meet. We have cook-offs. We have competitions. We have food events. Lots of music. I mean every weekend is just something different. It could be anywhere from a scavenger hunt to, like I said, a huge festival. Our vendors come in and setup their booths, and we have music all day long. So, every weekend is different. Every year is different. We've put a new calendar out. Normally we mail it January, and we have a different schedule pretty much every year, so entertainment is what we do.
CL: It looks so much fun.
LeAnne:
Yes, we do a lot of entertainment. That's our specialty. You know, besides having the swimming pool, the water slides, our river, fishing, and game room, we have a lot of amenities in the Part as well.
CL: What's one of your favorite events of the year?
LeAnne: Halloween. I love halloween. Halloween is so popular in Louisiana, especially South Louisiana, that we actually do three halloween weekends in a row. We have halloween in the whole month of October just about. It's huge. Halloween is incredible. Yeah, they decorate their sites and compete for best decorations and best haunted house.
CL: Cool.
LeAnne: And they trick or treat and costume. It's just very incredible.
CL: Okay, so let's talk about the camping options there. One thing I thought was really interesting and looked like it was a lot of fun is that you guys have a pretty wide variety of offerings there. Everything from campground to a number of RVs that are already on-site that people can rent.
LeAnne: Yes, and we have cabins also.
CL: And cabins.
LeAnne: Yes.
CL: So, tents all the way up to RVs.
LeAnne: All the way.
CL: And you don't even have to own an RV. You guys have them setup there that people can rent.
LeAnne: Right. They are permanently set up. They have those nice roofs built over them and little decks on the front, and fire rings and barbecue grill, like a little mini camp.
CL: Okay. Two more questions for you.
LeAnne: Okay.
CL: What is one of your favorite activities in the Park, like as far as amenities go?
LeAnne:
The water slide.
CL: The water slide, all right.
LeAnne: Yes, indeed.
CL: And the other one is: if I was going to come and just spend one night there, what's your favorite spot to stay there? Where would you set me up?
LeAnne: Well, that would depend on if you had your own camping unit or if you needed to rent something.
CL: Let's say I needed to rent something.
LeAnne: I would put you in one of the cabins.
CL: Any particular one that you like?
LeAnne:
I mean they're all different. You know, each one is unique in its own way. None of them are alike, as with the RV rentals that we have on-site. I mean every one is different.
CL: Sure. Sure. Let's say I had my own RV. Which site would you recommend?
LeAnne: I would put you in one of the premium sites, which would be C60 for an example, you know, which is full hook-up. It has 30amp and 50amp. It has table TV. It has nice parking pads for you to park your camper on, not to mention, you know, really manicured and lots of trees.
CL: Oh, okay, that sounds fantastic. Perfect.
LeAnne: I think it is.
CL: Well, thank you so much, LeAnne, for taking a little bit of time out of your day today to chat with us about Land-O-Pines Family Campground in Louisiana.
LeAnne: Thanks a lot. I appreciate you calling.