We have been using the Nite Beams LED Pet Collar for a while now and have been nothing but impressed. We bring our dog camping with us all the time, they are a part of the family you know! But having the dog outside all the time can cause issues when the night falls. If you've ever gone in to a panic because you can't see the dog in your campsite, then you need this collar.
Appearance:The Nite Beams LED Pet collar is a neon green color with a reflective strip down the middle to give off a little extra light. The middle part of the collar is where the green LED lights are stored, tucked in the middle of 2 pieces of heavy duty nylon. We were impressed right of the bat by just how bright the green LED's are in the dead of night. It provides instant visibility, a 1/4 mile of visibility to be exact. The ring to attach the leash is of high quality and sewn in well. The snap used to take the collar on and off seems to work well and shows no sign that it would crack.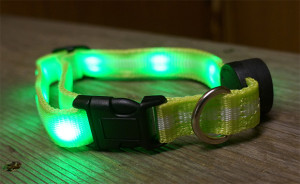 Ease Of Use:This LED collar is not very complicated, which is what were hoping for. The collar is a pretty standard piece of equipment, but the LED's are anything but. When looking at the collar you would have no idea small lights were stored in it. On one side of the collar there is a small switch that houses the battery and the ON/OFF switch. To turn the it on, just push the button and the green LED's light up instantly. One more push of the button and the green LED's will flash. This could be great in a high traffic area where you want to make sure you are being spotted.
Durability:This is our dogs everyday wear collar and we have not had any issues with the nylon, snaps, or LED's. It is amazing the difference this collar makes when doing a quick scan of where the dog is at when night falls on the campsite.
Value:For $25 this is a great deal for a collar that not only can be worn everyday but provides the highest safety for your four legged friend. Collars that don't have the LED capability usually go from $10-$40, at that price why not grab a lighted collar?