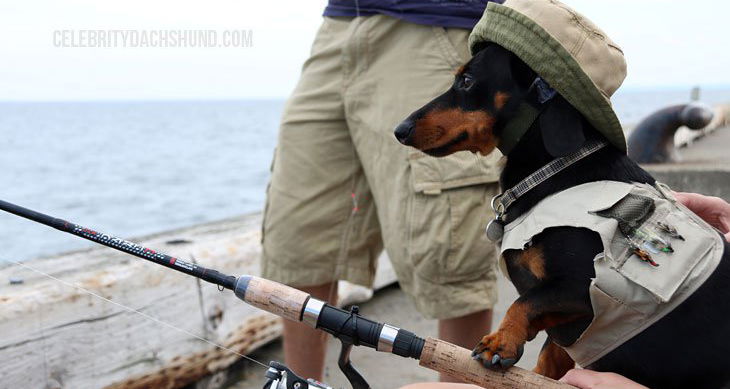 Crusoe's Dog Days of Summer
Named after Robinson Crusoe for his deep sense of adventure and natural ability to instill fascination in the public eye, this Dachshund had his first debut on television for winning 'best trick' at an annual wiener dog event. Since then Crusoe has spiraled into a renowned international celebrity with over 335,000 Facebook fans, 44,000 Instagram fans, and 31,000 YouTube subscribers.
Crusoe is also an avid traveler who frequently visits locations such as Maine, Bahamas, Florida, Ontario, and Quebec. What could possibly make Crusoe any cooler you wonder? He's a wiener dog, fisher dog, outdoors dog, and a camping dog!
Crusoe the Celebrity Dachshund has also had his own blog for the last 3 years and recently signed a book deal in New York, which he hopes will help him to buy a private island in the Bahamas he's had his eye on. You can pre-order his book now and read his collection of stories, see funny photos, and learn all about the adventurous life of Crusoe!
50 Campfires: We all know it can get pretty hot and sticky during the summer heat. How do you stay cool and refreshed during the "dog days" of summer?
Crusoe: Well, let's get it clear – I like it hot and sticky. The Bahamas and Miami Beach are some of my favorite places for soaking up the sunshine. But every hot dog needs to chill out at some point too, so when it comes to cooling off, I like to go put my paws in a cold stream, and if one's not available, maybe grab a vanilla ice cream and enjoy it in the shade, letting Dad have a lick once in a while.
50 Campfires: You look like you're always doing something new and exciting. What are some of your favorite outdoor, summer activities
Crusoe: My all-time favorite summer activity, and actually my favorite activity in general, is fishing. I get over-the-board excited (almost literally) and will hang over the side of the boat, watching every cast and impatiently whining for someone to hurry up and catch a fish. And when someone does, I start screaming and squealing with excitement, at which point Mum and Dad have to hold me back from jumping over the side!
I always enjoy a nice long hike through the woods, too, and can often be found working on my tan on the deck or in the grass. I love spending time at my cottage during the summer, where I can get back to my roots as a "country dog" with the fresh air, untamed wilderness, and lack of leashes.
I also do an annual kayaking adventure down a beautiful river in a protected park near my cottage with my brother Oakley. It's always a blast and a laugh, especially because Oakley falls in a lot.
50 Campfires: What is your all time favorite summer memory?
Crusoe: My favorite summer memory was probably when I went glamping (glamour camping in an RV) out on the east coast of Canada in the beautiful Gaspe Peninsula. We had the whole family in a single RV, including Mum, Dad, Uncle Jack, Aunt Carol, and my lifetime furry friend Laffie. I went hiking, captained a tour ship, searched for riches in a mine, and canoed down a crystal-clear river – and how could I forget, fished!
50 Campfires: We loved reading your camping blogs! What are some of your favorite things to do while camping and what do you love about camping the most?
Crusoe: Thanks! I love when the family is squished all together like that, out in the wild, no TV's or Internet to distract Mum and Dad, and with plenty of adventures to be had just outside our doorstep. Mum and Dad might get tired of those conditions after a week or two, but I could live like that forever. I love having such immediate access to nature and spending so much wonderful time with the family. Everyday is something new; canoeing a different river, hiking a different place, or chasing a different critter.
So to answer the question, if I had to choose a favorite part, it would probably be the fact everyone is together, in one tight, cramped spot with tons of fun to be had.
50 Campfires: We saw you're video in the Sea Squirts Doggie Swim Vest. What did you think of it and would you recommend it for your other furry friends?
Crusoe: For sure! It works and fits well of course, but most importantly; it's a very effective prank prop for scaring the bejeebers out of unsuspecting beachgoers. As my fans know all too well, one must always watch their back for the infamous #SHARKWIENER.
Keep campin',
~ Crusoe
Watch Attack of the #SHARKWIENER
Get your dog's Sea Squirts Doggie Swim Vest here.