Camp Arizona spoke with Diana from the Phoenix Metro RV Park about bingo, hot tubs and their amazingly clean bathrooms. Listen to the full interview here:
Phoenix Metro RV Park
Camp Arizona: I'm talking with Diana today. She is a Park Manager over at Phoenix Metro RV Park in Arizona. How's it going today?
Diana: It's great. Thank you.
CA: So, how long has the RV Park been there and how did it get its start?
Diana: Oh my goodness, it's thirty or forty years and it's been in the same family all that time.
CA: That's amazing. Wow. And so, what are some of the more popular activities for the guests at the park there?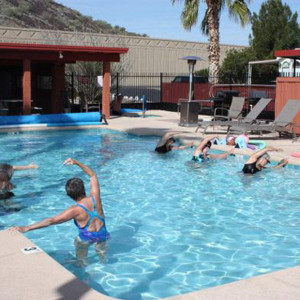 Diana: Oh dear, we have potlucks every week. We have bingo twice a week. We have craft classes, and we have a Bible study, and we have a billiard room, and we have a library with a large screen TV. We have cards. You name it, I think we've got it. We have a lot of aerobics every morning. Two classes because it's so full. They have to run two sessions. We have a lovely hot tub, a large laundry facility, and the most beautiful restrooms you've ever seen at a campground in your life.
CA: Awesome. You know, this is one of the things I really like about the RV parks; is that you have the long-term guests, and so you end up having a really strong sense of community there.
Diana: We really do. We really do. It's a wonderful place to live. I've lived here since '03, and I can't imagine living anywhere else. I really can't. Even if I wasn't the manager of the park, I can't imagine living in another park.
CA: Wow, that's great. So, where's the resort located within the State of Arizona?
Diana: We are on the north end of Phoenix, right on the I-17 freeway.
CA: Okay, and what are some other attractions in that are worth checking out if someone were to come there and stay?
Diana: Oh my goodness, we've got museums of every nature and elk. Art, mining, Indian. We've got the Indian Museum downtown that is Indian culture and just they have hoop dancing and competitions, and all sorts of things going on there. And there's all kinds of other Indian shows and fairs that go on, especially during the wintertime. And right now the Arizona State Fair is going in other little towns nearby us. They have their frontier day rodeos and such, and it's just there's always something to do. Always, whether your want fine arts or you want other stuff.
CA: Okay. And when you have a little bit of downtime, which one of those is your favorite to go and do?
Diana: Oh, wow. When was the last time I had downtime? I love attending the Indian Fairs, because I'm attracted to their artwork and their jewelry, and their customs and their music. It's vibrant So that's one of the things that I look forward to, and the rodeos. There's just a myriad of things that I would enjoy, you know, wishing I had more time to do more of them.
CA: Yeah, we all wish that. That's for sure. Now, how do the rentals work there?
Diana: And of course we have casinos. Don't forget the casinos. They're everywhere throughout the area.
CA: I am an unlucky person, so I would probably have to pass on that. Now, can RVs stay there for just a night, or a week, or a whole season? How does it work?
Diana: Any of the above. We have day rate, weekly, monthly, and annual rent.
CA: Okay, that sounds good. And is there generally some availability? Do you guys have vacancies most of the time?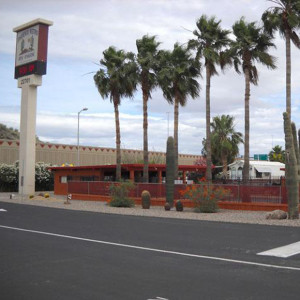 Diana: Most of the time. When it gets to be in the January/February rates, we're stacking them one upon the other, depending on when they're coming in and when they're leaving. And there have been a couple times in the past few years that we've actually had to turn somebody away, which we did not like, but we were so full and had multiple reservations on each site, you know, for availability. But occasionally it happens. People need to make reservations in advance when it comes to the wintertime down here.
CA: Okay. Well, that gives us a lot of good information that we can go ahead and put on our site, and we'll have a link back to your site, and I want to thank you for taking some time out of your day to us.
Diana: Thanks very much. I appreciate it. Have a great day.