Kilen Woods State Park in Minnesota
Camp Minnesota: I'm talking with Phil Nasby today. He's the Park Manager at Kilen Woods State Park in Minnesota. How's it going today, Phil?
Phil Nasby: Well, it's going great today.
Camp Minnesota: So let's start with how long Kilen Woods State Park has been there and how it got started.
Phil Nasby: Kilen Woods State Park was authorized back in 1945, and the purchase was completed in 1951.
Camp Minnesota: Okay, and what types of camping do you guys offer there?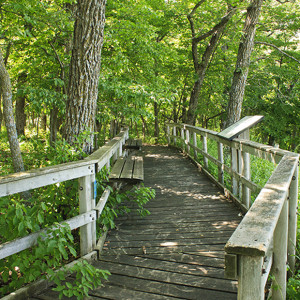 Phil Nasby: Camping. We have four boat sites, where it's walk-in camping. It's right along the river. And we also have 33 sites, of which 11 have electric.
Camp Minnesota: Okay, and how far are the walk-in sites?
Phil Nasby: Walk-in sites are just a short hundred-yard walk, but it's really nice to get back into the oaks of (Unclear 00:54.6) Woods.
Camp Minnesota: Awesome. Yeah, it doesn't have to be too far in, where you can still get that secluded feeling.
Phil Nasby: Yeah, it's just enough to get into the woods and feel like you're away from the rest of the campers, so it's quite nice.
Camp Minnesota: Cool. Yeah, that's the worse; if you're staying somewhere and your tent is practically touching somebody else's when they're that crammed in. So, that sounds pretty nice. What are the most popular activities there for campers?
Phil Nasby: Well, Kilen Woods is a 200-acre Park, and it's one of the smaller State Parks in Minnesota. But it's really nice getting off of the I-90 Interstate. You're coming through farmland area and agriculture, and it's embedded along the Des Moines river valley with oaks of Woods. People show up there to get away. You know, they're out in the prairie and out in the (Unclear 1:47.5). It gives them a windbreak from the wind, but it also gives them a nice view of the valley. The Des Moines River starts up in Lake Shetek Park, which is about 60 miles to the north and runs to the Iowa border on its way down to the Missouri River, and then the Mississippi.
Camp Minnesota: Okay. Now, what are some of your other favorite attractions in the area?
Phil Nasby: Well, it has five miles of hiking, and it's really nice in the spring. People show up looking for morel mushrooms. We have quite a few birds. It's a nice location for birds to power gate along the woodland edge. We have a view. We call it Dinosaur Ridge, and I really don't understand where the dinosaur name came from. It's just always been called Dinosaur Ridge, but it gives an excellent view down in through the valley to the other side of the valley. It's quite a nice view. It comes along a short grass prairie. Along there, that comes up next to edges along the woods there.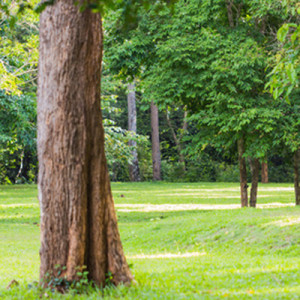 Camp Minnesota: Okay, cool. Two more questions for you, Phil. If you were going to spend just one hour in Kilen Woods State Park, how would you spend your time there?
Phil Nasby: If I had one hour, I would take the hike through there. You can get through about three miles. Take the short loop, coming from the contact station, and park right next to that and follow the signs right into where the chalet is. And it gives a nice three-mile loop that takes you down through the river and up back through the campground, and it goes across a couple nice bridges. It takes you along the river and you get to see a lot, or more, of what the park has to offer.
Camp Minnesota: Okay, cool. And if you could spend just one night in Kilen Woods State Park in Minnesota, which specific campsite would you choose and why?
Phil Nasby: You know, that gets to be tough. There are two campsites there that are really popular, and I have to agree with them, but I would have to go with number 7. And it's actually on the far south-end of the park. It overlooks the prairie coolies in there, and it's beautiful for sunsets, especially as you get into late July and August, when it's gotten a little drier and the flowers are blooming out in the prairie. And it's really relaxing and breathtaking, and especially if you come during the middle of the week, when we have fewer visitors. You could have that spot almost to yourself if you come on a Tuesday, Wednesday, or Thursday.
Camp Minnesota: Cool.
Phil Nasby: So, that's what I would recommend to anybody and anybody.
Camp Minnesota: Okay, sounds gorgeous. Well, hey, thank you so much for taking some time out of your day, Phil, to chat with us about Kilen Woods State Park in Minnesota.
Phil Nasby: Very good, thanks for the time.