Once you own a pocketknife and start carrying it with you everyday, it becomes another piece of your everyday wardrobe. Never again will you leave home without it. Having a knife in your pocket lets you handle cutting tasks conveniently, immediately, and better yet, one-handedly.
Pocketknives can also come in handy for a variety of other daily tasks you might stumble upon, including opening packages, slicing food on the go or getting a splinter out. Other events might be more rare, such as using the knife for starting fires, personal protection, or even a first aid instance to save someone's life.
Finding the perfect EDC (every day carry) can be overwhelming, especially if you are a newbie. With all of the different steel options and opening mechanisms, where do you start? Don't worry, we have you covered – you can't go wrong with choosing one of the knives from our list below.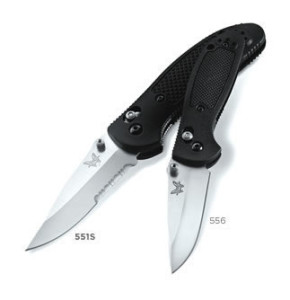 Benchmade 551 Griptilian
The Benchmade 551 Griptilian Knife is special for many reasons. This knife takes the top features from the finest knives available and offers them in one stylish package. The axis lock with ambidextrous dual-stud opener is very impressive, letting you open and close the knife without putting your fingers in the blade path.
You have a few different blade options that are all 3.45″ 154CM stainless steel. This American steel offers a great edge, making it easy to sharpen and resistant against corrosion. The handle has skeletonized stainless steel liners for an easy grip that wont chip and wear. Benchmade even gives you the option to customize this knife in many ways. What more could you ask for?
Click here to buy!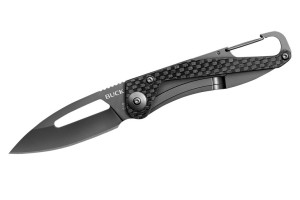 Buck Apex Knife
Offered in three different variations, the Apex is a smooth, one-hand opening, versatile folder designed with mountain climbers specifically taken into consideration. The wicked sharp blade and stylish aluminum handle with added bottle opener, come together to make a thin, sleek, multi-functional, E-lock knife. With a sturdy carabiner clip, the Apex is never too far from your reach.
Available features and options include the ease of one-handed opening, thanks to a thumb stud, blade hole or other feature. Some models are one-hand opening and one-hand closing too. Featuring 420HC steel, corrosion resistance is an additional benefit for those who need a durable and trustworthy pocketknife.
Click here to buy!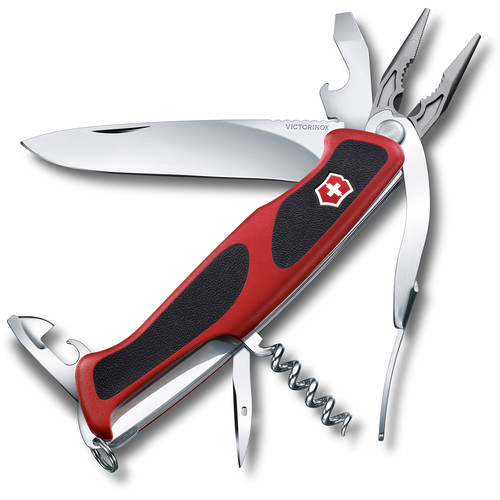 Victorinox RangerGrip 74
The RangerGrip 74 is the ultimate strong, single hand lockblade, produced by the makers of the original Swiss Army Knife. Featuring a 3.9″ blade with safety lock, you'll be sure to find plenty of uses for this knife. The handle increases this multi-tool's safety and efficiency by embedding special non-slip rubber right where you'll need it the most.
This Swiss Army Knife features a 3.9" one hand lock blade, corkscrew, key ring, tweezers, toothpick, reamer, punch, needle nose pliers, wire cutters, nut wrench, and a cap lifter with a screwdriver and wire stripper. The knife also includes a lifetime warranty against manufacturer's defects.
Click here to buy!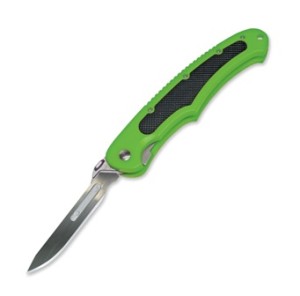 Havalon Piranta-Bolt
Go ahead, dare to embrace the power of Havalon's Piranta-Bolt, featuring their thicker, stronger #60A replaceable blade. A larger handle has also been implemented to ensure ease of handling and improved grip. Whether you're outside skinning, caping, quartering or doing any sort of field dressing work, the Bolt will prove to be the perfect knife for the task at hand.
Get things done quickly and efficiently with the Havalon Piranta-Bolt, featuring 12 additional stainless steel #60 blades, black rubber grip insert, ambidextrous thumb studs, open back for easy cleaning, and liner-lock construction. A removable holster clip and black nylon holster also included.
Click here to buy!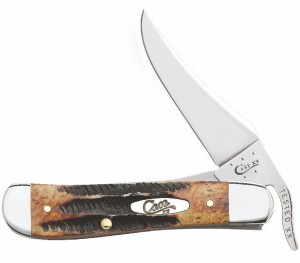 Case Bonestag Russlock
This knife, created to look beautifully worn, boasts honey and amber tones on its handle, also accentuated with special jigging and handflamed for a more authentic stag antler look. The Bonestag Russlock also features Tru-Sharp surgical steel blades and the Case Oval Script Shield. Secondary '6.5' blade tang stampings remind you these knives are extra special.
The knife can be easily opened with just the flick of a finger. Thanks to a specialized gimped lever on the blade, one-handed opening has never been so easy. A durable liner lock mechanism will also hold the blade out securely and the bonestag handle will also provide a sure grip.
Click here to buy!