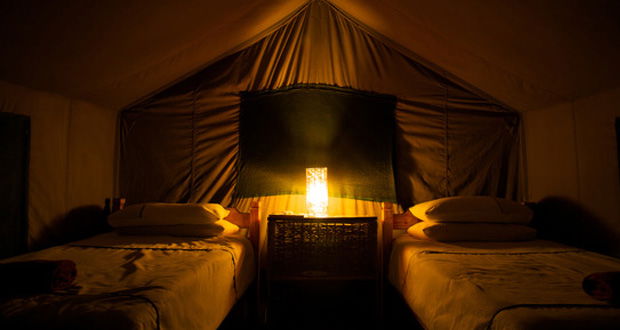 Race-Glamping Taking Event Camping to a Luxurious Level
Glamping, or glamorous camping, has spread like wildfire over the past decade. It seems fitting that a sport that has exploded during the same time period has recognized a growing trend among campers looking to experience the outdoors without sacrificing luxury. Charlotte Motor Speedway offers various other camping packages including full-service, family camping, standard, and RV rentals but their VIP Glamping is truly different. If you are an avid NASCAR fan, glamping in the infield for a Sprint Cup race might seem like a dream come true, but even if you are not an avid fan, Charlotte Motor Speedway's glamping packing is still a sight to be seen.
As you can imagine, glamping is about as far removed from pitching a tent and gathering firewood as you can get and still have the right mind to classify it as camping. The folks at Charlotte Motor Speedway have hit the nail on the head when it comes to providing an exclusive package for race fans. Picture a hotel room but instead of walls, you have a 10×15' canvas safari tent. Fully furnished beds, area rug, tables, even a padlock to keep your belongings safe. At this point, using a cliché like "bringing the inside, outdoors" appears to fall woefully short.
Not only are you getting to stay in luxury, you also have access to exclusive amenities and activities. This is a real hidden benefit for campers. Charlotte Motor Speedway creates a package designed to create an experience, not just a nice place to stay. Many resorts and hotels have been offering exclusives like this for years but applying it to glamping in a venue where sporting events are taking place, marks a steady progression in glamping and sporting event hospitality.
Part of the experience of going to an event, not just a NASCAR race, is immersing yourself in the environment. This can be difficult to do when you are shuttling back and forth between a hotel and the venue. Outdoor music festivals, races, events, concerts, and the like are enhanced when you get to spend all of your time surrounded by the events and the people. Charlotte Motor Speedway has recognized this and designed an all-inclusive VIP package to cater to race fans that want the whole NASCAR experience without sacrificing luxury.
Looking ahead, it is feasible to imagine other venues and sports following suit and catering to a camper looking for the luxuries of home. Let's be honest, when you go to camp at an event like this, you are not going there for the peace and serenity of the outdoors. Visions of a beautiful sunset or hearing a loon's call echo across a placid lake don't come to mind. And that is just fine in our eyes. It's a completely different experience. A great experience. You get to meet a ton of great people that are as passionate about the event as you are. Pair that with being able to sleep in a Queen-sized bed, sign us up. The next time you are looking at going to a race, concert, or any event make sure to check the host camping packages. Maybe the event of your choice will offer glamping packages in the near future.