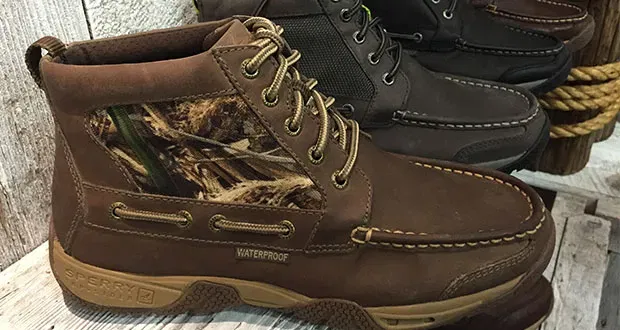 Sperry Boatyard Chuca Overview
Overview:
This is the Sperry Boatyard Chuca. It uses the same great construction as Sperry's Boatyard shoe, with the same outsole and same great styling, but matched with a sturdy, classic-looking Chuca. It's kind a hybrid of the popular chuca boot style that has been getting more and more popular. It seems that within outdoor style, we are seeing more and more camouflage used in interesting ways and paired with patterns and materials that have previously not been used together. Sperry seemed to have recognized this and paired camo with stylish and durable materials in a way where they complement each other. The camouflage upper is a great mesh material that does not overpower the look of the shoe. Rather, this Chuca can be worn from the city to a remote camping spot and not look out of place. Be sure to be on the lookout for the Sperry Boatyard Chuca in fall 2015. If you are looking for a great Chuca that you can dual purpose from day-to-day trips to a camping adventure, do yourself a favor and check these out. Visit Sperry's
website
to check out the rest of their products and to stay up-to-date on the Boatyard Chuca.
Manufacturer:
Sperry
Product Name:
Boatyard Chuca
MSRP:
N/A