25 Best Campgrounds Within Two Hours of Bradford PA
It's summertime and that means it's time to get out the camping gear, fishing poles, and sun screen! There's no better way to relax than to sit outside of the tent you just set up and breathe in. Whether you're getting ready for a day trip or a week of hanging out with Mother Nature, it's the process of getting there that can be mind numbing. Don't get us wrong, road trips can be great, but sometimes you just want to skip the "are we there yet?". So this year, if you're interested in camping near home, we've got just what you need.
Regardless of your summer plans, planning and research can take away from the fun. Which is why we wanted to help by making this list of 25 Best Campgrounds Within Two Hours of Bradford, Pennsylvania just for you! I'll let you know ahead of time that a few are a little bit over two hours away but we stayed in the general area of the time limit. Now all you have to do is decide which amenities you want and what activities you want to participate in!
PRO TIP: Hitting the road with your crew? You need this new 5 port USB charger that takes care of people in the front and back. It's awesome.
NORTH CENTRAL
Tracy Ridge : Bradford, PA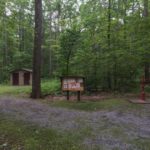 This is a peaceful campground that lets visitors feel like they are in the wilderness. It's not really well known, making it perfect for those interested in camping someplace quiet. Tracy Ridge is a relatively short drive from Bradford. Its incredible online rating is impressive, and it is known for being well maintained and bursting with beautiful scenery. There are no showers but there are vault toilets and a dump station. Hiking, fishing, and boating are a few of the activities available here. Overall, if you're interested in a rustic, lovely retreat into Mother Nature, this is definitely worth checking out.
Kinzua East KOA : Bradford, PA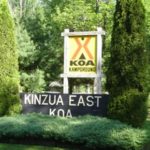 This KOA has friendly owners and is generally very clean. It's only a few miles from Bradford, and most online ratings are very high. You can bring your own boat or rent one from them to have a day of relaxation or fishing on the water. Wi-Fi is an amenity included for your convenience. There is a golf course nearby and areas for hunting as well! It's up to you whether you stay in a tent, RV, or cabin.
Willow Bay : Bradford, PA
This campground is open year-round, allowing you to stay in a cabin, RV, or tent no matter the season. There are trails for you to enjoy the scenery, a picnic area with a shelter, and sites right next to Willow Bay that provide a beautiful view. Camping here ensures you have showers, toilets, and hookups, among other typical camping amenities. Definitely check out this campground if you enjoy the outdoors and want a great time bonding with friends or family.
Kiasutha Campground : Kane, PA
Kiasutha campground is a great place for hunting, water activities, hiking, and more. You'll love the secluded atmosphere while in your campground surrounded by trees. Boating, both motorized and not, are permissible with a few restrictions. Whip up a delicious meal and dine in the picnic area with grills. Go on late night or early morning wildlife viewing walks to spot some of the 70+ species of wildlife living in the Allegheny National Forest. Your options are many here!
Sinnemahoning State Park : Austin, PA
This state park has wonderful reviews online. It's relaxing and quiet. If you're looking for a charming campground with tons of wildlife check this spot out. Guests often see deer, elk, turkey, and sometimes even bears! Walking around on the trails or going out on the lake allows you to enjoy the great outdoors at its finest. There are educational programs available at the park as well that are interesting and very informational!
Susquehanna State Park : Williamsport, PA
We cheated a little bit in this list and included a few locations that are more than two hours away, due to the lack of campgrounds within that time limit. So keep in mind that this campground is around three hours away. Even though it's a longer drive, you should still consider visiting. It has wonderful reviews in which people discuss wildlife and activities. The hiking is beautiful and there are plenty of sights for nature lovers. Fishing and horseback riding are a couple of other popular pastimes.
Kettle Creek Campground : Renovo, PA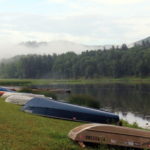 Whether it be through scheduled events or the many activities you can engage in during your free time, camping at Kettle Creek ensures you'll have plenty to do. Check out their events tab on their website to know what will be going on during your camping vacation. If you're more interested in their unscheduled activity opportunities, we'll give you a couple of them right here. They allow for mountain biking, horseback riding, snowmobiling, and of course hiking. Overall, this is a great place to stay, so think about visiting!
Sizerville State Park : Emporium, PA
This state park has 23 campsites to choose from that are open between April and December. It's a great campground that is only an hour from home. During the summertime, visitors can hike, picnic, fish, and swim. The swimming pool, picnic areas, and some hunting areas are wheelchair accessible, which is pretty cool. In the winter, cross-country skiing and snowmobiling are options for those who want to enjoy the snow.
Ole Bull State Park : Cross Fork, PA
Hikers take note: at Ole Bull State Park there are five miles of trails and an 85-mile trail that goes through the grounds. During the winter there is cross-country skiing and snowmobiling. Summer brings opportunities of biking, swimming, fishing, and hunting. If you love classic camping experiences, this one will provide what you're looking for.
Prouty Place State Park : Austin, PA
If this hunting season you're looking for a nearby place to go hunting, this state park is only around an hour and a half away from Bradford. Prouty Place State Park is surrounded by the Susquehannock State Forest, making hunting white-tailed deer and black bears a common activity. It's five acres and feels far enough away that it's easy to relax and not think about work. It's summertime, so take a vacation and check out Prouty Place State Park.
Parker Dam State Park : Penfield, PA
If you don't mind a two-hour drive, this state park is perfect for church gatherings or family reunions as it has pavilions that are capable of holding around 75 people each. So don't be afraid to get a big group together and get a potluck going! Here you can also go swimming next to a beach, boating on the lake, or fishing in the streams. There are plenty of trails, so choose how much time you want to spend hiking and get to it! If you decide to stay the night, there are flush toilets, showers, and electric hookups for your convenience and comfort!
Hills Creek State Park : Wellsboro, PA
This campground has an abundance of options for staying the night. You could go camping with just you, or get a group together and have up to 40 people camping together. There are also cabins, cottages, and yurts that you could stay in. In case you don't know what a yurt is, it's a shelter that has canvas walls and wooden flooring. The yurts here have a few modern amenities such as refrigerators and electric heating among other comforts. Campers and visitors can take advantage of the water activities in the summer and the many snow activities in the winter.
Hyner Run State Park : North Bend, PA
There are plenty of things to do at Hyner Run State Park instead of just relaxing in your comfortable campsite that has a fire ring, picnic table, and level pad. You can go hiking on one of the trails, hunting, fishing, or swimming in the pool. This is a perfect place to enjoy the great outdoors no matter what you're doing. Kids will enjoy the playground and the pool. When it comes time to eat, you can choose your view because there is a seven-acre picnic area with 100+ picnic tables.
SOUTH CENTRAL
Greenwood Furnace State Park : Huntingdon County, PA
This campground is another one that cheats the title by being around three hours away. It's a great opportunity to educate the family on some American history while eating lunch or walking around. You'll learn about the history behind the name of the park just by visiting. This area is also perfect for swimming and fishing in the summer and skating and skiing in the winter. Make sure to visit and learn more about the Greenwood Furnace that produced tons of iron each day.
NORTHEAST
Worlds End State Park : Forksville, PA
This beautiful, highly-rated campground has tons of options for activities. Go on a hike and be prepared to be awestruck by the fantastic sights in Worlds End State Park. Or go out on the water and whitewater board and swim. Don't forget that this park is open year-round, so you can plan your trip for winter break and go cross-country skiing or snowmobiling. This campground provides the opportunity for you to bring a group of people to make plenty of adventurous memories with friends and family.
Mount Pisgah : Troy, PA
For a great summer day, you can drive two and a half hours to Mount Pisgah. You can swim in the pool, go fishing at the lake, play sand volleyball or horseshoes, and picnic in the sun or in the shade of the shelter provided. There is even a little bit of history attached to the land for you to learn about! If you're really craving an educational time, going to the nearby museum is an option as well. It's really a great place for day use, but with so many options to choose from it might be better to just stay a few days so you aren't rushing through all the activities.
Chapman State Park : Clarendon, PA
Chapman is a state park with a 68-acre lake on it and is less than an hour away from Bradford. This state park has just about every activity you can think of all year round. Because it's so close, it's perfect for day trips or spur of the moment camping excursions. Bring the kids or come alone for biking, swimming, or boating on a beautiful day, especially if you want to spend your time in the sun on a well-maintained property. During the winter you can go sledding and snowmobiling, which is especially convenient if you don't have an area for those activities near your home.
NORTHWEST
Dewdrop Campground : Warren, PA
If you want a camping vacation that is just as relaxing as it is active, this campground can provide. There are tons of trails at Dewdrop campground. Hikers and walking enthusiasts will love the wooded trails and views of the Allegheny Reservoir. Classic camping activities such as kayaking and fishing are popular. There are picnic tables in every site, as well as fire rings and tent pads. Firewood and ice are for sale for your convenience, and drinking water is available provided. This is a great option for people who don't want to spend a lot of time driving, as it is only a half-hour away from Bradford!
Tionesta Lake : Tionesta, PA
Tionesta Lake houses lots of wildlife in and around itself. These creatures are going to be hiding but if you want to try your luck at spotting some of the critters, go hiking around here! There are deer, porcupine, turkey, osprey, and opossum. There are showers and flush toilets on the campground here to ensure you're comfortable during your stay. The campground may not be directly next to the lake, but that doesn't mean you can't spend all of your time there! Water skiing and swimming have areas designated here, so bring your swimsuit and a boat to enjoy your time to the fullest!
Buckaloons Campground: Warren, PA
Because the campground is right next to the conjunction of the Allegheny River, Brokenstraw Creek, and Irvine Run, it provides lots of opportunities for water activities! Bring your canoes and kayaks or rent from the grounds. Go rafting and boating during the day and later you can take a late night hike on the trails or play horseshoes or basketball on the courts. There are electric hookups, toilets, and hot showers to make sure you have a comfortable stay.
NEW YORK
Lakeside Campground : Windsor, NY
This campground isn't even in Pennsylvania and it's three hours away, but they have a mini train ride and lots of opportunities for socialization here! You can bring your big or small RV, rent a cabin or a trailer, or just enjoy the outdoors and go tenting! If you forget anything at home, they have you covered with their camp store that also sells things like ice, firewood, and worms. When you're done riding the mini train go swimming, boating, fishing, or play games on the game court!
Allegany State Park : Salamanca, NY
This campground has multiple areas for you to choose from. Allegany State Park in New York is only half an hour away from Bradford, so it's perfect for a day trip or overnight stay. They have a swimming beach, nature trails, museum, tennis, and boat launches so you'll never be bored. The camping sites can hold tents or RVs, and cabins are available for rent if you'd rather sleep off of the ground.
Nine Mile State Forest : Allegany, NY
The 3,162-acre Nine Mile State Forest in New York is perfect for hunting and trapping in season. Make sure you check the regulations ahead of time so you're prepared! Biking and hiking through the forest are also popular and beautiful, especially in autumn. Horse trails are not available, but riders may use the old logging roads. During the winter, you can cross-country ski or snowshoe through the historical area. Greatest upside? Primitive camping here is free and it's open year-round!
Riverhurst Park Campground : Olean, NY
Campsites here each have a picnic table, tent pad, and fire ring. Most campsites have electric, sewer, and water hookups but some do not. There is access to the internet during your stay, but only if you request it. Visitors can use the pavilion for picnics. They have a stove, refrigerator, access to electric hookups, chicken BBQ pits, and bathrooms. This campground is beautiful, comfortable, and clean, and if you don't believe us check out the raving online reviews!
Lake Lane Getaway : Olean, NY
At the Lake Lane Getaway, you can vacation in style while staying in the cabins for rent that are a great combo of rustic and modern. If you'd rather camp in your tent you have that option as well, and will have access to a porta-potty and a sink. Campers love to go fishing while relaxing and enjoying the scenery at this getaway in New York. Don't forget to make your reservation!