7 Stunning Luxury Pontoon Boats For 2020
It's hard to beat the luxury of a pontoon boat for a day on the water. They're great for lounging, swimming, and work well for most types of fishing. Higher-end models can easily tow skiers and even have "privacy stations," so there is no need to run to shore if someone needs to use the bathroom.
Every year luxury pontoon boats add features to attract buyers looking for the ultimate in relaxation. If we could only choose one boat, it would be hard not to choose a luxury pontoon. A day on the water is an entirely different experience in a pontoon vs. a fishing boat. The question is, which one would we pick? Here are our favorite luxury pontoon boats for 2020. Which one is your favorite?
Avalon Excaliber Elite Windshield
The Avalon Excaliber Elite Windshield is aptly titled, as it's easy to imagine King Arthur sailing the seven seas with a refrigerator full of mead. Yes, there's a refrigerator and a sink on the Elite Windshield (ELW), which come in handy for obvious reasons. The 27′ ELW is a triple pontoon, and is often equipped with twin engines. It's stunning in every way.
Starting at $106,600
Grand Tahoe Rear Lounge Windshield
The Grand Tahoe Rear Lounge Windshield takes a different approach with the layout and features two full-size electronic lounge chairs in the aft of the boat. They provide a unique perspective when jetting across the lake and perfect for sunning and midday naps. With a max of 350hp and 16 person capacity, this luxury pontoon boat a real beauty.
Starting at $106,600
Catalina Platinum Funship
No luxury pontoon boat list is complete without a funship, which is another name for double-decker pontoon boats. If you have kids, it's hard to beat a two-level pontoon with a water slide. The Catalina Platinum Funship features a rear bistro-style table so the adults can relax while kids have the time of their lives upstairs. The waterslide has a pump, so it's ready to go at the flip of a switch.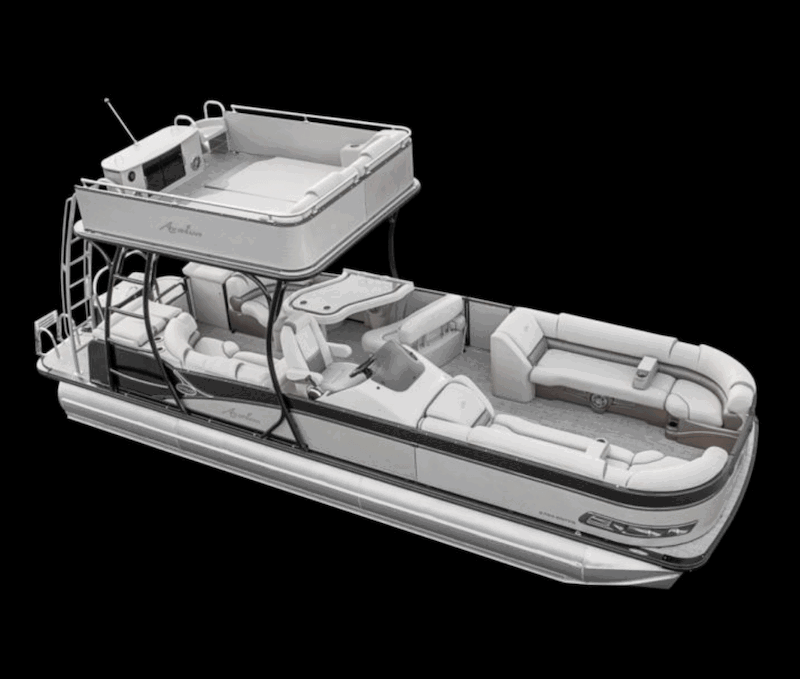 Starting at $67,000
Harris Crowne SL 270 Twin Engine
The Harris Crowne SL 270 Twin Engine is an absolute beast. Capable of handling up to 800hp, it can reach speeds of 60+mph. If you want to get around quickly on a large body of water, this is the boat for you. It's available with Mercury Joystick Piloting for tight maneuvering and has the option of a powered sport arch for clearing low bridges.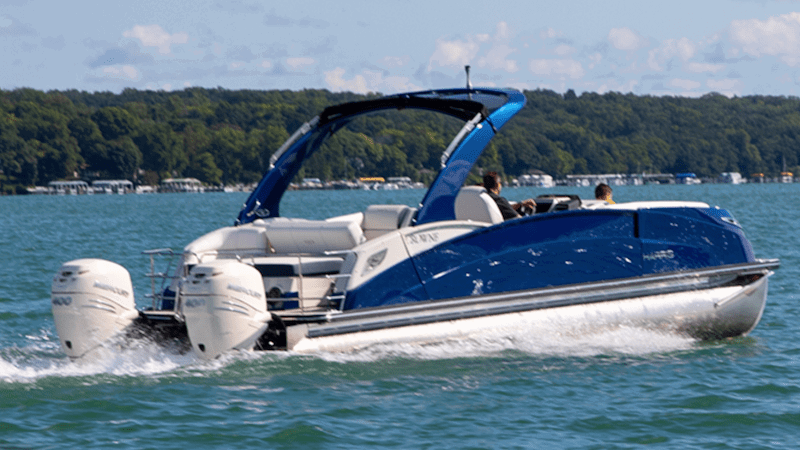 Price unavailable
Manitou XT
Manitou has patented what they call "V-Toon Technology." The triple pontoon design features a central tube that sits lower in the water than the outside tubes. This creates a smoother, more agile ride at high speeds, which you'll appreciate if you upgrade to the 800hp sport package. The Manitou XT has infinitely customizable color patterns and four floor plans suited for different applications.
Price unavailable
Premier Escalante
The Premier Escalante is a double-decker that genuinely defines "luxury pontoon." The second level is impressively spacious at 12 feet, and the waterslide will keep the family entertained for hours. It features a sink, refrigerator, wine cooler, AND a hard side changing room. If your goal is to entertain you won't find a better option.
Starting at $146,800
Barletta Slideout EX23Q
We've never seen anything quite like the Barletta Slideout EX23Q. It expands from 8'6" to 14'10" wide, adding a whopping 128 square feet of extra floor space. What's even more impressive is that you can cruise at max speeds with the pontoon expanded. That's enough for a dance floor, which is exactly what you'll want to do after expanding it and cranking up the dual 1500 watt amp sound system.
Price unavailable