Full suspension mountain bikes are the ultimate form of transport. They can go anywhere, do almost anything and require very little maintenance as long as you take care of them.
But in a crowded market with hundreds, if not thousands of options, how do you choose the right bike for you?
We have been riding mountain bikes for more years than we care to mention. We have ridden hardtails and full suspension and have a soft spot for both types of bikes.
But, when things get gnarly or you want to go seriously off-piste, a full suspension mountain bike is the only way to go.
What's the difference between hardtail and full suspension?
Let's get the basics out of the way before we check out the bikes.
What's the difference between hardtail and full suspension mountain bikes?
The clue is in the name.
A hardtail bike will have front suspension in the forks but a rigid frame at the back.
Hardtails are faster, lighter and stiffer than full suspension but there's an obvious cost in comfort and off-road ability.
A full suspension bike has front suspension in the forks and some kind of suspension at the back.
This is usually made up of the front triangle of the frame with the crank, seat post and steering and a second triangle linked via a pivot and a suspension mount of some kind.
The pivot enables the rear triangle to move up and down while maintaining some rigidity and is cushioned by the suspension mount.
What are the advantages of full suspension?
Full suspension bikes provide superior comfort compared to hardtails. All the lumps and bumps are soaked up by the suspension, which makes it easier to hit the rough stuff while maintaining control of the bike.
Full suspension also helps the tires remain planted on the ground until you don't want them to be.
Just like in a car, suspension is not only designed to provide comfort. It's also designed to push the tires onto the road and keep them there.
That provides better grip, better stopping power and much more stability.
Where the rear wheel of a hardtail may skip and jump when you're on the trail, a full suspension mountain bike will remain planted with the wheels firmly on the trail.
Full suspension mountain bikes
There are a bunch of different types of full suspension mountain bikes but we aren't going to get into all that here.
Our aim is to provide an overview of what's available and at what price.
If you want to explore bike types, here's a quick overview:
Cross-country – Short travel full suspension mountain bikes made light and fast. Ideal for racing or cross country use over light trails.
Trail – Longer travel bikes that sit between cross-country and enduro. A do-it-all type of bike for most of us who don't specialize in one type of riding.
Enduro – More travel and different geometry that provides the ability to go downhill, ride trails, hit the bike park and do pretty much anything.
Downhill – Tough full suspension mountain bikes with a long wheelbase to tackle serious downhills fast. A specialized type of mountain bike that's not as nimble on trails but flies downhill.
29er – A type of cross-country and trail bike with larger wheels that can carry more speed but is slower to turn and accelerate. Very popular right now as there are a number of big brands making them.
There's also suspension travel, wheel size and frame material to think about, but those considerations aren't quite as important as bike type.
Plus, if we cover all that here, we won't have space for the bikes!
Best full suspension mountain bikes in 2022
Like most things in life, there is no 'perfect' mountain bike. There's only the right mountain bike for the type of riding you do and your budget.
If you ride mainly trails, try a cross-country or trail bike. If you like bike parks or rougher riding, try an enduro. If you like going fast over lighter trails and don't mind a little sluggishness, try a 29er.
If you mainly want to ride downhill as fast as you can and don't mind the extra weight, a downhill bike is going to be best.
If you're looking for a do-it-all bike that can do most things well, a trail or enduro bike will be most likely to fit the bill.
Here are a few to choose from:
All prices are approximate and accurate as of October 2022.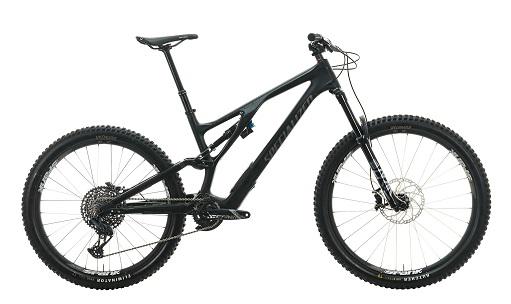 The Specialized Stumpjumper Evo Comp is a trail bike with few compromises. It's a trail 29er made from carbon fiber and delivers a deliciously smooth ride.
It also looks good and has 160mm travel from the Fox Rhythm 36 front forks and 150mm travel from the Fox Float X Evol Performance rear shock.
It weighs just 14.57kg and delivers a blistering ride no matter where you go. It's no downhiller or extreme terrain bike, but for everything else, it delivers.
One reason we like the Stumpjumper Evo Comp is the adjustment. An Allen key allows you to play around with the setup almost infinitely. Along with the adjustable shocks, you can tune this bike until it's pure Goldilocks.
Top features of the Specialized Stumpjumper Evo Comp:
Light and easy to ride
Adjustable geometry
150/160mm travel
Fox suspension at either end
Looks really good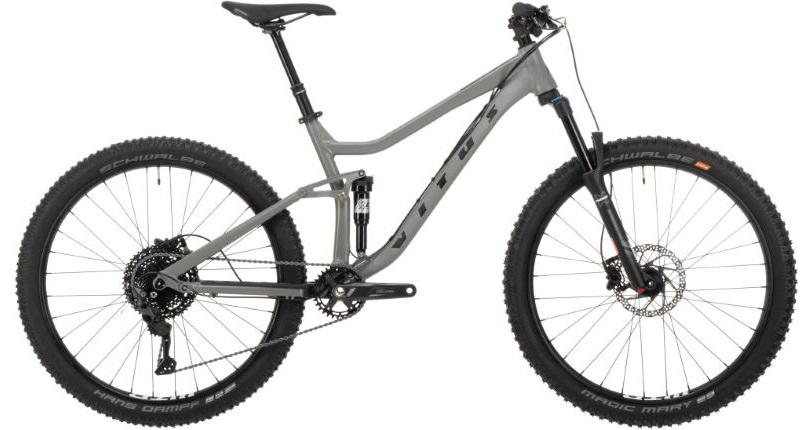 The Vitus Mythique 27 is at the other end of the pricing scale yet still delivers a great ride.
It doesn't have the adjustability of the Specialized or the Fox shocks. Instead, it uses the robust and reliable RockShox with 130mm travel X-Fusion RC32 suspension fork up front and 130mm X-Fusion 02 Pro-R at the rear.
This bike is made tough and delivers decent components, if a little dated gearing. Otherwise, the setup is great and you can be confident that wherever you go, the Vitus will have your back.
The main downside is limited saddle adjustment thanks to the frame shape. A dropper seat post will probably be the first upgrade you make. Otherwise, it's a solid performer.
Top features of the Vitus Mythique 27:
Great frame for the money
RockShox is always dependable
Stable at speed and nimble around corners
130mm travel front and rear
Decent entry level full suspension mountain bike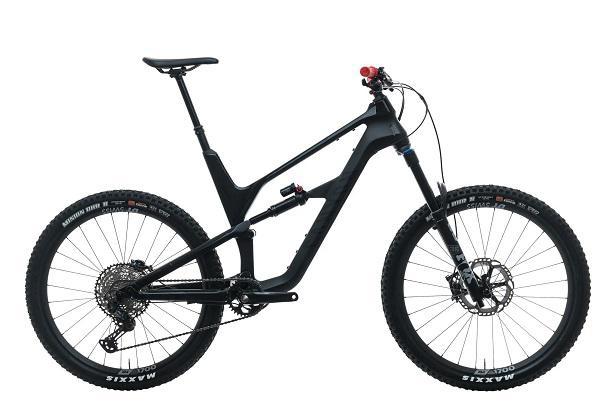 One of our testers owns a Canyon Spectral and loves it, so this review isn't exactly unbiased.
Canyon is a German direct to consumer manufacturer so tends to offer superb value for money. The Canyon Spectral 29 CF 8 is no exception.
It's a trail bike with 29" wheels and is designed for speed and balance. The geometry is superb, with a confidence-inspiring ride and a somewhat dangerous feeling of invincibility on the trails.
It has 160mm Fox 36 Performance Elite forks up front and a 60mm Fox DPX2 Performance Elite shock at back. Both are very adjustable and enable you to fine tune your setup and adjust on the fly should the terrain demand it.
With Shimano XT gearing, carbon frame and dropper post, this bike is one of the best bikes you can ride without spending a fortune. There are cheaper models in the range too.
Top features of the Canyon Spectral 29 CF 8:
Great spec for the money
Fox shocks all round
Amazing balance that inspires confidence
New colorways look exceptional
Speed!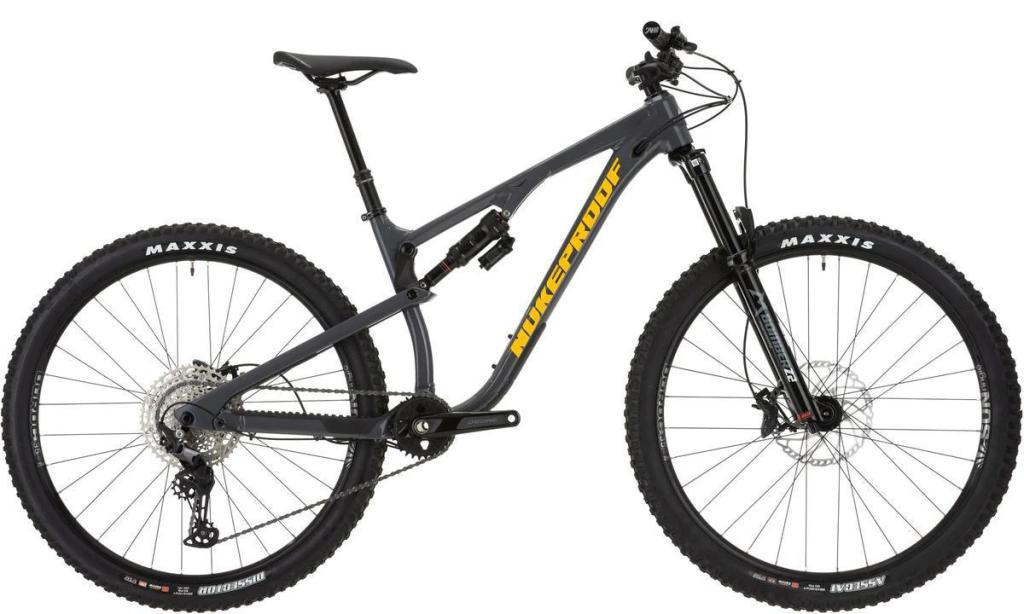 The Nukeproof Reactor Pro 290 Alloy is one of the prettiest full suspension mountain bikes on the market today.
It's available in two guises, 27.5" or 29" and we prefer the latter. It helps the bike fly over trails and handle anything but the most technical terrain. That, and the 14.6kg weight make it very easy to ride and a joy to look at too.
It comes with a RockShox Pike Select + fork and RockShox Super Deluxe Select + RT rear shock for 140mm travel up front and 130mm at back. That's plenty enough for most uses.
As this is an alloy build, the Reactor Pro is stiff yet comfortable and comes with a carbon seatstay at the rear for extra compliance. It's a great combination that delivers a smooth ride whatever the trail.
Top features of the Nukeproof Reactor Pro 290 Alloy:
Those looks!
RockShox front and rear
Sublime setup with speed at its heart
Trail-oriented geometry
Those looks!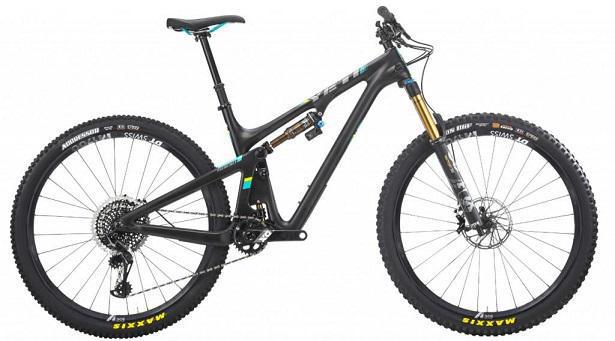 The Yeti SB130 TURQ X01 is another achingly pretty bike, especially in red. So much so that one of our testers has added it to their Christmas list.
The Yeti SB130 TURQ X01 is a mid-travel trail bike able to tackle all but the steepest, toughest downhill. It can cope with just about anything you throw at it and roll away laughing.
The geometry is upright but still generates speed quickly. It has 150mm travel up front and 130mm at the rear with Fox handling both. The low slung geometry means it's easy to hunker down and mash the pedals to propel this bike as fast as you dare.
The overall package is perfectly balanced and can be tuned to your specific needs. It's a superb bike that shows just how good two wheels can be.
Top features of the Yeti SB130 TURQ X01:
Another amazing looking bike
Fox front and rear
Superb balance
Low slung design makes it very adaptable to the terrain
Use it for anything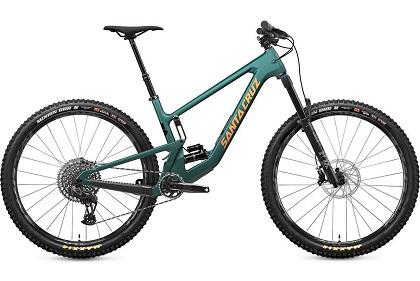 The Santa Cruz Hightower V3 is a money no object bike. We fully appreciate that $10k isn't within everyone's reach, but this is such a good bike it would be criminal of us not to include it.
Santa Cruz needs no introduction. We all know they are the brand to watch when it comes to mountain bikes. The Santa Cruz Hightower V3 is a case in point.
It's a great looking bike with superb suspension and nimble handling. It's a bike that just does everything right and delivers that rush we all look for when we hit the trails.
It has FOX 36 Float Factory forks with `150mm travel and Rockshox Super Deluxe Ultimate rear shock with 145mm travel. The combination works perfectly and delivers superb balance whatever you're riding over.
While heavier than the V2, the V3 weighs in at just 14.2kg, which is pretty light given how tough these bikes are built.
Top features of the Santa Cruz Hightower V3:
Lifetime warranty on frame and bearings
Perfectly balanced with confident handling
Fox and Rockshox work perfectly together
Internal storage for tools and spares
Fast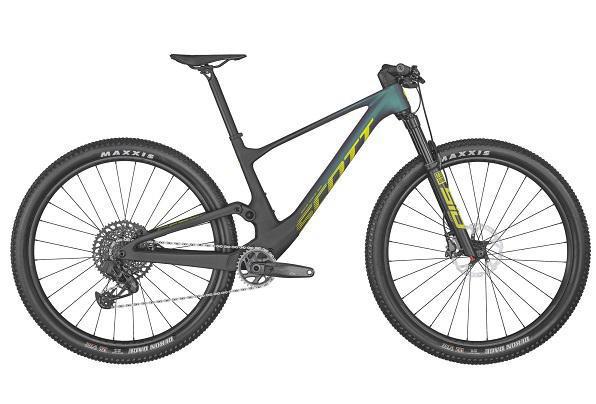 The Scott Spark Team Issue AXS is for all you aspiring cross-country racers. It's a superb bike for hitting the trails at speed and just begs you to go faster.
The Scott Spark is widely known to be one of the best handling full suspension mountain bikes in the world. The balance is superb, suspension is well balanced and it's a very slick design.
It's burly without being burly and that hidden rear suspension is awesome to look at. You get a RockShox SID Select RL3 120mm travel fork and a RockShox SID Nude RL3 120mm rear shock in a very clever hidden mount.
Both keep the bike perfectly poised and provide all the damping, and confidence, you need to hit the trail hard. If speed is your thing and you have aspirations to race, this is the bike to get.
Top features of the Scott Spark Team Issue AXS:
Perfect for racing
Sensible price even for Team Issue
Perfectly balanced and inspires you to go faster
Weighs just 11.83kg
SRAM GX Eagle gearing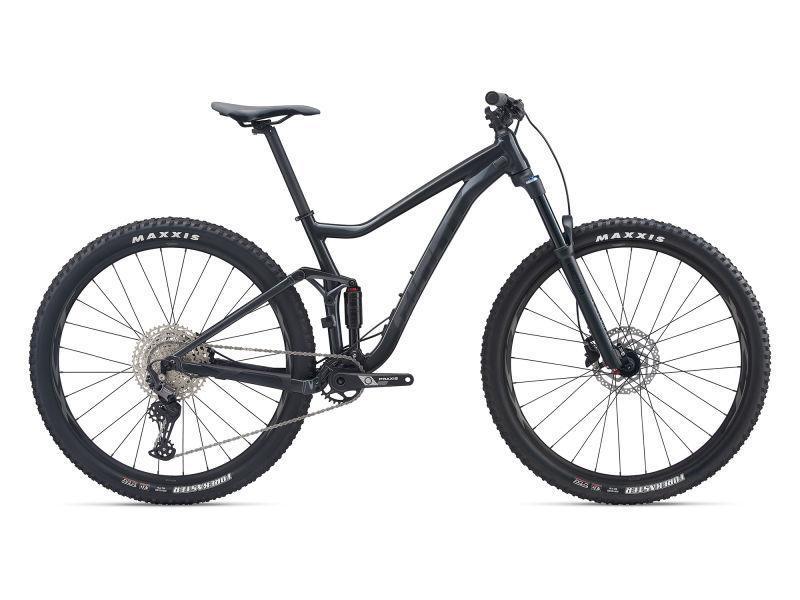 Our final full suspension mountain bike recommendation is the Giant Stance 29 2. We're back at the sensible end of the budget scale but without compromising on quality.
It's a 29er manufactured by the largest bike builder in the world. It looks good, handles well and delivers the adrenalin rush we look for when out on the trails.
The own brand Giant Crest 34 RCL fork has 130mm travel while the Suntour Raidon R rear shock has 120mm travel. Both deliver an excellent ride despite not being premium brands. Once you're going, you'll hardly notice the difference until you need to adjust or hit really rough stuff.
The rest of the bike is well-balanced and inspiring. The Shimano Deore gearing is at the lower end of the range but still delivers the crisp shifting and reliability we expect. Overall, it's a great package for the price!
Top features of the Giant Stance 29 2:
You would never know this is a 'budget' bike
Frame and suspension setup is great
Plenty of travel for most situations
Own brand forks punches way above its weight
Upgrades would be purely optional
So those are the top full suspension mountain bikes around right now according to our own testing.
Each deliver something slightly different at different price points. Yet they all deliver an awesome ride and the confidence to go further and faster. That's exactly what we look for in a bike!
Do you ride any of these? Have any full suspension mountain bikes you want us to check out? Tell us in the comments!