Gear of the Year : Yumbutter
2014 Gear Of The Year: Yumbutter
If you've ever been out hiking and craved a peanut butter sandwich or a good banana with peanut butter on it, then you know how unrealistic it may be to whip out a jar of your favorite peanut butter, grab a knife, and spread it on your food of choice. Not to mention the mess it makes and the clean up. Who wants to shove a peanut buttery knife back in their bag? Not us. And hopefully, not you. So should humanity go peanut butter-less while hiking and adventuring this beautiful planet of ours? We say, no! We should be able to eat peanut butter without the mess wherever we dang well please.
Introducing: Yumbutter, the butter of all kinds that aims to fix this dilemma. And when I say "butter of all kinds," I mean it. Flavors include: cran & coco peanut butter, creamy almond butter, creamy peanut butter, superfood peanut butter, spicy thai peanut butter, and sunflower butter. These various flavors come in your typical jar, but they also are available in handy on-the-go pouches with a twist off cap for reuse. To use just unscrew the cap, squeeze some flavor on your food and close that baby back up. These pouches are nothing short of the bee's knees.
If that wasn't enough for you, Yumbutter knows how to give back like rock stars. They call it "Holistic Responsibility." We call it pretty dang awesome. With their "Buy One : Feed One" program, they've been able to feed over 14,000 children. What is their entire mission? Craft delicious, clean food; openly share about holistic health; grow compassion by serving others; and support organic, responsible growers for a more ethical supply chain. No wonder they've received a 50 Campfires Gear of the Year award.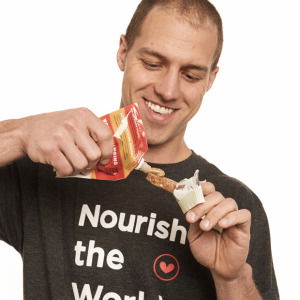 Other Gear of the Year Winners – Eat Category