2014 Gear Of The Year: Yeti Hopper Cooler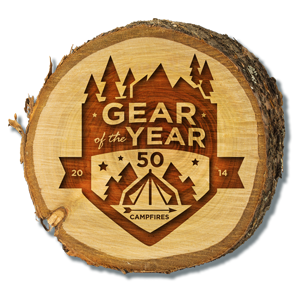 We've all been there. We fill our coolers for the weekend with our favorite beverages on a Friday only to have a pool of lukewarm water on Saturday afternoon. It's sad. It's unacceptable! But keeping things cold isn't the only problem with most coolers.
When you think about it, coolers are not very friendly. They're bulky and take up half the trunk. They are made of a plastic that is prone to break when it's put through the ringer—not to mention the every-breaking plastic handles. Did we mention their inability to hold ice and beverages at a cold temperature for a reasonable amount of time? And if you were hoping to throw meat in and keep it frozen to cook on Sunday, you'll most likely be very disappointed.
The Yeti Hopper 30 Cooler takes home 50 Campfires Gear Of The Year because it fixes a lot of these problems. This cooler is made of some pretty cool material. This cool material is not for the sake of "looking cool," but for the sake of being practical and usable. Each of its features aims to fix a different problem that most coolers have. The DryHide outer shell is just as indestructible as other YETI coolers are known to be, while also being a soft-sided cooler. This soft-sided cooler makes it easy to stow without it taking up half the trunk space for your next adventure. The HydroLok zipper is simply nothing to mess around with. If you get your arm stuck in this thing, you may never get it back. Kidding. But it's sure to seal tightly to ensure your beverages and food stay cold.
Other Gear of the Year Winners – Eat Category