Long Johns. Long underwear. Thermal underwear. Base layers. These are a few names used interchangeably for garments designed to regulate body temperature in cold-weather environments. Heated base layers pack an additional punch by powering up the thermal capabilities—literally.
Leveraging a battery-powered heating element, a heated base layer lets you reduce the number of total layers needed to keep warm in winter temperatures. Not only do fewer layers increase mobility, but adding temperature control makes it easy to customize comfort with the tap of a finger when the mercury takes a nosedive or when physical activity ups your body temp. These are the best heated base layers for outdoor adventures.
Prices were accurate at the time of publication.
Best Heated Base Layer Overall: Fieldsheer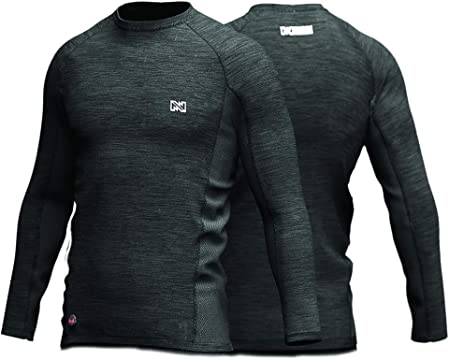 Topping the list is the Fieldsheer Merino Heated Base Layer. For starters, Merino wool will always be the best choice for cold-weather activities, barring any skin sensitivities to the natural fiber. Wool continues to insulate even when wet, so you can sweat or get caught in wet conditions and still be toasty warm. Plus, it has natural anti-odor properties, which allows you to go longer between washes.
All of the Fieldsheer garments offer a touch-control button as well as a mobile app to control four temperature settings and can get up to 10 hours of heat per charge. It takes three to four hours to fully charge the battery, which is one of the shorter charge times among these garments.
The base layer shirt is designed with a contoured hood, a quarter zip neckline and thumb holes, making it easy to customize comfort on the go. Matching heated pants complete the set, if desired.
Both base layers come in men's and women's sizes and can be machine-washed on a delicate cycle and tumble-dried on low heat. All garments have a limited one-year warranty.
Buy the Women's Fieldsheer Merino Heated Base Layer for $160
Buy the Men's Fieldsheer Merino Heated Base Layer for $160
Best Heated Base Layer for Skiing & Snowboarding: Gerbing 7v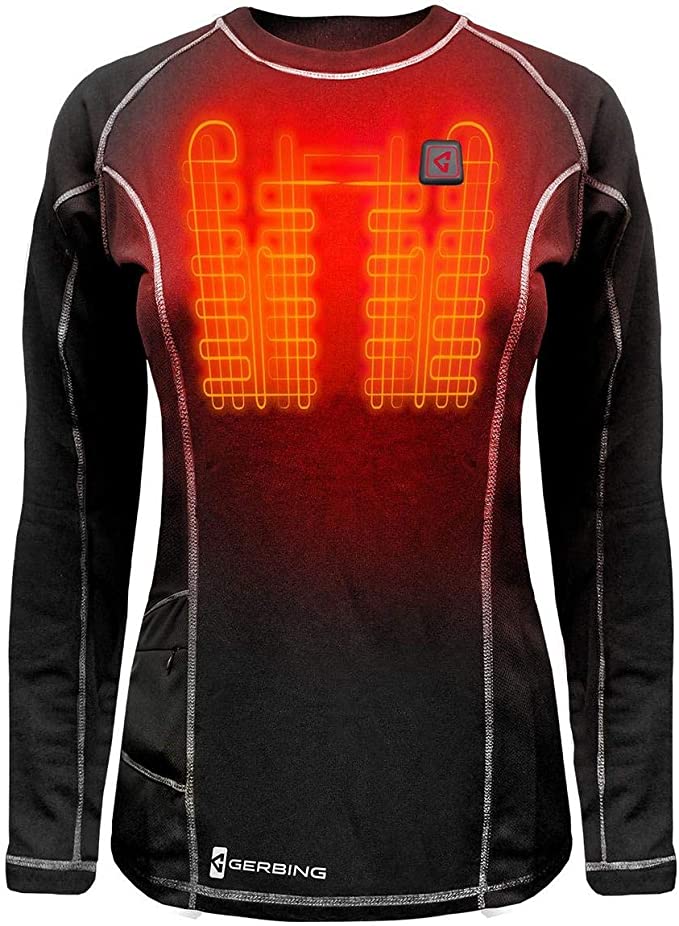 The Gerbing 7v Heated Base Layers features a stretchable synthetic fabric, making them ideal for active endeavors such as skiing, snowboarding, snowshoeing and more. The three heat panels within are protected by a waterproof casing. Reviewers say this shirt is lightweight, comfortable and warm, and attractive enough to be worn on its own when extra layers aren't needed. The touch-button control is on the chest, which makes it easy to adjust temperature through a winter coat without taking off gloves.
The battery life and temperature range are solidly in the middle of the heated base layer category. It might need to be topped off during lunch in the base lodge to get a full day of use depending on the temperature setting used.
At the end of the day, the garments can be machine-washed on gentle cycle but will need to air-dry overnight. Gerbing offers its heated base layers in men's and women's sizing in a "sport fit" that has a slimmer design than some, so you may want to size up if you prefer a roomier feel. All purchases come with a lifetime warranty.
Buy the Gerbing 7V Men's Heated Base Layer for $170
Buy the Gerbing 7V Women's Heated Base Layer for $170
Best Heated Base Layer for Snowmobiling and Horseback Riding: Gobi Heat Basecamp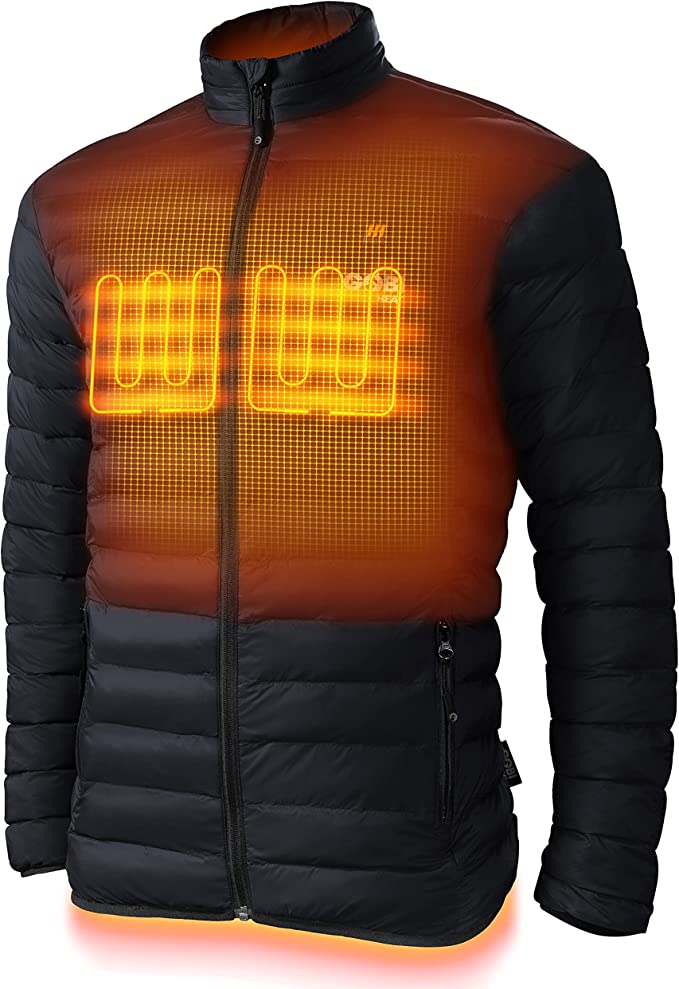 The Gobi Heat Basecamp Heated Base Layer is a great choice for moderate activity such as snowmobiling and horseback riding, because it features a touch-control button on the sleeve for easy access without removing gloves or unzipping outer layers to adjust the temperature.
The shirt style also features a quarter-zip and a heating element at the back of the neck, which previous purchasers have highlighted as a plus in their reviews. Matching pants are also available.
Some owners suggest the battery pocket is in a strange location on the shirt, which causes it to hang lower on that side, and that it's difficult to tuck into pants because the battery is somewhat bulky. Others have reported that the heating panel in the neck gets warmer than the torso. Still, for activities where you often hold your body relatively still, these aren't dealbreakers.
The Gobi Heat Basecamp garments come in men's and women's sizing. Both garments can be machine-washed and -dried and come with a one-year warranty.
Buy the Gobi Heat Basecamp Men's Heated Base Layer for $199
Buy the Gobie Heat Women's Heated Base Layer for $199
Best Heated Base Layer for Ice Fishing & Spectating: Action Heat 5v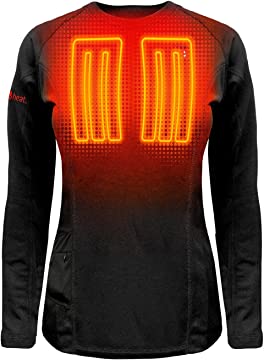 Not all cold-weather activities are high intensity or have you braving the elements all day long. That's why we made sure to include a heated base layer designed for more sedentary activities such as ice fishing and spectating at hockey games, or for a few hours of fieldwork on cold days.
The Action Heat 5v Heated Base Layer features a performance, moisture-wicking fabric with heat-reflecting technology. It is flexible, lightweight and durable and has three heat settings, adjustable with a touch-control button on the chest. Raglan sleeves add mobility, making it easy to haul gear and snacks without uncomfortable pinching or tugging at the shoulders.
The shirt and pants have half the battery life of others and rank in the middle for charging time, which is why we think these are best for low-intensity activities and shorter periods of time wearing them.
These styles come in men's and women's sizing, but purchasers report that sizing can run small, so it's important to pay attention to the sizing chart. This base layer shirt has matching pants as well, and both can be machine-washed and come with a 90-day warranty on the garment and electrical components.
Buy the ActionHeat 5V Heated Base Layer for Men for $160
Buy the ActionHeat 5V Heated Base Layer for Women for $160
What to look for in heated base layers
When adding a heated base layer to a gear closet, there are a few key attributes to consider.
First, and most importantly, is the fabric. The saying "cotton kills" rings true with any base layer, heated or otherwise. These garments are intended to be worn directly against your skin so they should be made with moisture-wicking material—natural wool or synthetic blends—to move sweat away to help keep the body dry. Ideally, the fabric should also have a degree of stretch so it will move with your body for any activity.
Other features to pay attention to include the type of heating element, number and location of heating panels, number of heat settings, battery life, charge time, how the temperature of the garment is controlled, sizing, product warranty and washing instructions.
We took these features and evaluated products based on reviewers' descriptions of the comfort and fit, fabric feel and temperature and the battery life. We also gave points for machine washability—after all, this powered-up clothing costs appreciably more than its unheated cousins, so we'd expect it to be worn regularly in lieu of owning multiple sets. Being able to easily wash between wears is essential.
Other Heated Base Layers Worth Considering
We evaluated 15 of the most-talked-about heated thermals and nixed a handful of them due to poor perceived quality, limited information available and/or lack of response from customer service teams. (When a product includes electronics and needs to be washed, we believe prompt customer service is important.)
However, we found two additional options worth recommending, depending on your budget.
Best Budget-Friendly Heated Base Layer: Volt Tactical 5v
The Volt Tactical 5v Heated Base Layer is a great entry-level piece that keeps it simple. It concentrates all heating panels on the back, has three heat settings controlled by a touch button on the bottom hem of the shirt and charges in three to five hours. The polyester-spandex fabric features a brushed interior for added coziness and an antimicrobial finish to battle odor. This garment is also machine-washable.
The Volt Tactical 5v comes in "unisex" sizing with a decent size range of small to 2XL. However, such sizing isn't ideal for women looking for a body-skimming fit. Reviewers suggested that the touch-control button's placement makes it difficult to adjust the temperature when the shirt is tucked into pants. Speaking of pants, Volt does not offer matching pants for this heated shirt.
Buy the Volt Tactical 5v Heated Base Layer for $130
Best Splurge Heated Base Layer: H.E.A.T. Inc. One-Layer Suit Bundle
When the budget has room for the best of the best, the H.E.A.T. Inc. One-Layer Suit Bundle is splurge-worthy investment. This base layer shirt-pant combo is designed for athletic movement, making it ideal for skiing, snowboarding, hiking and more. Thanks to its stretchable fabric, it's also comfortable for hunting, ice fishing, snowmobiling and even riding motorcycles in colder temps. Temperature is controlled using a mobile app where users can also check on battery life.
The sizing is unisex, but different sizes can be selected for the top and bottom to create a set with a better fit—we recommend consulting the size chart carefully and using a measuring tape. The bundle comes with a top and bottom, four batteries and two chargers, all backed by a lifetime warranty.
Buy the H.E.A.T. Inc. One-Layer Suit Bundle for $900
Our Expert Guide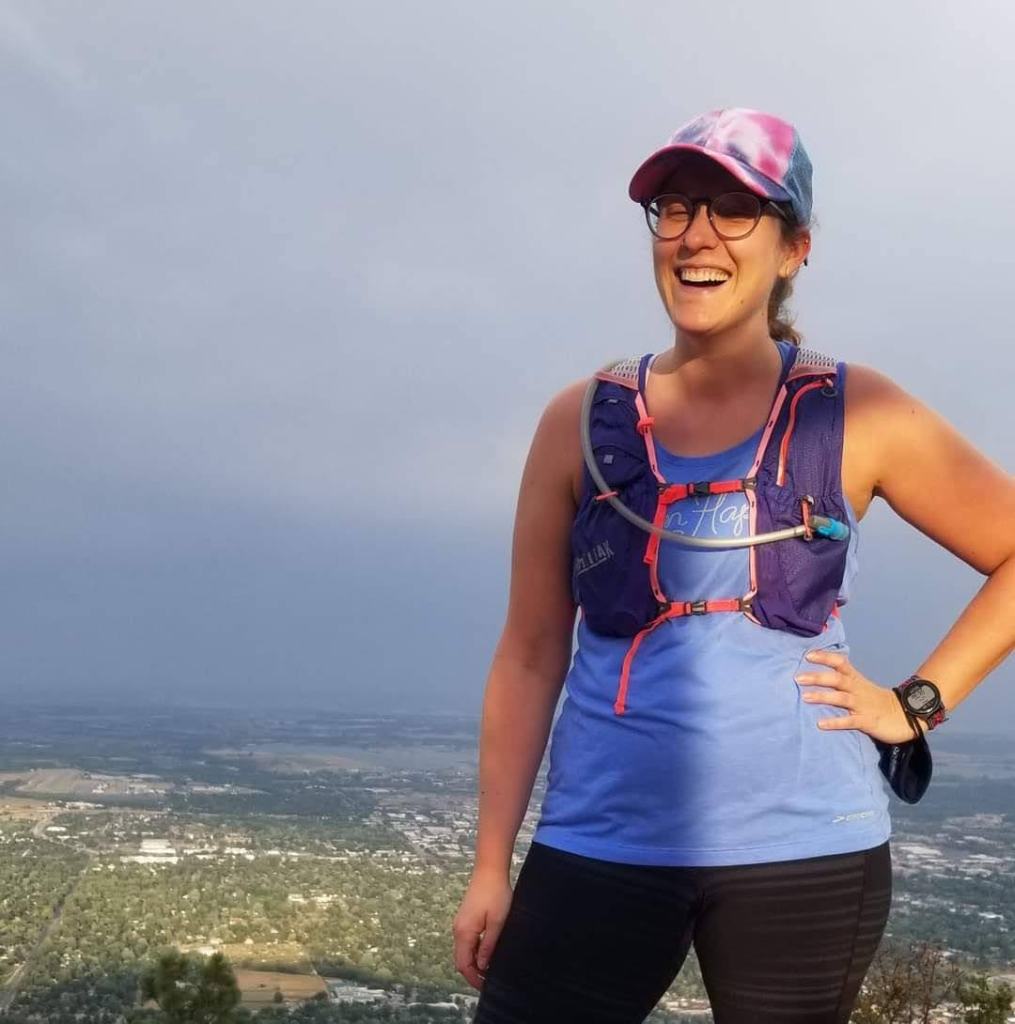 I'm Emily Duane, the expert and writer for this gear guide on heated base layers. I have a degree in fashion merchandising management from the Fashion Institute of Technology where my favorite course was Textiles. I've worked on marketing teams for brands in footwear, hiking and camping gear and highly technical ski apparel, and freelanced for a variety of outdoor print and digital publications.
As an outdoors enthusiast, I take my own apparel, footwear and gear purchases very seriously. I'm very familiar with the questions, expectations and performance needs of people who are buying gear for outdoor recreation. I'm a firm believer that whatever gets you outdoors and keeps you comfortable is a worthwhile investment.