Father's Day Gift Guide: 27 Great Outdoors Gifts For Dad
Father's Day is just around the corner (June 18), and what better way to show your appreciation for the adventurous dads out there than with a gift that speaks to their passion for the great outdoors? Outdoors.com's Father's Day Gift Guide is specially curated for the intrepid fathers who love to explore, conquer new heights, and embrace the wonders of nature. From the latest high-performance gear to the essential survival tools, each item on our list is designed to enhance your dad's favorite outdoor activities.
Whether he's an avid camper, a seasoned angler, or an enthusiastic hiker, these gifts are sure to put a smile on his face – no matter your budget.
This post contains affiliate links. Outdoors.com may earn a commission when you make a purchase through these links. Thank you for your support.  
---
Gifts Under $50
Staying hydrated is important no matter who you are, but if your dad is someone who drinks a lot of water, a Stanley Quencher may be the way to make sure he's staying hydrated without using too many plastic water bottles. The best part, it's cupholder friendly. The Stanley Quencher is also dishwasher safe and comes with a reusable straw.
A good pair of lightweight crew socks will come in handy whether dad is going on a hike, a run, or just lounging around the house. Made from a cotton, nylon, polyurethane blend these socks will provide long lasting comfort, no matter what activity dad wears them for.
These cards are meant to be burned after reading. Each card contains a fire starter sealed inside that can help get your Solo Stove or bonfire up and running. Oh, and they are free - order at solostove.com.
Made with 5-panel construction for a vintage feel, this hat will protect dad's head and give him just a bit of nostalgia to go along with it. With a sturdy bill, this cotton-canvas hat is durable and promises to fit your head perfectly with its secure snapback.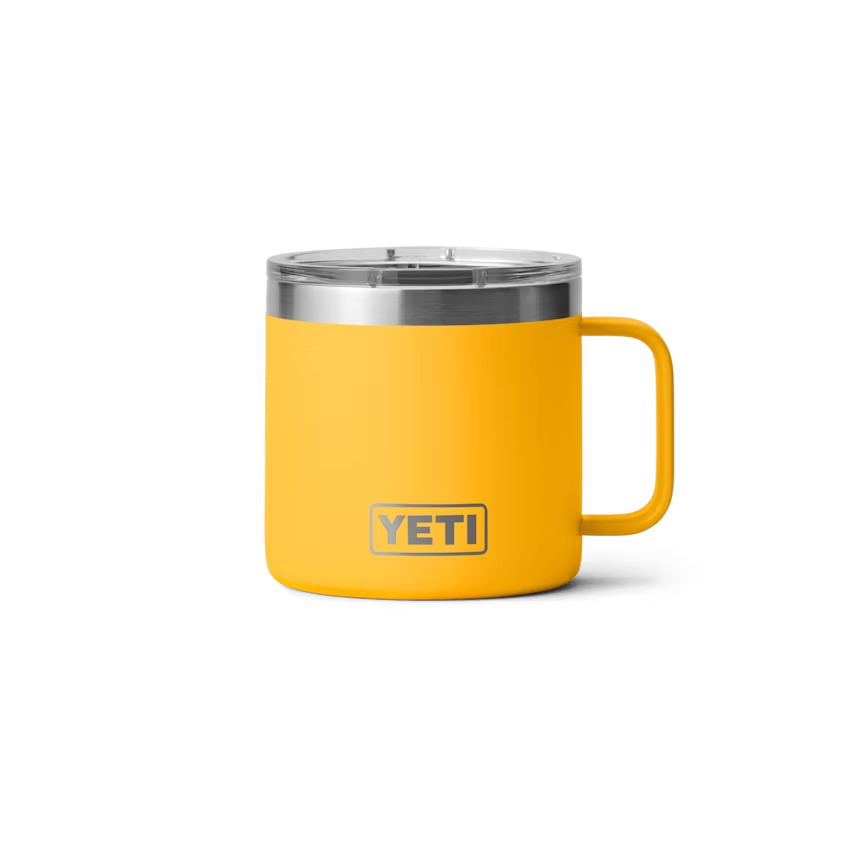 Keep dad's drinks warm whether he's heading to the office or the campground. The mug keeps drinks warm and is dishwasher safe, because like they say on the YETI site, no one needs more work added to their to-do list. Do not put it over an open flame.
With UPF 50 protection, this hat will keep dad protected from the sun during a hike, a trip out on the lake, or any outdoor activity. The hat offers advanced repellent technology, allowing for it to beed off sweat, water, and stains. It even has a built in sweat-band.
Dads deserve a break after setting up camp. Hang up a Wise Owl hammock, and you'll have the perfect place for a rest—maybe even a nap? It's light, folds small, and comes with straps, making it an easy addition to your camping gear. For under $50, this is a home-run gift for outdoors-y dads.
---
Gifts Between $50-$100
Keep dad's lunch dry and fresh, whether he's heading to the office or hopping into the kayak. This lunch bag can hold up to six cans and keeps food from getting soggy, whether it's a hoagie or fresh fruit. Easy to clean with a towel or sponge and can even be hosed down to remove the toughest stains.
We've all been there, a chilly morning excursion that becomes a sweltering afternoon and we are unprepared. Make sure that doesn't happen again to dad by getting him a pair of convertible pants for his upcoming hiking or fishing trip. Made from 96 percent recycled nylon, these pants are made to be durable during his outdoor adventures.
If dad loves a good pair of slippers, but doesn't want to destory his good pair from home, you'll want to check out these waterproof camp booties from Teva. With a waterproof coding that will help the water beed off, made from 100% recycled materials, these comfortable slippers will make an excellent pair of camp slippers to keep dad cozy at the campsite.
Running and staying hydrated outdoors can be a challenge. Worrying about uneven sidewalks, or potholes, carrying a water bottle that's going to stay cold, and keeping up your perfect running playlist, it can all be too much. Worry no more with a hydration vest making for easy carrying of your water to stay hydrated on your toughest runs.
For a snug, comfortable, and stylish fit, these slip-on boat shoes can go from the fishing boat to the dinner table. With a padded collar and soft insole, these shoes will make an excellent addition to dad's wardrobe, no matter where he might wear them.
This cooler is designed to be there whenever a cold drink is a must-have - from the campsite to the beach. Spacious enough to accommodate a generous amount of drinks for your friends and family, it also has a bottle opener for your convenience. And it looks rad.
For dads who don't want to compromise on their espresso, even when they're camping, this portable espresso machine from WACACO is the perfect gift. It doesn't require batteries or electricity, just the strength of your hands to craft that perfect shot. It'll make lattés as good as the coffee shop (or better); perfect to enjoy in the outdoors.
---
---
Gifts Between $100-$250
This fully padded cot will keep dad comfortable throughout the night. Made to hold up to 300 pounds and an adjustable back, the three sets of legs with oversized feet will keep him steady on uneven ground. This comfortable and large cot will make a great gift for dad and anyone who may be sleeping in the same tent as him.
As the 5th generation of the Baitcast Reel, Abu Garcia continues to strive for excellence when it comes to their gear. Get dad a brand new reel and trick out his fishing pole.The reel is designed to be asymmetrical to keep it running smooth with optimized weight and ergonomics.
What says Father's Day like getting dad into a pair of these classics. From the beach to picking up some granola at the market, these Birks provide tried and true summer comfort.
With the ability to fit up to 35 cans, 26 pounds of ice, or most wine bottles, this cooler will be great at the campsite or a backyard barbecue. Get dad a gift that keeps on giving by getting him a cooler that will keep all of the essentials cool, no matter where you might be heading.
If dad loves to run but has been looking to see some new sights when he's out, get him a pair of trail shoes. Made with grippy MaxTrac outsoles, these trail runners are lightweight and will ensure that running is made easy and comfortable.
There's just something about a pair of Ray-Ban sunglasses. Keep dad's eyes protected from the sun during all of his outdoor adventures, with a comfortable and fashionable pair of sunglasses that are meant to last. With 100% UV protection that helps control the sun glare, you'll be safe and stylish all summer long.
Gifts Over $250
This three-season tent has a large cabin to ensure that the family has enough room to sleep comfortably and hang out during a rainy night. The tent is freestanding with steel/fiberglass frames makes for easy set up, so that even one person can do it alone. Made from a polyester material, the tent will keep you and your family dry. 
If Dad has been trying to get out on to the water more, give him the push he needs with a new kayak. This kayak can hold up to 275 pounds and has molded foot rests, storage space for all of your gear, and a bungee cord for your water bottle. 
If dad is in need of a new utility knife, the Benchmade Immunity Knife is a great option. With it's durable, steel blade and aluminum handle, this knife will be super useful whether your camping or just in need of a new knife for small outdoor tasks around the house. It even comes with a carrying clip.
Get dad an inflatable lounger for the pool or the lake. With the bottom of the float fully submerged and the top half out of the water, this new water accessory will be the talk of the pool club, or the lake. 
You can't beat tin cloth on a wet, cool day in the wild. And this one from Filson is a true classic. 
Whether dad is getting ready for a hunting or fishing trip, these Simms waders offer three layers of waterproof protection from the elements. With fleece-lined, hand-warmer pockets, these waders have adjustable suspenders to ensure a snug and comfortable fit, no matter the activity.
If the dad in your life loves to shred trails, and you love to shred budgets, here's the perfect match. It's not an impulse buy, but the bike's carbon frame and the Switch Infinity suspension makes this a light ride that takes the bumps like butter.