The Best Winter Socks of 2023
During my thru hikes, I've seen some of the worst blisters and rub spots you could imagine. If there is one piece of advice for newbie hikers, that would be to take care of your feet. Proper footwear, sturdy insoles and comfortable-wearing socks serve as the keys to success. Most people think a sock is a sock, but times have changed since the days of white cotton tube socks with the colorful stripes around the top. The sock's materials, support and durability make all the difference.
Because winter in Alaska starts in September and can last into May, I spend more than half my year in warm socks. However, my sock choice depends on my activities. One pair might be better for snowshoeing and cross-country skiing, and another pair might just be best for trips to my outhouse. Below are some of my favorite winter socks that have kept all 10 toes on my feet while exploring in subzero temperatures.
Best Winter Socks Overall: Minus 33 Mountain Heritage Over the Calf Wool Socks
$20
Everything about this sock screams "winner." Even though the brand is new to the game having launched in 2019, these socks exude warmth, comfort and durability. The material is 68 percent Australian merino wool that works well to regulate temperature during activity—it keeps my feet warm in subzero temperatures, yet wicks away any foot sweat.
The rest of the sock material is nylon for stretch, and the three specific zones around the arch, ankle and cuff indeed move well with you for added comfort during movement. There's a vented zone around the shin allowing for extra breathability and air movement. They're not designed for a left/right foot, but the fit is perfected with extensive prototype testing that results in no bunching up around the heel. The seamless design and high wool content allows for extra cushion on the heel and toe.
It's hard to find something that these socks don't succeed with, but I have two gripes. I would say they are not the best for warmer weather and temps above freezing; save them for your bitter cold days of activity. Also, they're incredibly durable, although I did notice some pilling quicker than other pairs.
Bottom line: From the day my wife and I each received a pair, they became our go-to choice. To top it off, they're reasonably priced at $20 per pair and made in the U.S.A.
Buy the Minus 33 Mountain Heritage Over the Calf Wool Socks
Best Winter Socks for Mountaineering: Lorpen T3 Inferno Expedition Polartec
$71
Before you balk at the price, hear me out. These socks have literally saved my life on Denali with winds topping out at 80 miles per hour and temps dipping into the -50s Fahrenheit. I still have all my toes and am here to write about it.
These Lorpens are built for the toughest conditions, for those who climb high and play in negative temps. The socks have a stretchy, two-layer Polartec material that's wind and abrasion-proof while providing warmth and pulling moisture away from your feet. It's topped off with Primaloft insulation along the bottom of the foot and around your toes.
The left/right-foot socks have an anatomically precise fit that allow for better blood flow. Besides wearing these while mountaineering, I wear them while skiing and snowshoeing during the arctic winters in Alaska.
The obvious drawback is the price, but you get what you pay for with these. I own three pairs and my wife owns one pair, but one of my pairs is 7 years old and still in great shape. I also wash these on a gentle cycle and hang to dry. They are not ideal for warmer temperatures and best worn with heavy mountaineering boots, but they are worth every penny if you find yourself in extreme cold.
Buy the Lorpen T3 Inferno Expedition Polartec
Best Winter Socks for Skiing: Icebreaker Merino Ski + Light Over the Calf Socks
$29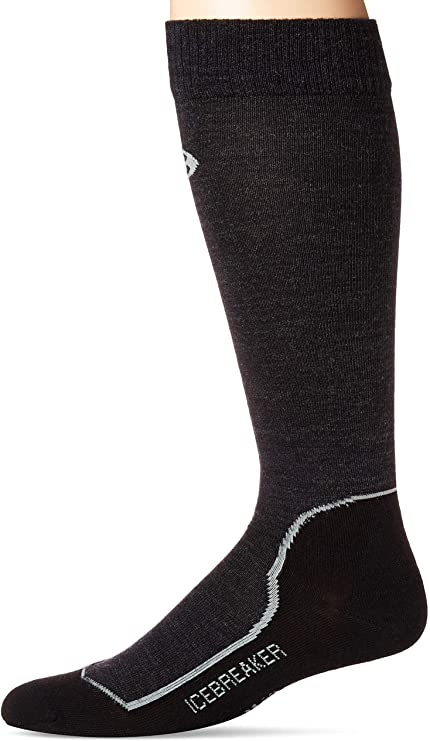 Icebreaker is best known for its killer base layers, so it's no surprise that its ski socks have all the right features for comfort, breathability and fit. The fabric is a combination of merino wool (55 percent) and nylon (42 percent), equally providing that insulation, moisture-wicking and stretch. It also really absorbs the stink, and even after a sweaty day skiing, these socks don't smell.
With a left/right design, ankle instep and Achilles support, they're designed for an ideal fit to keep the socks in place. I love the thinner material that acts as vents around the top of the foot and ankle for warmer days. The socks extend to just below the knee and offer a bit of compression for the calf muscles. The large stretchy cuff means there is no slipping down while recreating, too.
Buy the Icebreaker Merino Ski + Light Over the Calf Socks
Best Winter Liner: Injinji Liner Crew Wool
$15
I'll have to admit, I haven't always been a toe-sock fan. On the other hand (foot?), my wife is blister-prone, so liners have always been her best friend. However, sometimes you need that boost of warmth or protection from the threat of rub spots and blisters when breaking in new boots or going on thru hikes.
These thin merino wool (74 percent) and nylon (22 percent) toe socks are made for that. Each toe is wrapped separately in merino wool, keeping your toes splayed to avoid skin-to-skin rubbing and friction that causes blisters and hotspots. I also love these for added warmth in winter, but sometimes wear them on their own for warm summer days.
Buy the Inijinji Liner Crew Wool Toe Socks
Best Winter Running Sock: Smartwool Run Cold Weather Targeted Cushion Crew Socks
$23
Running is not my favorite pastime, but when I do it, I wear trail runners during warmer winter days and cooler fall days. The seamless crew-length socks combine merino (56 percent) and nylon (13 percent), eliminating slippage, bunching and blisters. Not only do they stay up, but they're high enough to reach the base of my thermals.
These socks have a mesh venting system on the top of the foot as well as a small patch on the bottom to keep feet from overheating. The extra cushion along the heel and ball of the sole provides warmth and bounce in my step. Bonus: They're made in the U.S.A. and come wrapped in a colorful elastic that can double as a hair tie.
Buy the Smartwool Run Cold Weather Targeted Cushion Crew Socks
Other Winter Socks Worth Considering
Farm to Feet Denali Cold Weather Merino Wool Socks
$25
I've owned these socks for years and absolutely love them around the house and for sleeping at camp. They are made of 91 percent merino wool sourced from the U.S. Their description lists them as 'full cushion," and I can attest to that. The complete sock is so thick and soft. I can even use them around the cabin as slippers in a pinch.
Buy the Farm to Feet Denali Cold Weather Merino Wool Socks
Trew Nuyarn Merino Snow Sock
$39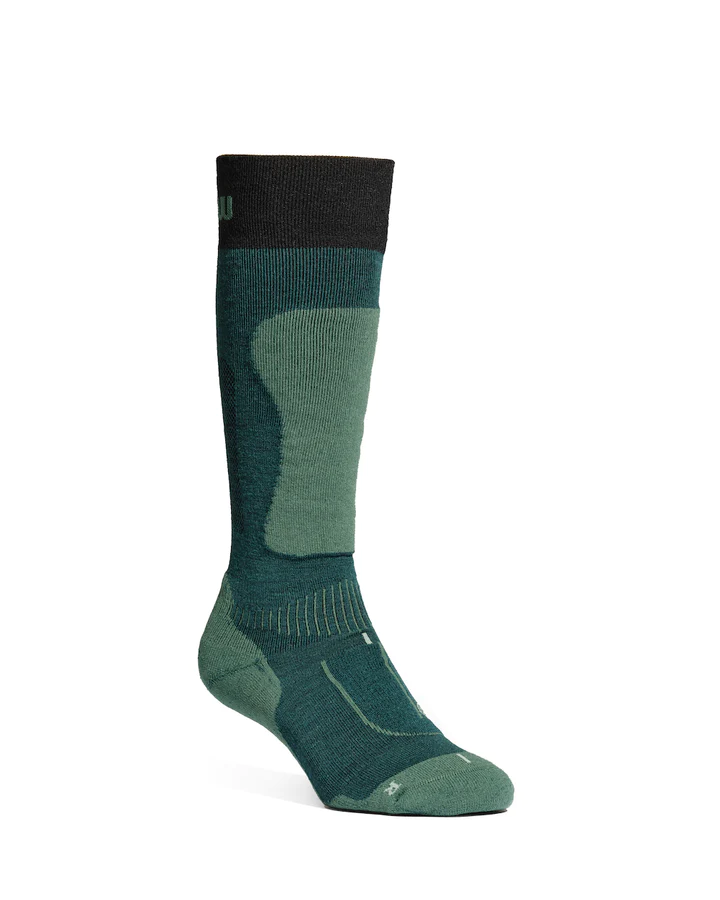 These socks are a solid option for my mixed winter activities as they're incredibly warm, comfortable and stay up without fail. They are made of a New Zealand-sourced merino wool that is spun differently that traditional wool and provides a better next-to-skin warmth with moisture management. I find I sweat a lot in these, but my feet never feel wet. There's a lot of extra cushion around the shin, heel and footbed.
Buy the Trew Nuyarn Merino Snow Sock
Darn Tough T4033 Boot Heavyweight Tactical Sock with Full Cushion
$31
These made-in-Vermont merino wool (80 percent) and nylon (19 percent) socks are manufactured for the military but available for civilians. I wore them for five days straight in below freezing temps while working at a checkpoint on the Iditarod Trail in remote Alaska and appreciated their full-cushioned support. What's more, after those five days, they didn't stink one bit! The socks' shaft extends to just about the top of a standard boot (11 inches), and never bunched up in my boots. Because the socks are made for the military, they're also flame-resistant.
Buy the Darn Tough T4033 Boot Heavyweight Tactical Sock with Full Cushion
Meindl Merino Extra MT 8
This brand of socks are fairly new to me, but the last couple of months I've loved wearing them for winter hiking. They're thick, combining a merino wool (46 percent) base with three synthetic fibers woven together, which works well to regulate temperature and provide insulation. I love the feel and warmth these left/right designed socks have given me over the last two months of cold-weather adventuring in snow and especially the extra padded material around the ankle, toe and heel.
Buy the Meindl Merino Extra MT 8
What to Look For in Winter Socks
Socks are not the most exciting thing to shop for, and most of the time people think a sock is a sock. That is not true. You need to investigate the materials within the sock. For starters, avoid cotton at all costs because it holds onto moisture and does not dry out, leaving your feet wet inside your boots or shoes. Look for materials like wool, polyester or acrylic—these fabrics keep your feet warm and dry as they wick away moisture.
You also want to check the size chart because you want to make sure your socks don't bunch up or wrinkle around your heel. I prefer socks that have a right and left design and are seamless for better fit. You don't want to have any rub spots, which bunching or seams can cause.
For winter, look for socks that are made with extra cushion in specific spots. Merino wool is my personal preference because the natural fiber is very soft (not itchy like other wool) and it keeps my feet warm while repelling odor.
Taking care of your socks is important, too. For merino wool, you should wash them on a cold cycle gentle cycle. I prefer to turn all my socks inside out and always hang-dry them. You can tumble-dry them, but do that on a low heat setting. I also typically don't wash my socks after each use. Basically if they don't stink, I don't wash!
Our Expert Guide
My name is Justin La Vigne, and I've been exploring the outdoors for more than half of my life. Ever since the first time I visited Alaska in 2002, I couldn't get the state out of my mind. After backpacking more than 7,000 miles, climbing some of the highest peaks across the 50 states, thru-hiking two long trails and living on the road for 10-plus years, I finally made Alaska my permanent home. And now that I've survived my fourth winter in Alaska, I love every minute of it—even its extreme temperatures.
All of the socks mentioned here are in my dresser drawers. If I'm being honest, I have two drawers dedicated to socks, much to the chagrin of my wife. My argument is, I'm more than prepared for the conditions. I have to put winter socks on to go to my outhouse in the middle of the night, as temperatures around my cabin have dipped into the -30s Fahrenheit. But my house socks are different from the ones I would wear snowshoeing, XC skiing and climbing Denali. Suffice to say, I've blown through many types of socks and a lot that have been tossed to the side, never to be worn again.
As I've been a technical gear tester and writer for nearly a dozen years, my feet and toes are my business. If they became non-functional due to cold temps, it would be very difficult to hike, backpack and climb to test gear for my career.