Camping Circle B Campground in Indiana
Camp Indiana: I'm talking with Marty today. He's the Campground Manager at Circle B Campground in Indiana. Marty, why don't you get us started with just giving us a little bit of background on Circle B Campground?
Marty: As far as background goes on the campground, it's a family owned campground. It was started back in the 1960s. Still owned by the original startup family, the Benson Family. And it is the family farm that happens to have a substantial amount of acreage and it happens to be lakefront, which is one of the big pluses for Circle B Campground.
Camp Indiana: Awesome. And what types of camping do you offer there?
Marty: All types. Anything from pull-throughs to lakefront to channel front to seasonal sites. Anything from just primitive camping to full hook-up.
Camp Indiana: Okay. And looking at your website here, it looks like you have a fantastic beach. In addition to the beach, what are some other activities that the guests enjoy there?
Marty: We have pavilions that are available for rental and activities that individuals may want to do. We also have entertainment that we schedule as a campground for a campers, be it live entertainment, fireworks. We even entertain a Balloon Festival because we happen to have the County Airport right across the road from us. That's something that usually brings in ten or twenty thousand people annually.
Camp Indiana: Wow.
Marty: We're in a county that has 101 lakes. I think Minnesota is a State that has quite a few lakes too, but we get a lot of people who enjoy the water there, be it fishing or just swimming. We have a lot of water activity due to all the lakes around us. The (Unclear 2:31.3) and Bird Museum is not far from us. It's only about a 15 or 20-minute trip. If you're into classic cars, we have a classic car auction every year. That is a huge crowd drawer. We have an annual antique boat show that is in our county every year in July. If you're into old boats, especially wooden boats like the old Chris Crab or that sort of thing. That's just to name a few and those are basically the highlights.
Camp Indiana: Perfect.
Marty: What attracts people? I might mention Shipshewana is not far away from us if you're into arts and crafts and that type of thing. It's one of the largest flea markets in the country.
Camp Indiana: Now, I was looking online about that yesterday. Shipshewana – is it mostly Amish goods or is it the entire community an Amish community?
Marty: The entire community is an Amish community.
Camp Indiana: Interesting, okay. So, yeah, that would be a very interesting place to visit.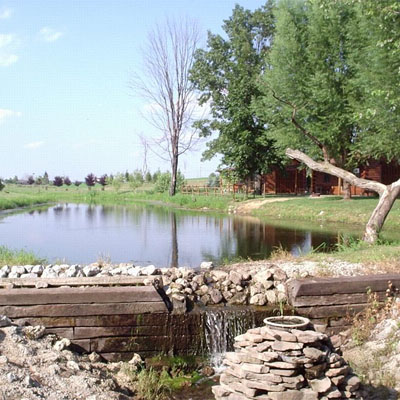 Marty:
I think one other highlight that I might mention that I didn't make mention of earlier is there's an annual Seaplane Show in July, I believe it to be right off the top of my head. That takes place in Steuben County. It actually happens at the State Park. Pogan State Park hosts that annually, and that is a big draw if you like to see seaplanes land and take off. And they also have some of these planes are equipped so they can drive right up on land out of the water and that's something different to see.
Camp Indiana: Yeah, it sounds like a lot of fun. Just two more questions for you, Marty. If you were going to spend just one hour at Circle B Campground in Indiana, how would you spend your time there?
Marty: One hour. Probably on our slip and slide. We have a slip and slide that we setup every once in a while. It is probably the most fun that the kids have at our campground during the summer. We have a huge hill that the kids can slide down and they just have a ball.
Camp Indiana: Fun. And last question. If you were going to spend just one night at Circle B Campground in Indiana, which specific campsite would you stay at and why?
Marty: I'd stay on a lakefront campsite and I'd try to make it during Balloon Fest.
Camp Indiana: All right, perfect. Tell me a little bit more about Balloon Fest.
Marty: Balloon Fest is something that's hosted by the County Airport, like I was telling you earlier, which is just right across the street from us. They usually entertain about 40 to 50 hot air balloons. They do an illumination at night with those balloons. You can also take a balloon ride if you so desire.
Camp Indiana: Have you been up in a balloon yourself, Marty?
Marty: No, but I've talked to a lot of pilots.
Camp Indiana: I haven't either. I've always wanted to.
Marty: And the owner has been up many times. They usually have a lot of, oh, air toys, equipment there for kids, if you have smaller kids, to play on and entertain them along with all the junk food of course. And they also have a hot air balloon contest, so all these balloons are flying overhead, typically over the course of three or four days. And it's usually early evening when the wind is settled or calm and you see the balloons going over the Park at night and you see them light up, and it's just a real sight to see, especially when you see 30, 40, 50 balloons flying overhead.
Camp Indiana: Wow, yeah, it sounds beautiful. Well, I want to thank you, Marty, for taking a little bit of time out of your morning to talk with us about the surrounding area there and a lot of the activities in that area, and to give us more information on Circle B Campground in Indiana.
Marty: Well, thank you for your time, Clint.