Camping Mirror Lake State Park, Wisconsin
Camp Wisconsin: We are speaking with Becky today at Mirror Lake State Park. How are you doing today?
Becky: Very good.
Camp Wisconsin: Perfect. Well, trying to get into it here, when was Mirror Lake State Park founded?
Becky: It was founded in the early 1960s. It got designated as a State Park in 1962 and opened to the public in 1964. And it started with just a small campground, a couple of vault toilets, and a beach and picnic area, so we've grown a lot since then.
Camp Wisconsin: Yeah, you certainly have expanded since then. You have like 150-some campsites.
Becky: Yeah, we have 158 family campsites, and seven group campsites, and we are also fortunate to have one of our accessible cabins in the State Parks.
Camp Wisconsin: Awesome. That seems like something to do for everyone then.
Becky: Yeah.
Camp Wisconsin:
Cool. And so, kind of within the Park, what are the most popular activities for people when they're there?
Becky:For our Park, you can do just about everything that you want to come to a State Park to do. Besides the campground, we have the beach and picnic area for swimming and picnicking. We have a boat landing with a nice fishing pier, and we have boat rentals in the summertime. And our lake is a small no-wake lake, so it's excellent for paddle sports and for fishing, and just cruising the lake. We also have about 20 miles of hiking trails and, in the wintertime, most of those trails are groomed for cross-country skiing and we also have a couple of miles of trails that are open for snowshoeing.
Camp Wisconsin: Awesome. So, certainly like a year-round Park then.
Becky: Yes. Yes, definitely. We even keep summer campsites open for winter camping.
Camp Wisconsin: Cool. And so, where is Mirror Lake State Park located?
Becky: Well, if you look at our address, our address is Baraboo, but we are actually located just south of the Wisconsin Dells, Delton area. So, Highway 12 comes into the area from the south, and we're on Fern Dell Road, just south of the Interstate and Highway 12.
Camp Wisconsin: Yeah, that's definitely a great location then, being close to Wisconsin Dells.
Becky: Yeah, and many people, when you travel the Interstate back and forth, you see the sign as you go over the bridge from Mirror Lake and look down and say, "Oh, I've got to go check that out sometime." And so, we do get a lot of people that find that extra time to stop in and even just for a short hike to get out and stretch their legs and see what they get to see on a quick blip when they travel over the bridge.
Camp Wisconsin: Yeah, absolutely. And so, if someone is staying there and they kind of want to, I guess, venture out for a little bit during the day, what are some of the attractions in the area?
Becky: In the area for the Park or the in the area for the Dells?
Camp Wisconsin: Yeah, like in the area of the Dells and around where the Park is located.
Becky: Oh, sure. You can find just about anything to do in the area. Of course being close to the Dells, so there are all the water parks year-round and boat tours down the Wisconsin River, and the ducks, and all the shopping opportunities. Many restaurants to find. There's four State Parks in our county. So, just on the north side of the Dells, there's Rocky Arbor State Park. It's a small Park with 89 campsites and about a mile and a half of hiking trails. There's just south of us, about 25 minutes, on the south side of Baraboo is Devil's Lake State Park, and we also have a small Park that is Natural Bridge State Park, which is about 40 minutes south of Mirror Lake here.
So, plenty of outdoor recreation opportunities in the area also. There's a lot of boating and fishing with the Wisconsin River, Lake Delton, Devil's Lake, Mirror Lake, and a couple other lakes in our county. Lots of outdoor recreation opportunities around here.
Camp Wisconsin: Yeah, absolutely. It seems like it would be a great area to be in if you either want to do stuff in the Dells or kind of explore some other Parks.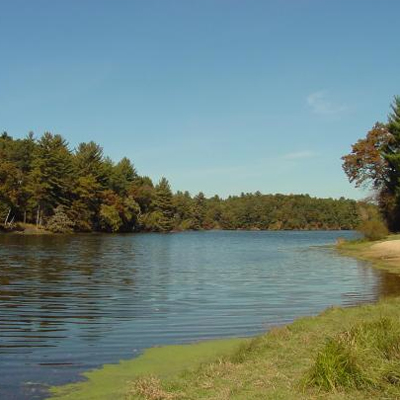 Becky:
Yeah, definitely. And we get a lot of people too that are staying in town at the resorts and hotels and stuff. Still come out and visit us during the day, because sometimes you've just got to get out of the water parks and get out into Mother Nature.
Camp Wisconsin: Yeah, understand that. So, kind of bringing it back to the Park, if you could just spend just one hour in the Park, what would you do?
Becky: Oh, I would definitely go by our boat landing. You get a beautiful view of the lake down there, and then hike out on the Echo Rock Trail, which leaves from the boat landing, takes you to a really nice overlook of the lake and some of our sandstone rock formations, and then, on the way back, there's a 150-foot bridge that goes over a gorge that's part of the Ishnala Trail, and hike that area. You can do that all in an hour, and it's one of the best views of the Park.
Camp Wisconsin: Yeah, it seems like it would be very beautiful.
Becky: Yeah.
Camp Wisconsin: Cool. So, last question for you: if you could just spend one night in Mirror Lake State Park, which campsite would you choose and why?
Becky: Oh, although I am a tent camper myself, I would choose electric site 137. It sits in the Cliffwood Campground, and it gets its name because it's wooded and some of the campsites sit on the cliff edge. And that one is about 20 yards behind the campsite is the cliff edge and you get a beautiful view of the lake, especially at sunset, and the woods and everything. So, that's one of my favorite spots, but I've got quite a few other ones too.
Camp Wisconsin: I'm sure there are plenty of places. I don't think there's probably a bad one in the whole campground.
Becky: Yeah, no.
Camp Wisconsin: Cool. Thank you so much. We really appreciate you taking the time.
Becky: Yeah, thanks for calling us and hope you come and visit sometime.