Camping Perry State Park in Kansas
Camp Kansas: We're talking with Michelle Campbell today. She is the park ranger at Perry State Park in Kansas. How are you doing today?
Campbell: I'm doing very good, thank you.
Camp Kansas: Let's start with a little bit of history about the park. How long has it been there?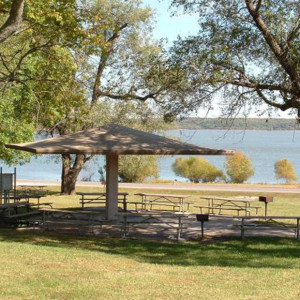 Campbell: Oh my gosh, probably way before my time. It was basically established in the late 1960s. That's when the lake went in, where they built Perry Lake. It is a reservoir. So Perry State Park came along the same time as when they were opening up the reservoir. Perry is like in the late 1960s into the 1970s. Different portions of the campground area were built and added on.
Camp Kansas: I'm looking at Perry Lake here in Google Maps, and it looks huge.
Campbell: It is. It's third tied with I believe it is – let me check here real fast – but with either Milford or Tuttle Creek. Those are the three largest reservoirs that we have in Kansas, as far as water acreage and everything. It's a fairly good-sized lake. That's what makes it very good for boating, fishermen, as a recreational lake. Yeah, we're tied with Tuttle Creek. Milford is the largest and then Tuttle Creek State Park, the reservoir, and then Perry Reservoir are the two. We fall in the three largest lakes in Kansas.
Camp Kansas: It looks like you guys are situated in a really fun area in terms of recreation on the reservoir there, because also Jefferson Point State Park is right there, and then there are a bunch of public use areas, it looks like, around the reservoir. Tell me about those a little bit. If you're out and about fishing and you pull into say the Perry Public Use Area or the – Slough Creek? Is that how you pronounce that?
Campbell: That is Slough Creek. What it is at Perry Lake is it consists of both federal campgrounds and the state park. Perry State Park, we are situated on the west side of the lake in what is called the Rock Creek Arm. Or like you pointed out, Jefferson Point, that's another name that people, when the state park first opened up, that's what they associate with Perry State Park is the Jefferson Point, or Delaware area, is the state park area.
Very close to us on the west side is the Rock Creek Marina and Resort, so that is one thing that we have as a plus with the state park, is we are very close to a marina for people that want to dock their boats. But when you're talking about Slough Creek, that is over on the east side of the lake, and that is Corps of Engineers.
Camp Kansas: Oh, okay. Is there camping over there too?
Campbell: Yes, there is federal campground areas. There's Slough Creek, there's Longview. Over on the west side of the lake is Rock Creek Park, which is federal, and then the state park.
Camp Kansas: In those areas, is it all just campgrounds, or is camping at large allowed? Can you do dispersed camping wherever you want, or does it just have to be in the campgrounds?
Campbell: No, you are required to camp in a specified campground area. There are trails around the lake; however, they encourage you to camp in an established campground area.
Camp Kansas: Let's get back to Perry State Park. It sounds like the lake certainly is the biggest draw. Would you say that's why people come there?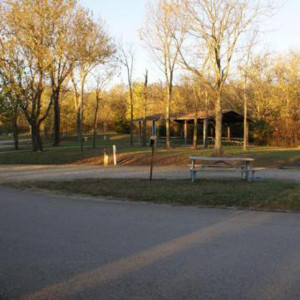 Campbell: It is a very big draw. The other thing about Perry Lake, big draw for it is the hunting. There is public hunting areas all the way around the lake. During hunting season, we get a lot of people that are coming in, pulling their campers and stuff to set up camp at the state park. And then the good thing with Perry State Park is we're open year-round. We don't close our campgrounds down.
Camp Kansas: Great.
Campbell: We may not have water on all the time, but we do have electricity and we keep our campground open year-round. So that is a good plus for us.
Camp Kansas: Yeah. What are some of the most popular activities there for campers?
Campbell: The popular activity, again, the biggest draw is the recreation. We get a lot of boaters, so they can water-ski out on the lake. It's known as one of the best fishing lakes in Kansas, as far as crappie, catfish, bass. We have a lot of tournaments that are held here, fishing tournaments that are held at Perry Lake. So it is a big draw.
The other things that we have are horse trails. Folks bring their own horses, but we have an extensive horse trail area that basically consists of about 23 miles plus of horse trails that intertwine with one another. A lot of people comment on our horse trails. They like it because they can ride out into an open field area along the tree lines, but they can also ride horses down into the woods. It's pretty challenging for some; it can be for the novice, the new horse rider, up to the very experienced horse rider. Our trails basically connect to the Corps of Engineers horse trails. Horse riders really like coming out here to ride the horse trails.
We also have a very extensive hiking/biking trail that has about 20 some miles of all-weather biking trails for your mountain bikes. We have a lot of events that are held, both running and biking events that are held over on our bike trails. They're pretty challenging, and we get a lot of good comments on them. We've got a lot of volunteer work that goes into maintaining those trails.
Camp Kansas: That sounds like a pretty great place. Let's say I was camping there for the weekend and I wanted to check out some there attractions in the area. What are some other things that are around there?
Campbell: Another good thing that they have, and of course it belongs to the Corps of Engineers, but there is an ATV trail park area that's down below the dam. We get a lot of folks that'll come up to our campground area, up to the state park camp; it's easy access to get down to the ATV park so they can ride their dirt bikes, their ATVs and everything down there. That's a good event or a good draw to the state park, to Perry Lake.
Like I said, we have other events that can happen. There's bike racing. The nice thing about Perry Lake is it's got some major roadway that goes clear around the entire lake, so we see a lot of long-distance bike racing that occurs at least two to three times during the year at the lake.
Camp Kansas: What are the campsites like at Perry State Park? Are they close together? Are some secluded? What's it like?
Campbell: In some of the primitive areas – because like I said, a lot of people want to be – it depends. We've got primitive campgrounds, and when we refer to primitive, we're talking therefore tent camping. There is no electricity or anything with those campgrounds. But we have those that are down close to the water; if people want to do primitive camping and they want to be down close to the water, we've got that available to them.
However, the exchange with that is, you get closer to the water, there's less shade. There's folks that like to have shade and it's not a big deal to be close to the water, they want to feel like they're in the woods. Well then, we've got primitive campground areas that are very up the hillside and into the woods, so very shaded.
As far as our utility campgrounds, we do have one that's a very popular campground. It's called Lakeview, and it has a great view of the lake. And like I said, it is our most popular. Now, it's not right down by the water because we don't want our utility lines and stuff, when the lake does rise – because it is a reservoir, so when there are heavy rains, the highest they've seen this lake is 23 feet above normal pool. That basically eliminated a lot of our primitive campground areas and even water went into some of the utility campground areas. But Lakeview stayed up and out of the water.
That is the switch-off when you have campsites and stuff around a reservoir. I think about three years ago, we hit at 17 feet above normal pool. Trying to find that nice balance of when the water is just right, and right now it's about a foot above normal pool and it's perfect. People are loving it. They're loving it.
Camp Kansas: Do you sell any ice or foodstuff in the office?
Campbell: Not out of the office. We do have a place that's called Port Perry where the gentleman there, he does sell ice. The one marina that's close to the state park has ice available. There are some other businesses around the lake and convenience stories and everything that is within easy driving distance: 15, 20 minutes to pick up ice and other food items that you might need.
Camp Kansas: How many of the sites are reservation? Are some first-come, first-served?
Campbell: We only have one campground, and that's got 23 sites in it that is a first-come, first-serve. That is Eagle's Landing. In some of our campgrounds, we have what is called long-term camping. If we have somebody that wants to come in and spend the whole summer just camping, get away and they love to camp, then you can enter into a month or a 30-day contract. We want people to commit for six months, but we know things come up, emergencies, whatever; they may not be able to fulfill a six-month contract, so it's a month-by-month.
They basically buy an annual camp pass and then they pay for their utilities for that month. They can stay on a particular site; they don't have to move the camper by the other regulations, like the other campers do, but they just stay on that particular site for the 30 days. When that 30 days is up for that month, then they come in and they can renew their contract for another month and just do that up to six months.
Camp Kansas: Okay, that's a nice thing to offer. How much does it cost per month?
Campbell: Basically it's $304, and that pays for your utilities. If they buy the annual camp pass and they buy it in the offseason, that's an additional $152.50 for the annual camp pass. Like I said, we get some folks that that's what they like to do; they like to come out, and some of them are people that work away from home, so they find out that having this available to them, it works for them. They can bring a camper, and if they're construction workers or that kind of stuff going to be away from home, they found that with their camper and stuff it's more economically affordable to them with having that.
Camp Kansas: Okay. One last question for you, Michelle: if you could spend just one night in the campground, which campsite would you choose and why?
Campbell: Which campsite would I choose and why? Hmm. Well, I've got a couple, and the reasoning for them is – for me, the water isn't that big of a deal, so I probably would either pick up Hideaway, which is a primitive campground area, or I would pick Mulberry Grove or Turkey Run, because those are the campgrounds – and probably Turkey Run the best.
Turkey Run is kind of up on the hillside; it's woody, has trees, lots of shade. It reminds me a lot of camping – maybe the trees aren't pine trees, but it gives me that sense of camping in the mountains. Because I love Colorado, and that's where our family would always camp was in Colorado. Just that woodsy, outdoors feeling like I'm really outdoors, camping in a tent and everything.
Camp Kansas: Turkey Run's the ticket, huh?
Campbell: Turkey Run. However, the nice thing with Turkey Run is there is a bathhouse up there in Turkey Run, at the end. [laughs]
Camp Kansas: Oh, you got it all worked out over there.
Campbell: Got the convenience of having a bathhouse right there close to it, so I do have a little bit of convenience there with it.
Camp Kansas: That sounds nice.
Campbell: But I would say probably that Turkey Run would be, if I were to camp in my own park, that I would probably go up to Turkey Run and camp. Just because I'm old school, growing up having been a Girl Scout and my father being in Boy Scouts and my mother and everything, that's how we used to camp. We didn't go with all the electricity and the water. It was kind of get away from all of that stuff. Get away from television, get away from the computer, get away from the craziness of day-to-day living and get out and just enjoy the outdoors.
Camp Kansas: That sounds great. That's all I have for you today. Thank you so much, Michelle, for taking the time to talk with us. Yeah, we'll have the information up on the website probably here in a day or two.
Campbell: All righty, that sounds great.
Camp Kansas: All right, take care and have a great rest of the summer.