Frabill engineers are also ice anglers, and it shows in the design of the Fortress Shelter. With 55 percent more fishing space, the Fortress Shelter will feel more like an ice castle more than a shanty.
New Kick-out-Hub Technology makes use of the patented hub extensions to expand the useable ice surface protected by the shelter. Gear can now be stored in corners that never existed, leaving anglers with more area to fish.
The increased ice area within your shelter means a bigger footprint on the ice, and the angled design of the kick-out cuts down on flat surfaces sides to catch the wind, that, in turn means greater stability in wind and harsh weather.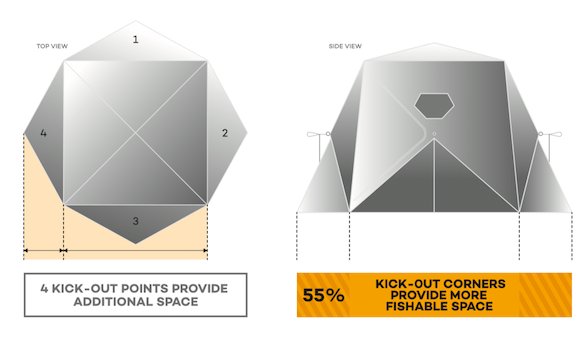 When it's cold out, simplified set up, and takedown, is imperative. The new hub design makes setup and breakdown a breeze, to ensure you aren't left with frozen fingers and a shelter that won't fit back into its storage bag.
The Fortress Shelter folds up to a compact unit that weighs just 33 pounds. It is designed for the adventure-seeking angler that doesn't hesitate to get off the beaten path.
Features:
Fortress Shelter, Model No. 260 | FRBSF260 | MSRP $349.99
Side door
Three angler capacity
600 D poly top, 300 D poly bottom, 600 D poly skirt
Top welded insulation
33 lbs
57″L x 8.26″W x 8.26″H folded
80″L x 80″W x 80″H set up
69 square feet of fishing area
The Fortress Shelter is the new age fishing shelter, with durable construction, lightweight materials, ease of operation, and more fishable space for up to three anglers. Why settle for less?
For more information, visit: www.frabill.com.