Orlando's Orange County Convention Center hosts ICAST, the world's largest sport fishing trade show with more than 15,000 attendees from 71 countries.
This year, 974 new products from 331 companies were entered in the New Product Showcase. That number represents a fraction of the new products this year. Consider: Berkley alone launched more than 1,000 new products this year.
So which products stood out? Here are my choices for eight of the best.
Garmin LiveScope
[jwplayer Q7JqMWzb-M73LUKal]
There's a reason Garmin's LiveScope took Best of Show honors. This latest generation of Panoptix is the first product to deliver real-time sonar images covering forward, backward, sideways and below the boat, even when stationary. The unit highlights bottom contours — cover like trees and grass, and, of course, fish, up to 200 feet away.
But it's LiveScope's resolution that is what's so amazing. In many cases, it's so clear you can determine what species of fish are on screen — anglers have dreamed of that for years — and now it's a reality.
The Panoptix LiveScope system includes a small GLS 10 Black Box with compact transducer that plugs into any compatible Garmin chart plotter (sold separately). Trolling motor and transom mount kits are available. Suggested retail: $1,499.
Abu Garcia Revo Rocket
Advancing technology allows manufacturers to push boundaries simply not possible before. We've seen an explosion in the number of high-speed reels that offer insane inches-per-turn ratios. Consider the new Revo Rocket: with blazing 10:1 gearing it takes in 41″ of line with turn of the reel handle. To put that in perspective, that's just a hair over 3′ per turn. A similar sized reel geared 6.6:1 takes in just 27″ of line per turn.
The Rocket isn't the best reel choice for all angling situations, but having access to that much speed does offer significant advantages in many situations like flippin' to deep-water jigging where increased number of casts or improved hook-up ratios help you put more fish in the boat. Suggested retail: $299.00
Fish Monkey Free Style Glove
Anglers now realize that spending days in the sun can be dangerous. Several of my fishing buddies have had, or are dealing with, skin cancer, so products reducing exposure are on my radar.
Fish Monkey just introduced the new Free-Style glove that allows you to customize one or both hands as needed by removing some or all of the finger tips without the glove fraying or splitting. The glove offers UPF 50+ Sun Protection and fit so well you forget you are actually wearing them. Fish Monkey offers other specialize gloves as well. Suggested retail: $35.95.
Berkley Choppo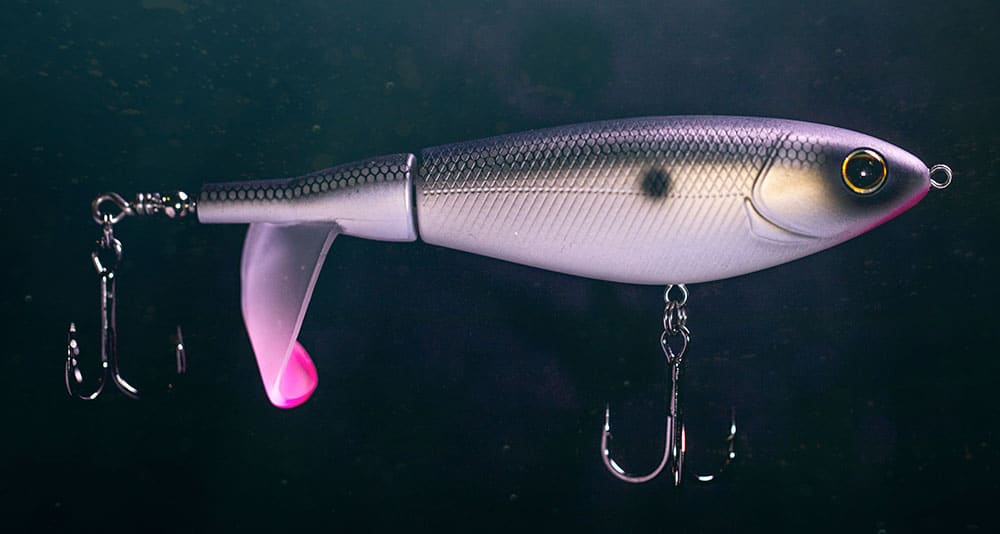 Tail-prop baits have been around for 100 years or more, so why the excitement about the new Berkley Choppo? Two reasons: the new Choppo is better than any other tail-prop baits on the market today — and it's cheaper than others, too.
I've had to chance to fish the Choppo multiple times over the past six months on waters from Florida to Minnesota and not only does it run true in all conditions (including chop and current that kills lesser baits), it triggers strikes. One surprise: hook-up ratios…they are superb, even when targeting smallmouth with these larger baits. Suggested retail: $9.99.
Frabill Bait Station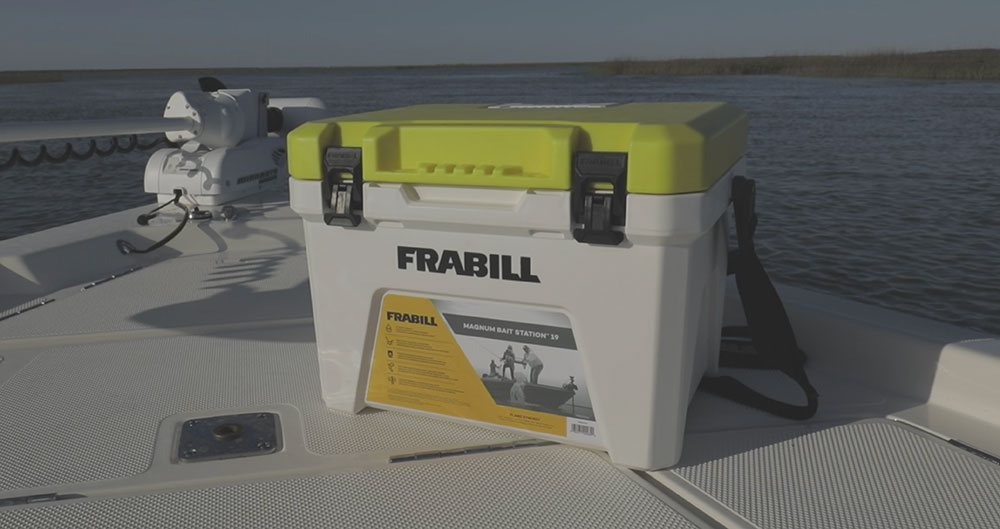 Good live bait is often the key to catching fish. The challenge is keeping bait cool and well oxygenated after you leave the bait shop. Frabill just introduced two sizes of the Bait Station, an innovative new product for freshwater and saltwater that not only offers one full inch of commercial-grade foam insulation to keep bait cool, the Frabill Aqua-Life two speed aerator is integrated into the cover of the unit so it stays protected at all times.
The Bait Station can be run on one or two D-cell batteries (not included) or with a 12V power adapter (included). I also like the unit's lift-out net liner…it makes bait retrieval easy. Suggested retail: 13 quart $99.00; 19 quart $119.00.
Minn Kota Ultrex Trolling Motor
Power Steering in a trolling motor is not new, but Minn-Kota's new Ultrex takes it to levels unavailable even a couple years ago. Steering is responsive, even fast, and if you take your foot off the pedal, the motor stays locked in the direction and continues on that heading. The unit also offers Spot-Lock, which allows you to automatically hold over productive fishing areas, I-Pilot for GPS enabled trolling and several other features that make the Ultrex the best trolling motor on the market today.
The ICAST Best of Category Winner Ultrex is available in 24v (80 pounds of thrust) and 36v (112 pounds of thrust) models, and three shaft sizes: 45, 52 and 60″. Suggested retail: $2,249 to $2,850.
Jackson Kayak/Blue Sky Boat Works 360 Angler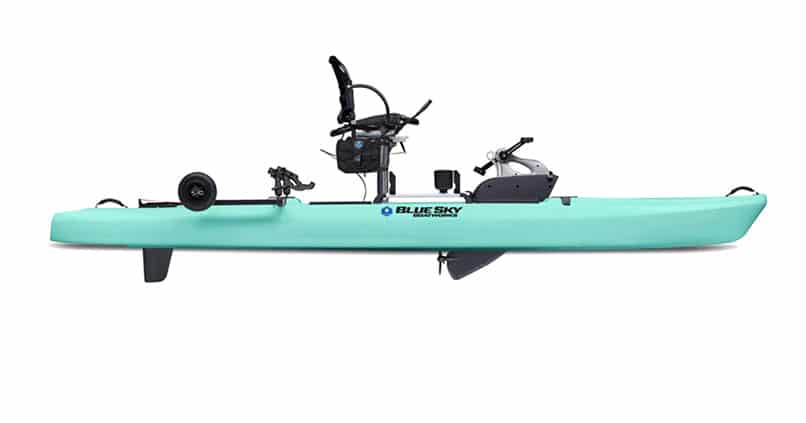 Company owner Eric Jackson has excelled at delivering innovative products, and his latest is pretty insane. The 360 Angler is dual-hull craft that Jackson claims is a nimble as a kayak, as stable as a catamaran and a comfortable as a bass boat. I haven't fished from the 360 Angler yet, but was impressed with overall design — it was clearly built with serious anglers in mind.
The 13′ 4″ 360 Angler has a width of 48″ and 500-lbs. capacity. It offers two hatches for storage, 25′ of deck space, and with its swivel seat and drive system in place, weighs just 170 lbs. Available accessories (sold separately) include PowerPoles, electric drive system, integrated tackle storage and much more. Suggested retail: $3,499 (base).
Yeti Panga Backpack 28
Years back, during a days long float trip for sea-run brook trout in Canadian polar bear country, I learned that keeping gear dry is neither easy nor unimportant. Driving rains and plunging temps had all of us on the verge of hypothermia on the last day. So, I appreciate high-performance products like the new Yeti Panga 28 Backpack, not only because it will keep gear dry on a run across the flats, but because I can count on it those times when keeping my stuff dry makes life possible.
The Panga 28 features a super tough puncture and abrasion resistant Thickskin shell and Hydrolock Zipper than keeps moisture out. Is the unit over-engineered? That depends on what you are asking it to do…but in my mind, saving one cell phone or camera or two over the years makes this a quality investment. Dimensions: 20 x 12.5 x 7″. Weight empty: 3.9 lbs. Suggested retail: $299.
It's a great time to be fishermen. These eight new products as I mentioned are just the tip of the iceberg when it comes to innovative gear that will make you safer and more productive chasing your favorite species of fish.
Don't forget to share this article on social media!