Finding a good pair of boots can be the worst challenge outdoorswomen face. We obviously want the practicality of a strong pair of boots that will actually last, but it would be even better if we found a pair of boots that has all these features without compromising on style. The Forsake women's Duck boots absolutely are the best of both worlds.
I want, and more importantly, deserve boots that serve as a functional piece of weather gear so when I go hiking I can withstand whatever Mother Nature throws my way without a hitch. I want boots that feel amazing on my feet after a quick hike AND an all day hike. Is it also too much to ask for a little bit of style that allows me to use my boots on varying occasions? I think not. I need boots that keep up with my outdoors life, and I bet you do too.
Well ladies, this is it. The Forsake women's Duck boots give me everything I thought I'd never find in a good pair of boots. To start off, the Duck Boots have an internal boot construction designed to keep moisture out and still remain breathable to keep your feet dry. Taped seams and a gusseted tongue make the Duck perfect for rain, snow, sleet, slush, or whatever weather conditions come your way.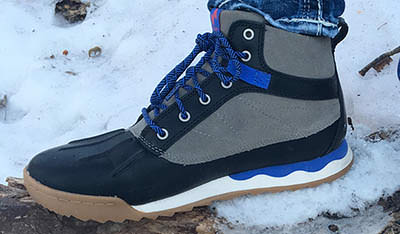 My favorite thing about the Forsake women's Duck boots is the all-weather performance. The Duck's die-cut EVA midsole offers support on variable terrain, while Forsake's "Peak-to-Pavement" outsole provides traction on the trail while outer lugs give you stability on the street. So whether you're hitting the trail (which we hope you are) or you're heading out for a casual night on the town, these boots can work for both occasions. These sneaker boots take on a classic aesthetic and are built for comfort on any surface, whether your adventure requires the most rugged outdoor performance or just everyday convenience.
Did I mention the smell-resistant footbeds? This plays a part in that other important factor I mentioned earlier, durability. The footbeds in the Forsake women's Duck boots have an anti-microbial treatment to keep you comfortable in any environment you venture into. The breathable sweat-wicking linings also feature anti-microbial treatments to keep your potentially hot and sweaty feet staying cool and fresh throughout the year. Now that's durability I absolutely approve of.
Added bonus? You can even customize the look of your Forsake women's Duck boots by switching out the laces. They come with two difference sets of nylon laces.