The Right Torch for Your Dad This Father's Day
It's time you say "thanks" to your dad for the time he's spent with you in the outdoors. Think of all you might of missed along the way without him! There's a wide world of Father's Day gift options out there, but only a few items that every Dad truly needs. One of them is a good torch … but which one? Bernzomatic makes so many. Nobody knows your dad like you do. Think about the time you've spent together, and you'll know which kind of outdoor Dad you have. And once you know that, picking the right torch is easy.
This is a sponsored post/article. I am a Bernzomatic Torch Bearer, though all opinions expressed are my own.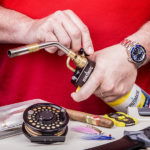 The E-S-T Dad
Is your dad the guy who always looks for more power and more speed in the bigg-EST, fast-EST, and simply the b-EST gear? Then the
Bernzomatic TS8000
is the right choice for him. Powered by either MAP-PRO gas or standard propane, gas, the TS8000 will deliver the E-S-T performance your outdoorsi-EST dad is looking for.
The Keep It Simple Dad
Some Dad's recognize great things do come in small packages and that plain and simple is often the best. If that's your dad's view of life and campsite tasks, then the
Bernzomatic WT2301C
is the torch for him. That C at the end stands for "C-amping" meaning it's down-sized to easily fit it a backpack, tackle box, or emergency kit. With trigger start ignition, it's simple and reliable.
The All-Around Dad
If your dad is the "go-to" guy for any project around the campsite … or at home … then he needs all-around tools. That's the
Bernzomatic TS4000
torch. Powered by propane, the options of auto start/stop or continuous burn will have Dad checking the projects of his list one after another … and then moving on to spend more time with you!
The Technology Dad
Latest smart phone, new music, the latest TV shows ... are they all part of your dad's life? Does he drive you crazy with links to new gadgets every day? Then to extend his "Technology Dad" franchise, he absolutely needs the
Bernzomatic Trailblazer Extender
Torch. Butane powered, this torch folds into a compact package for carrying, but extends to lock into two positions to reach any fire starting need. It's the latest ... and destined for greatness.