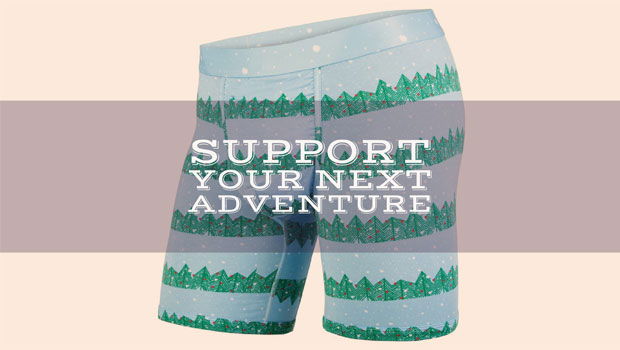 MyPakage : Support Your Next Adventure
Let's face it. Guys rarely talk about their underwear. We're taught at a young age how to change them, but beyond that - they're generally ignored until there's a problem. Well, I'm here to tell you that you likely have a problem. While every other piece of clothing you own has progressed and become smarter, better fitting and guided by technology - you've decided to leave your most crucial base layer in the past.
ENTER TO WIN 2 PAIRS OF MYPAKAGE BOXERS!
Here are 3 reasons why MyPakage should be your next pair of underwear.
1. Support, support, support!
If you're still wearing a traditional boxer or brief, you're either keeping
everything
too loose or too tight. With the
MyPakage Keyhole Technology
, there's a region dedicated to keeping your most precious cargo secure - without feeling constrained. Once you experience it, it's almost impossible to go back to
traditional
underwear.
2. Fit
MyPakage offers several different lengths and materials in their collection that result in fits appropriate for everything from a day at the office to a week in the backcountry. We've found that their
Weekday Boxer Brief
is our go-to, while their
Premium Merino Wool Boxer
adds another level to a proper base layer set up - adding warmth and dryness where it's needed most.
3. Built for every activity
We've hiked Cadillac Mountain in Maine, and explored the depths of Badwater Basin wearing MyPakage. In the winter, we've sat ice fishing for hours at a time in the Merino Wool Boxers. From the hottest days in the sun to the coldest days in the snow,
MyPakage
has exceeded our expectations of what a pair of underwear should be.