(Haven't read our review of The Climb: Episode 1 yet? Start here!)
In climbing, your choice of route — the path you commit to ascend up the rock — is critically important. Following your chosen direction with unwavering passion, purpose, and confidence — on the wall and everywhere else — is the overarching theme of the second episode of HBO Max's reality competition The Climb.
Several of the contestants share that the direction they've chosen in life — to make climbing their careers — has been met with skepticism and doubt by family, friends, even themselves, and yet they persist.
When we last left off, ingenue Alice and aging Scot April were competing against each other in the elimination challenge in Mallorca. But April is sent packing after she tumbles off the face into the sea again. Maybe stopping to pose like Atlas for group cheers on the ground wasn't such a good idea. She leaves with her head held high, though, and in a very healthy frame of mind. She reminds us all that it's never too late to do the things you love. She's only in her 50s btw.
After the elimination, the gang heads to their next challenge in Siurana, in the picturesque Catalunya region of Spain. "It's the holy land," host Jason Momoa purrs. The medieval mountaintop village is within arms-reach of limestone cliffs considered the hardest sport climbing crags in the world. As host Chris Sharma points out, "If you want to be a top climber, you have to come here…it's like the North Shore for surfing…it's the pinnacle of athletic performance."
Before attempting Siurana's sculpted pockets and sharp edges, this time with ropes clipped into fixed anchors and belayers to catch their falls, Sharma and co-host Meagan Martin go over video of the contestants' last climbs to point out their strengths and weakness. But mostly they all blast Deco for quitting too soon. His idol Sharma says he lost respect for him. Ouch.
"It shook me to my bones," the Brazilian admits. We find out that Deco's family are all geologists and academics, and when he didn't follow in their footsteps and become a climber instead, he developed a fear of failing and being criticized. Deco vows to push himself harder in the sport he loves. "I don't want to be the guy who bails."
Robyn also shares that her friends and family in Utah raised eyebrows when she decided to coach kid climbers for a living and camp in her car on weekends. "It makes me happy," she shrugs. Brad, who grew up climbing in nearby Wyoming, laments that everyone worries, "'He's going to kill himself…[so] it's nice to be around people in my tribe."
This Week's Climb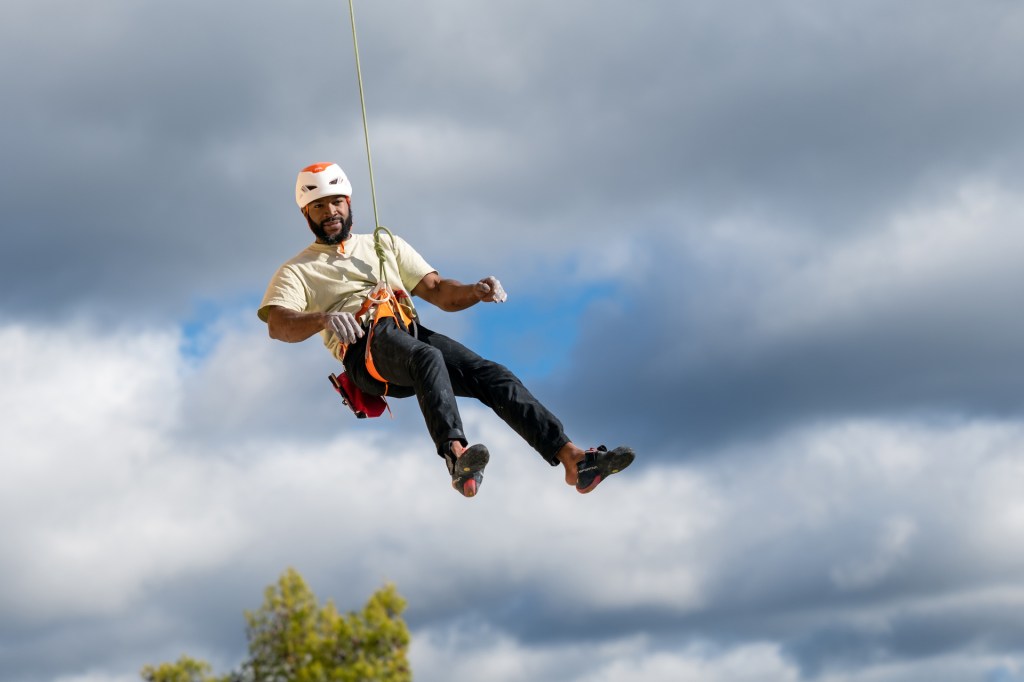 The main event this week is an iconic, 66-foot-long route called "Boys Don't Cry" that captures the essence of sport climbing. It has a series of overhangs that are easy to fall from if you can't reach the pocket. Getting over the crux is a true test of athletic strength and stamina, Sharma explains, and you must know the right spots to rest and take your heart rate down before gassing it again. The danger of a climb like this if that if you fall, you could slam into the wall and break an ankle or worse, which is why your choice of belayer is key.
Little Cat comes close to peaking, Deco does much better and redeems himself, and Alice's confidence is on the rise, but this time, the only two climbers to top it are Dom, who shows impressive strength, and "Boy Wonder" Brad, who continues to impress and is charmingly humble. "I got lucky," he says. Nah, kid, summiting both challenges is pure skill.
Maiza and Mario find themselves in the bottom two and will have to face off in the elimination climb, which has slick rock and small footholds. Precision is key.
Elimination Climb: Mario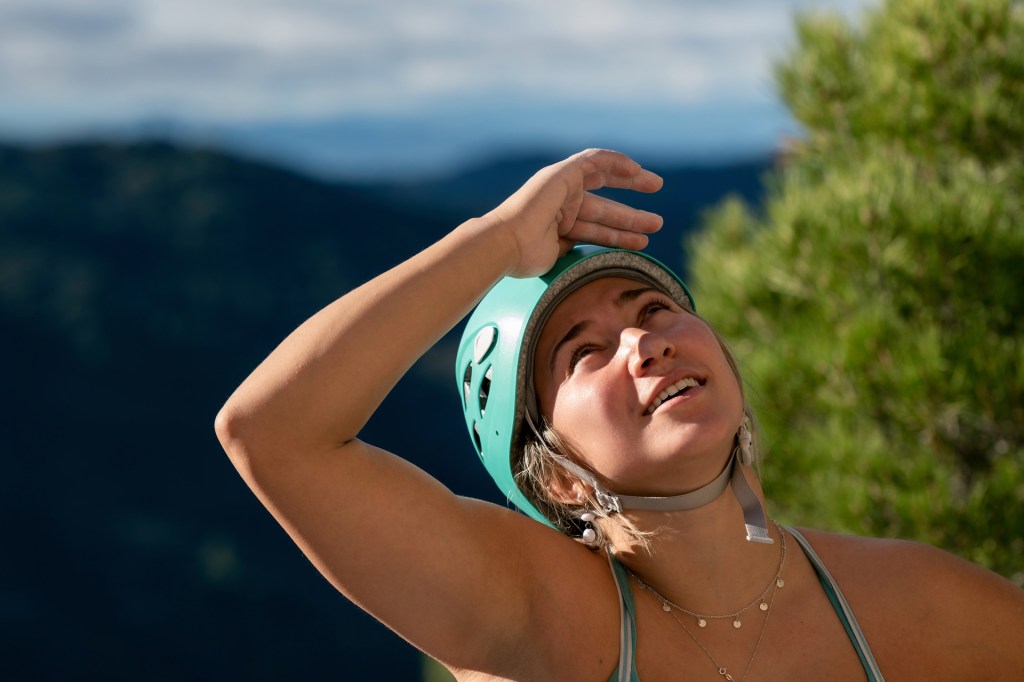 Mario calls his older brother for guidance. He talks about how when he was younger, he was aimless and depressed. His father told him, the best goal for a Black man in America is "don't go to jail, don't get caught with drugs, and don't get a girl pregnant out of wedlock." Mario had checked those boxes, but he was still antsy. He randomly fell into climbing, which at first, he thought was just "white people shit."
Ultimately, he fell in love with the sport because it pushed him forward in new ways and helped his slay his own dragons. "I would have made really shitty choices. It saved my life in a lot of ways."
Elimination Climb: Maiza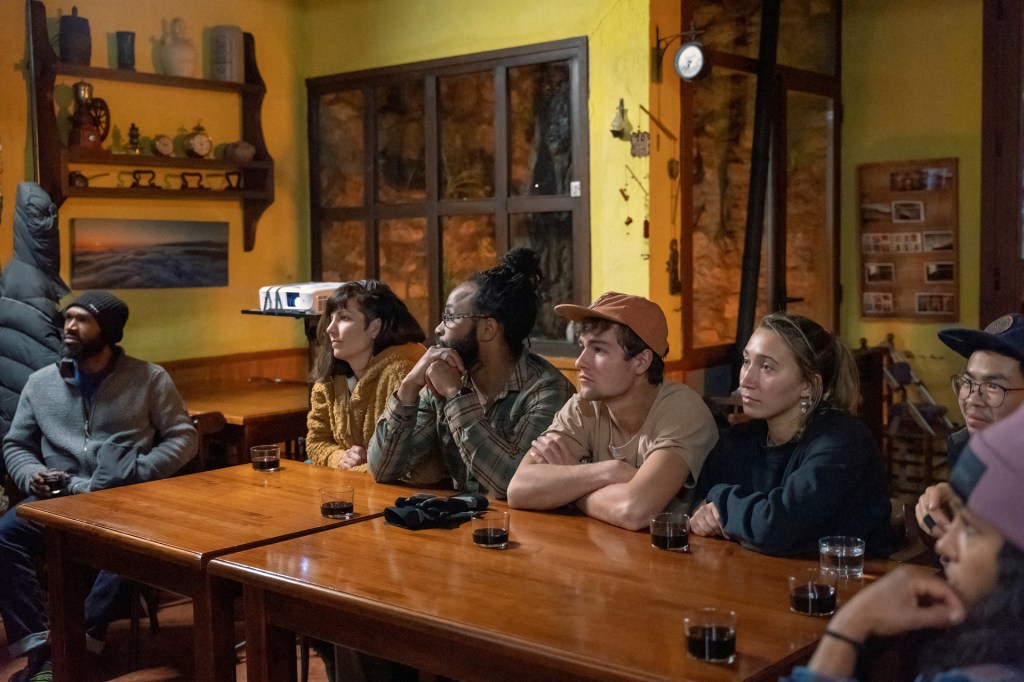 Maiza has raw power but lacks mental fortitude. She shakes when she has to climb in front of people and second-guesses herself, not helpful when choosing a route on the rock or in life.
Maiza explains that she emigrated to the US from Brazil to escape poverty and now constantly questions if climbing is a "selfish path," because she needs to make enough money to support her mother.
That lack of decisiveness comes through in her elimination climb — she seems unsure of what to grab onto, her feet move around too much, and she falls almost immediately. She is out of the competition. "I can't get off the ground in anything," Maiza laments.
Sharma explains that "the most powerful thing climbers do is reach for that next hold even when it's terrifying." There are always going to be new routes to try. The lesson of episode two seems to be, do you trust your gut to take you in the right direction?