Top Eco-Friendly Containers For Packing Food While Camping and Exploring the Outdoors
Going on regular adventures in the outdoors—from one-day trail hikes and camping trips to SUP and kayaking adventures—I am always looking for ways to bring what I need without leaving a trace. 
Here are some favorite sturdy but lightweight containers that are eco-friendly and also keep food and drinks fresh:
This post contains affiliate links. Outdoors.com may earn a commission when you make a purchase through these links. Thank you for your support.  
Keeping Food Fresh
When you are packing or preparing food for your camping or trail trip, use reusable food storage containers or bags rather than plastic bags, foil, or cling wrap. You will save money, be kinder to the environment, and end up with less waste from packaging—plus you will have great containers to store leftovers in and keep food fresh.
Silicon sandwich bags are lightweight, keep food sealed, and are easy to clean and store, and they also come in various sizes. They are also ideal for storing leftovers in, keeping food fresh, and sealing in odors. 
Lightweight food wraps are also useful for sandwiches and other solid foods. These can be made from beeswax or other sustainable materials. They are light, really easy to clean, and they fold up to a small flat size, so they are great for packing out.
If you are a committed zip-lock bag person, consider investing in a more durable, recyclable version, which will save on plastic and costs. These clear zip pouches can be used to carry wet foods like soups or stews or dry food that you rehydrate with hot water when you reach the campsite for a nourishing meal. They are also great for storing leftovers.
Eating and Drinking
When you are looking for recyclable plates, cups, straws, and utensils for your camping trip, look for products that are FDA-approved, lightweight, easy to clean, and that will be long-lasting, so that you are not discarding them after a few uses.
The best choices include products that have been made from recycled materials too. For example, these plates, cups, and sporks are made from recycled propylene—reducing the need to create new plastic products.
Invest in a Spork
To save on weight and space, a spork is a great investment—especially one with a fork, knife, and spoon in one. You will find versions of this utensil in most camping stores. Buy a selection of colors so that each person on the trip has his or her own color.
Dedicated campers might want to invest in a sturdier tool like a Compleat, which has a fork, spoon, spatula, and a multi-tool that you can even use as a tongs.
Water Containers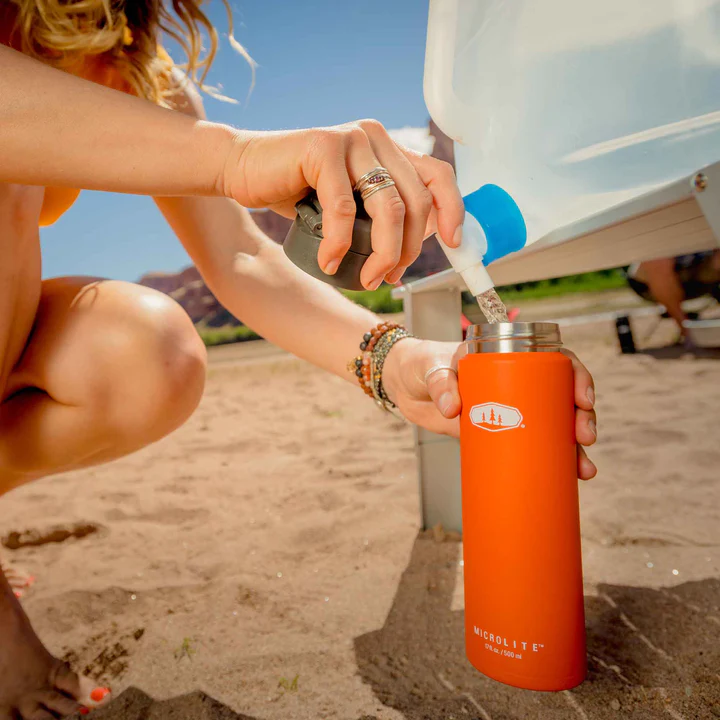 Rather than using plastic bottles, carry water and beverages in a recyclable container, which you can also use to fill up water at the campsite, if there is a water source. 
The size you choose will depend on how near your campsite will be to your transport, what water will be available when you get there, and whether you will need to carry the container a long distance back from a water source. The more durable a container is, the bulkier (and more costly) it might be.
Collapsible water cubes are useful if space is limited, and they come in different sizes. For short trail hikes, the platypus 1-liter or 2-liter soft water bottle is lightweight, durable, and can be rolled up after use. They also make 2, 4, and 6-liter water tanks.
Keeping Things Cool
Rather than buying plastic bags of ice for camping—and suffering the resulting watery mess when the ice starts to melt—use a recyclable ice pack, which is also ideal for keeping things cool in your cooler box in the car. 
These can either contain water or gel and come in all shapes and sizes (and price points). Some are designed to stay colder longer than others, so check first how many hours of use you need and what size would work best. For something lighter than an ice pack, a reusable ice sheet is more versatile and can also be cut up into a smaller size.
Shopping Tip
In general, when shopping for recyclable products, look for those that are already made from recycled materials. For food and drink containers, choose products that are FDA-approved and BPA-free—these are better for the environment and also for human health.
What other eco-friendly products and tips do you have for hiking and camping? Share them in the comments below.