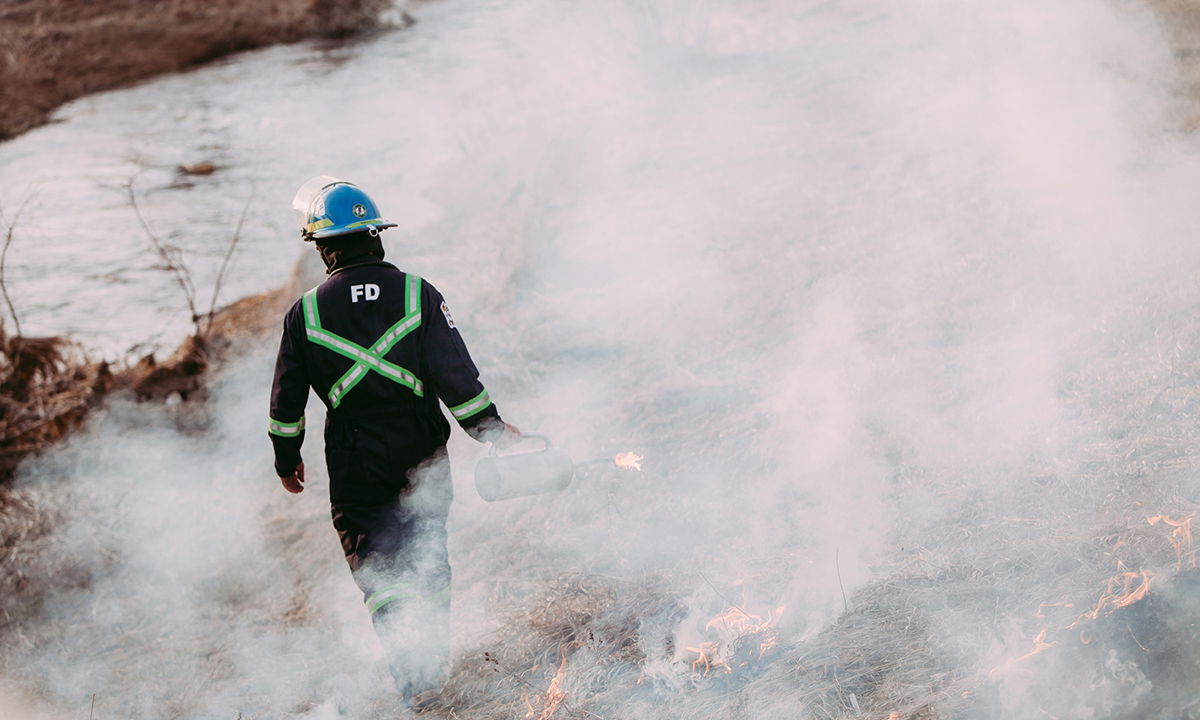 How to Stay Safe Adventuring Near a Prescribed Burn
During a recent trip to the North Rim of the Grand Canyon, my travel companions and I spotted smoke as we were driving through Kaibab National Forest along AZ-89. We pulled over, concerned it might be a campfire that hadn't been extinguished properly. In reality, it was a prescribed burn. 
Prescribed burns are important for many reasons, and they often don't prevent visitors from outdoor adventuring in nearby areas. However, depending on the situation, they may impact your outdoor time, and officials want you to know how to stay safe.
What Is a Prescribed Burn
A prescribed burn or prescribed fire is a controlled burn done by a team of fire experts to help restore the ecosystem. Prescribed fires are done under controlled conditions after incredibly careful planning. Many of these controlled burns are done in order to maintain historic sites and protected lands.
Removing dead plant life from a forest or grassland is important to maintaining the health of an ecosystem overall. By removing dead trees and leaves via a prescribed fire, the risks of out-of-control forest fires are reduced. Controlled burns in smaller spaces also offer the opportunity to conduct research that will aid in the conservation of these areas.
Forest Fire Safety
In recent months, areas of the United States and Canada have been greatly affected by climate change and an increased number of wildfires. This year, residents of the East Coast of the United States experienced intense wildfire smoke blowing down from areas of Ontario and Quebec. Since early May, the United States has mobilized almost 1,500 personnel to aid in controlling the fires throughout the region.
With the recent increase in wildfire awareness that we have seen throughout North America, we've all learned the importance of staying inside during unhealthy air conditions, masking outdoors, and avoiding using the air conditioning in your car on days with heavy amounts of smoke in the air.
If you see a wildfire, the best plan of action is to try to stay calm and call 911. If a fire is approaching your home, evacuate and follow safety precautions from the United States Forest Service and local officials. 
If you see a fire in the woods or on the side of the road, or anywhere outdoors, you should call the local fire department or county dispatch. If it's a controlled burn in a large area like Kaibab National Forest, officials are already aware of it, and they can help you navigate to wherever you're going in the safest way possible. If someone else—not a professional—is conducting a prescribed fire, they should have already called the authorities, but it's best to always speak up if you see something, just to be safe.
Remember, forest fires are very dangerous and you can never be too careful to ensure the safety of yourself and others. During any prescribed fire, there is a contingency plan that plans for the "low probability, but high consequence" of what happens if the prescribed fire gets out of control. 
Staying Safe Near a Controlled Burn
According to the Minnesota Department of Transportation, if you're driving through a prescribed fire, you'll want to listen to the workers who are on the roadside, as they'll give you instructions on how to navigate through the area. When you're driving through a prescribed fire, stay in your vehicle and treat it like you would any road work area. Though it can seem incredibly tempting, do not pull over to take photos of the fire. 
If you are going to be adventuring to an area that is experiencing a controlled burn, you can still enjoy your trip, you just have to take a number of precautions to ensure your health and safety. Make sure to keep an eye on the air quality before going outdoors. As long as the air quality is safe, you can continue your journey as scheduled without worrying, but if the air quality does decline, you'll want to make sure you have masks for when you're outside to filter out the toxic particles in the air. Unfortunately, if the air quality gets to dangerous levels, you will have to rearrange your schedule. At the end of the day, your health and safety are more important than exploring the outdoors.
When there's any level of smoke in the air, you'll want to avoid burning wood and garbage. If you're near a prescribed fire site, this is especially true, because your burn could spread and/or interfere with the work of the firefighters. Check local news sources to better understand the forecast and what local officials say about traveling through the smoke.
Seeing trees in flames as you're heading out for an adventure or on a road trip can be scary, but as long as it's a prescribed burn, it's actually important that what's meant to burn gets cleared out. This will ensure the area can be enjoyed by future generations.
Have you been startled by a prescribed burn or come across a wildfire in your adventures?