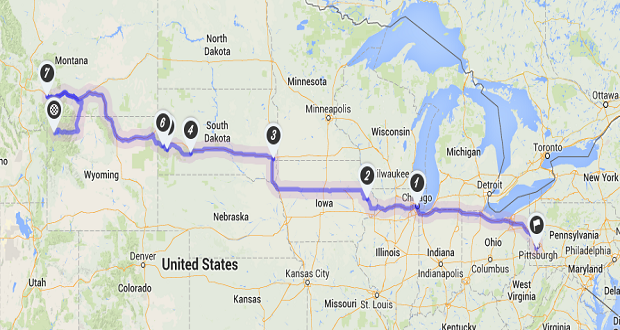 The Road to Bozeman: Day 0
This is the time of year when college students take a deep breath and relax from all of their school work. With classes behind them and summer ahead, a group of 7 ambitious college students from Pittsburgh will spend their summer traveling, across country to Bozeman, Montana.
The guys, H.B., Evan, Jake, Peter, David, Stephen and Brandon, want to change the mentality of kids their age and show them the true value of doing something exciting, being active and enjoying the Great Outdoors. They are afraid that future kids will be too divulged into their technology to recognize what the Great Outdoors has to offer. This road trip is more than just a summer getaway; it's also a learning experience. "We are taking this road trip… so that we can experience for ourselves the beauty of mountains over skyscrapers, bison over cars and blue skies over smog."
What started as a small idea between best friends has become a full-fledged documentary project of their adventure. Once completed, the guys will enter their work in a film festival at their college in Pittsburgh. Every day of their journey will be captured by them and we are lucky enough to tag along while keeping you all up to speed.
In this first video, the guys are preparing to leave, expecting to get out of Pittsburgh at 1:00 a.m. The first stop will bring them through Chicago where they will spend the day exploring, ending the day at Maquoketa Cave State Park in Iowa. In the first video of this series, we see the preparation and planning it takes to coordinate a long trip. This would be a tough thing to do successfully, especially with so many people!
We are excited to see their journey unfold and what experiences they come across. Stay tuned for the next video of the Road to Bozeman series!