10 Things to Bring on a Hike with Kids
One of the best gifts we can pass on to our kids is a love for the outdoors. Like anything parenting though, figuring out how to transfer this passion to easily distracted, screen-obsessed, easily-tired mini-humans can be a challenge. Start by packing the Ten Essentials of Hiking and then add our parent-tested, kid-approved adventure items for guaranteed hiking success!
1. Child Carrier
If you buy nothing else, get yourself a high-quality child carrier for your adventures if you have little kids. Not only are they great for exhausted kids on the trail but can also be used for airports and walking around a city. Look for metal-framed child carriers, since they're better suited for bigger, longer adventures. Most of them have enough storage to bring everything you need for a day out on the trail.
Try it:
2. Fanny Pack
If you have a kid that doesn't fit into the metal-framed carriers yet, you'll likely be carrying them in a soft carrier. It's better for your body if you carry them on your back but that means you won't be able to carry a backpack. Instead, opt for a waist pack to bring everything you'll need for a hike that day.
Try it:
3. Bubbles
You can turn most bad moods around with one simple item: bubbles. It works like magic. The most efficient way to buy bubbles is to order a large container of eco-friendly bubble stuff and put the liquid in a small container to bring on the hike. You don't need much. Anytime your kid is about to have a meltdown, have a bubble dance party to brighten the mood.
Try it:
4. Mini M&M
Like many adults, children need motivation on the trail. For older kids, simply getting a good view at the end of the hike can suffice. For littles, motivation might take a little more bribery… we mean effort. You can use any small treat including gummy bears, mini M&Ms, chocolate morsels or Skittles. Make a game out of getting further down the trail by saying, "If you make it to the trail blaze before me, you get a treat!" Kids love it.
Try it:
5. Summit Treats
As an added bonus to the trail treats, make sure you bring something bigger to give your kids when they make it to the destination. For some, it might be a full-sized chocolate bar or a lollipop. Careful on hot days or if the chocolate sits on your back as it will melt and then your kids might have a meltdown at the summit. You can also bring a non-food item like a small toy car or doll. Make it a surprise!
Try it:
Full-size Candy Bar Variety Pack
6. Kid-friendly Camera
Curb your kids' urge to touch and pocket everything they see by turning them into little photo-journalists instead. Bring along a kid-friendly camera – whether that's an old smartphone or a disposable camera. l. Having a camera gives them not only something to do, but also gives them complete autonomy which helps their self-esteem and growth. Do a project with the images when you get back home!
Try it:
7. Seek by iNaturalist App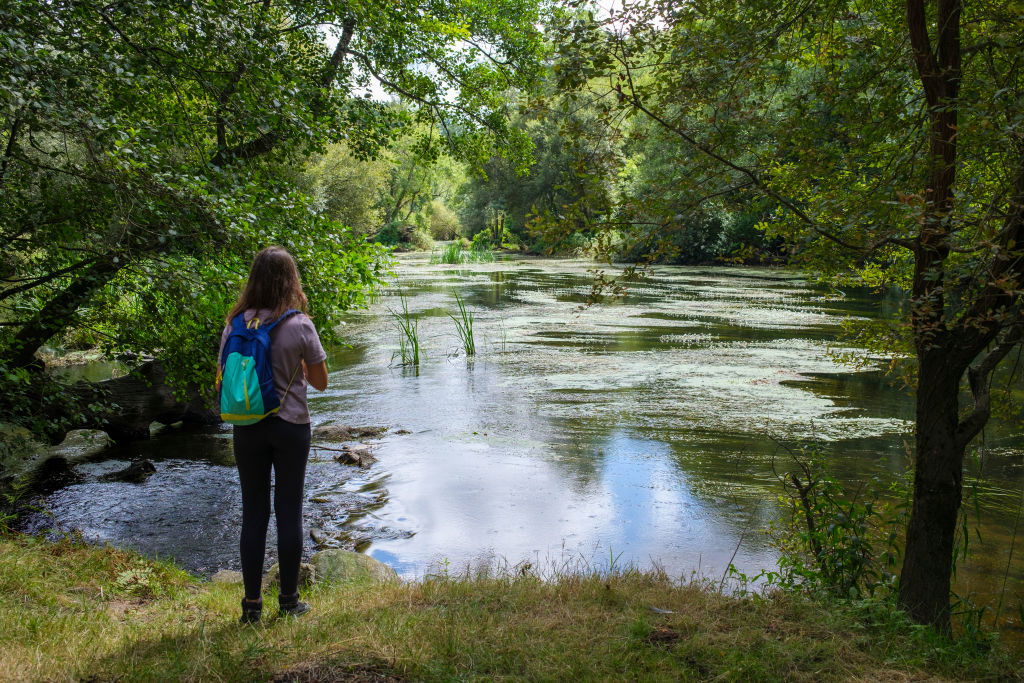 Another item to keep your kid happily occupied while hiking along a trail is to have the Seek by iNaturalist App downloaded on your phone. It's a great way to keep kiddos engaged and increase their sense of discovery and wonder. The app works offline – this is key! – to identify plants, mushrooms and wildlife along your hike. They can either take a photo with your phone or simply hold the camera up to the object to identify. And poof… the app tells you all about what you're looking at.
Try it:
Download Seek by iNaturalist for Apple
Download Seek by iNaturalist for Android
8. Change of Underwear
Having the right layers and extra clothing is one of hiking's Ten Essentials, and it's extra important when adventuring with kids. More specifically, you'll want to bring extra underwear for those children who are of potty-training age, because accidents (always) happen. For kids still in diapers, make sure to bring double what you think you'll need on your hike. Nine times out of ten, you'll use all the diapers you bring and will thank yourself for planning ahead.
Try it:
Fruit of the Loom Tag Free Cotton Briefs
9. Whistle
This item has a dual purpose: 1. to entertain your child (use this as a last resort since it will definitely mildly annoy you and other hikers) and 2. to use in case of an emergency. Teach kids to use it sparsely. Having the whistle can prove to be useful if something happens and you need to send out a distress signal. Yelling gets exhausting quickly where blowing through a whistle uses minimal effort for maximum sound.
Try it:
Vargo Titanium Emergency Whistle
10. Trekking Poles/Sticks
Trekking poles and sticks are helpful tools on the trail for grownups wanting to ease the impact of hiking on their knees. However, they can also be transformed into trail swords to fight mighty forest dragons or into microphones to conduct an epic concert. Whether your kid is a noble knight or the next Taylor Swift, trekking poles are a great distraction for children on the trail. (Just teach them not to swing near a sibling!)
Try it:
Cascade Mountain Tech Trekking Poles
REI Co-op Trailmade Trekking Poles
Mountainsmith Pinnacle 6061 Trekking Poles