Family owned and operated since 1979, White Sierra makes high quality apparel for families that enjoy the outdoors. They know everyone participates in different outdoor activities ranging from relaxing hikes with the family to climbing mountains. Their everyday apparel is designed to fit your outdoors lifestyle, no matter what that may be.
Better yet, White Sierra offers clothing options for the entire family. Built with lightweight waterproof and breathable fabric, the Full Moon Softshell Pants are great for any outdoors enthusiast.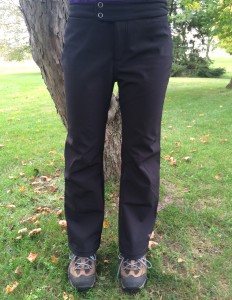 Appearance: The Full Moon Softshell Pants from White Sierra are as comfortable as they look. They are black, thin, softshell technology pants perfect for any adventure you might find yourself on. They feature 4-way stretch, articulated knees, zip secure waist pocket, double snap front waist closure, a fixed waistband and back darts. The wide waistband allows for a flattering fit and they are true to size. You can even reference White Sierra's size chart provided on their webpage. Model in photos is 5'7″ wearing a medium. The only complaint is that the pants seem to run a little short, but do you really want your pants dragging around in the damp conditions you may be hiking in anyway? That's up to you. White Sierra's Softshell Pants will help you face a variety of obstacles Mother Nature might put in your way, especially wet and chilly conditions.
Functionality: These pants are perfect for staying warm in cooler weather. They don't even need to be worn with a base layer until about 20 degrees F, and with a base layer they'll do a good job of keeping you warm in 0 degree temps. These are great for walking, sledding, snowshoeing and so much more! They aren't too bulky, allowing you to be a lot more active than in thicker pants. They are water resistant, not water proof. They can keep you dry from melting snow and other brief water encounters, however if you sit on a soaking wet ski lift they will likely not keep you 100% dry. These are very comfortable an
d are a perfect active outdoor pant for any adventurer.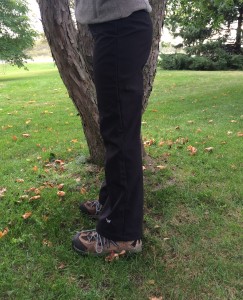 Durability: The Full Moon Softshell Pants face is made up of 94% polyester 6% spandex softshell woven with microfilm laminated, breathable and water resistant. The back is 100% polyester Microtek Fleece knit. They are extremely durable pants made to help you withstand all conditions. Because t
hey offer breathability with a looser fit, they're also flexible enough to stretch with your body as you move around with ease. White Sierra's Softshell Pants will help you face a variety of obstacles, and thanks to their comfortable fit you'll be able to withstand those days with less than favorable weather conditions.
Value: White Sierra's Full Moon Softshell Pant retail for $55.00. These pants may have a higher price tag, but it is pretty accurately matched by all the efficiency and comfort they provide. Unlike the big, bulky outdoor pants that are difficult to walk in, these pants provide ease of movement without looking heavy and thick. You will receive the comfort and warmth you are paying for.
Checkout the rest of the White Sierra line on their website.