25 Best Campgrounds Within Two Hours of San Francisco
Though there's much to experience in America's favorite city by the bay, it's equally wonderful to get out of the urban area and explore the natural wonders Northern California has to offer. From the Central Coast to the vineyards of Napa, and the gold miners of Sacramento County, adventure awaits. What are you waiting for?
Central Coast
Big Basin Redwoods State Park: Boulder Creek, CA
As California's oldest state park, Big Basin Redwoods State Park was established in 1902 in the heart of the Santa Cruz Mountains. Guests from all over the world flock to view the vast forest of ancient redwood trees just south of San Francisco. Other vegetation includes conifer and oak trees mixed with chaparral and riparian habitats. The diversity of the land is marked by elevations in the park, which vary from sea level to over 2,000 feet. More than 80 trails feature hiking for every kind of outdoors person. Photo opportunities run rampant with the sites of the ancient trees, waterfalls, lush valleys, and a variety of wildlife. Rest peacefully under a blanket of stars in one of the 142 campsites throughout the park, including sites for tents, horses, and primitive spots dotted along with five backcountry locations.
Manresa Uplands Campground: Watsonville, CA
A little less than two hours away from San Francisco, the county of Santa Cruz features excellent beaches. Good citizens of the area saved the park some years back after concerns were raised about protecting beach land for the use of the public. This seasonal campground gives visitors easy access to fishing, surfing, boogie boarding, and all the other delights a stay by the seaside has to offer. Make sure to grab an official state fishing license to ensure your catch is legal, and be nice to the natural landscape surrounding the park.
Fremont Peak State Park: San Juan Bautista, CA
Visitors to Freemont Peak State Park experience sweepings views of Monterey Bay. There are incredible views in the hiking trails of the grasslands of the higher peaks of the Gavilan Range. Other views include the San Benito Valley, Salinas Valley, and the Santa Lucia Mountains east of Big Sur. Much wildlife lives in the pine and oak woodlands. There are plenty of spots for proper camping and picnicking throughout the park. The park also features an astronomical observatory with a 30-inch telescope, a popular destination for public programs on selected evenings.
Bay Area
China Camp State Park: San Rafael, CA
Located right over the Golden Gate Bridge, China Camp State Park is the perfect overnight trek for busy San Franciscans looking to quickly get away. Waterfront views dot the scenery of the roadways in the park. Salt marshes, meadows, and oak habitats make for a diverse ecosystem on the land. A variety of wildlife including deer, squirrels, coyote, fox, bats, and various birds can be viewed by interested hikers throughout the year. In addition to the wonders of wildlife, guests to the park can also learn some history. China Camp Village features a museum describing an early Chinese settlement that in its day housed 500 settlers, three general stores, a marine supply store, and a barber shop. Guests may camp overnight at Back Ranch Meadows Campground. Tents and RVs are welcome.
Angel Island State Park: San Francisco Bay
Though situated just a ferry-ride away from San Francisco, Angel Island State Park might as well be a world away from the busy pace of the city. The U.S. Immigration Station processed many immigrants, the majority from China, from 1910 to 1940. During the Second World War, German and Japanese POWs were detained at the Station before being sent to facilities farther inland. Your vehicle must be left at home, and make sure to plan your trip well in advance. It can take up to a year to reserve your spot, but visitors will be able to reserve campsites and lodging six months in advance from the current date.
Point Reyes State Park: Inverness, CA
Offering more than 1,500 species of animals and plants to discover, Point Reyes State Park is a veritable playground for the budding or advanced naturalist in your life. Elephant seals made a triumphant return to the Point Reyes Headlands in the 1970s after having been absent from the area for generations. The best time to view the sea mammals is usually December through March for the birthing and mating season. Multiple campgrounds are available throughout the park. The Coast Campground is nestled within a small coastal grassy valley with easy access to the beach and tide pools. Glen Campground is located within a quiet forest along the Bear Valley Glen Trails. For camping on the water, Tomales Bay offers boat-in camping on the west side beaches of the state park.
Bothe-Napa Valley State Park: Calistoga, CA
Castle Rock State Park: Los Gatos, CA
With sweeping views, chiseled sandstone, and green forests, there is much beauty to admire at Castle Rock State Park. Located at just over an hour away from the city, this state park draws visitors eager to hike the park's 34 miles of rugged trails and climb the park's caverns and rock, including its famous namesake. Budding and experienced botanists enjoy exploring the California black oaks and high-elevation coast redwoods. Camping is available year-round on a first-come, first-serve basis, so it's best to make your reservation as early as possible. The campsites are for enthusiastic outdoors people, as campers are required to hike 2.5 miles from the parking area while carrying all of their equipment into the camp.
Kirby Cove Campground: Sausalito, CA
While this campsite is very close to San Francisco, visitors may still feel transported away with a quick stay at this campground offering one of the most unique views of the Golden Gate Bridge in the city. Kirby Cove is situated at the foot of the craggy Marin Headlands just west of the Golden Gate Bridge. A steep, mile-long trail to the cove begins at the parking area above Battery Spencer on Conzelman Road. The path descends through a stately grove of Monterrey pine and cypress and Blue Gum Eucalyptus. Fishing, hiking, mountain biking, and a host of other activities are available throughout the park.
Mount Tamalpais State Park: Mill Valley, CA
Rob Hill Campground: San Francisco, CA
Rob Hill Campground serves as San Francisco's only official campground. At Rob Hill, new and experienced campers alike can view the lights of Sutro Tower, smell the fresh, ocean breeze, and hear the owls in their Cypress roosts. Campers have been enjoying the land while sleeping under the stars for generations. The first was the Ohlone, a tribe of Native Americans who were the first inhabitants of this area. After the US Army left Presidio in 2010, the area received a major renovation with the addition of upgraded group campsites, better restrooms, accessible paved pathways, and a building for educational programs.
Gerstle Cove Campground: Jenner, CA
Visitors at Gerstle Cove Campground enjoy a variety of ecosystems, including grasslands, forested hills, and pristine prairies, to explore. The dramatic coastline provides a beautiful and dramatic view to visitors. There are over 20 miles of trails for hikers to trek. In addition, outdoor enthusiasts enjoy horseback riding, fishing, and scuba diving during visits. The campground offers 20 spots for an overnight stay. You can bring your canine friends, but they must be kept on a leash the whole time, and in your tent or vehicle during the night.
Santa Cruz North / Costanoa KOA: Pescadero, CA
This eco-adventure resort offers guests the opportunity to experience and explore the natural beauty and protected coastline of California. A myriad of activities is available for whatever you're into, including hiking, mountain biking, music, art exhibits, kayaking, and even spa treatments. The campground strives to keep a strict commitment to caring for the environment and has developed programs and initiatives to keep the area clean and protected. Make sure to check out Pigeon Point Lighthouse, which is just three miles north. This historically interesting lighthouse has watched over the sheer cliffs and rocky shores of the area since 1872.
Butano State Park: Pescadero, CA
Founded in 1957, Butano State Park was established in order to protect precious redwood trees from the logging industry. Today, visitors enjoy hiking along 40 miles of trails scattered along the 4,000 acres of canyons and uplands of the property. Curious hikers may view woodpeckers, newts, and an exciting array of ecosystems throughout the park. Guided nature walks and weekend campfire programs are offered during the summer. Visitors may wish to leave extra drinking water at home, as drinking water is available at the park in both the main campground and the day-use areas.
Memorial County Park: Loma Mar, CA
On the 673 acres of Memorial County Park visitors have the opportunity to feel at peace with nature beneath old-growth redwoods that have grown for centuries. The park provides regular campfire and naturalist programs during the summer months. Guests are encouraged to learn about conservation, survival skills, and being good stewards of the land through these programs. Budding naturalists may view common plants around the park such as huckleberry, poison oak, ferns, redwood sorrel, and horsetail. Woodpeckers and stellar jays are good draws to birdwatchers. Two camping sites are available on the grounds. Both are open year-round.
Liberty Glen Campground: Geyserville, CA
As the only drive-in campsite within the perimeter of Lake Sonoma, Liberty Glen Campground offers guests a unique experience in the heart of wine country. Horseback riding, hiking, and biking are popular activities within the park. In addition, archery, disc golf, fishing, and a shooting range offer a myriad of ways to spend a day. After all of that activity, it might be time to settle down with some wine and artisanal cheese at your campsite, a must for foodies visiting the area.
Brannan Island State Recreation Area: Rio Vista, CA
Brannan Island State Recreation Area is surrounded by a maze of waterways through the Sacramento-San Joaquin Delta. Bring your own boat and enjoy the countless water activities the area has to offer, including swimming and fishing. Attempt to truly live off of the land and catch some striped bass, sturgeon, catfish, bluegill, perch, or bullhead fish for your dinner. The park receives heavy use from May through October. The late fall, winter and early spring months are much slower paced at the park and offer some of the best fishing opportunities of the year.
Mount Diablo State Park: Walnut Creek, CA
Mount Diablo itself isn't terribly tall, coming in at 3,849 feet. However, the view, surrounded by low, rolling hills and broad, flat valleys, is actually very remarkable. It's the reason most visitors flock immediately to that spot. The Visitor Center is located in the historic stone building at the highest peak. The building was constructed during the late 1930s of fossiliferous sandstone blocks quarried in the park and highlights the cultural and natural history of the park. Make sure not to collect any plants or wildlife in the park. It's not worth taking anything home, as the park is protected by federal law.
North Coast
Clear Lake State Park: Kelseyville, CA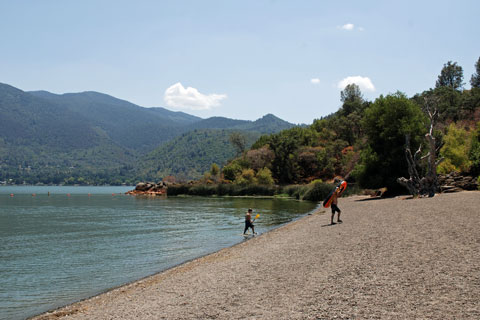 Located on the shores of California's largest freshwater lake, Clear Lake State Park is popular for water activities, including fishing, swimming, boating, and water-skiing. Lucky anglers are known to catch largemouth bass, crappie, bluegill, and channel catfish when the fishing it right. The region has a rich history for Native Americans and European settlers alike. The visitor center explores both the cultural and natural history of the land, as well as an aquarium exhibiting some of the species of the lake. The park offers four campgrounds, cabins, and group campsites. A boat launch is available for both campers and daytime guest.
Central Valley
Situated right beside the Merced River, George J. Hatfield State Recreation Area is a shady little park with great fishing, swimming, and floating opportunities. Throughout the year, fishermen enjoy catching catfish and perch. A historic bridge built back in 1910 spans the river and provides beautiful views of the water. Picnics, birthday parties, and family reunions are popular activities in the park. Hikers enjoy exploring the 46.5-acre park and regularly see plenty of wildlife to keep them coming back.
San Luis Reservoir State Recreation Area: Gustine, CA
Visitors at San Luis Reservoir State Recreation Area enjoy boating, fishing, and swimming in the area's three lakes. As wind can be a dangerous issue in the park, make sure to watch for warning lights at the Basalt entrance station, Quien Sabe Point, and Romero Visitor Center. Multiple campsites are available throughout the area, including Basalt Campground, San Luis Creek Campground, Medeiros Campground, and Los Banos Creek Campground. Camping conditions are considered more primitive at most of the campsites in the area, as flush toilets and showers are not available at three of the four sites. There are no reservations required at Medeiros and Los Banos Creek Campgrounds, but instead, are given on a first-come-first-serve basis.
Gold Country
Folsom State Recreation Area: Folsom, CA
Don't go singing the Folsom Prison Blues at this gorgeous state park. Located at the base of the Sierra foothills, Folsom State Recreation area offers a variety of activities for visitors, including hiking, biking, running, camping, horseback riding, water-skiing, and boating. When fishing, visitors may catch trout, catfish, big and small mouth bass or perch. Make sure to check out the Folsom Powerhouse. It was once called "the greatest operative electrical plant on the American continent". For cyclists, there is a 32-mile long bicycle path connecting Folsom Lake with many Sacramento County parks before reaching Old Sacramento. Camping is available at Beals Point year-round and at Peninsula Campground beginning in April each year.
Auburn State Recreation Area: Auburn, CA
Situated right in the middle of the famed gold country, Auburn State Recreation Area covers 40-miles of the North and Middle Forks of the American river. The area, which was once teeming with would-be gold miners, the area is now a natural area offering a wide variety of recreational fun to over 900,000 visitors a year. Visitors to the park enjoy hiking, river access, boating, fishing, camping, mountain biking, gold panning, limited hunting, equestrian/horseback riding trails, and off-highway motorcycle riding. Whitewater rafting fans will find fun with Class II, III, IV, and V river runs.