Setting up a tent is easy to do, but knowing exactly where to place it can make a big difference when it comes to getting a good night's sleep. If you're staying at a campground, you might not have control over all of these factors, but the article will still be helpful. Here are three tips for pitching the perfect camp. 
Spend the time to find a level spot
Even in established campgrounds, this can sometimes be a challenge. We've stayed in rustic campgrounds that offered no flat sleeping areas in our particular site. In these cases, you have to make do, and as you already know, be sure to keep your head higher than your feet. Even slightly higher elevation at your feet can create an uncomfortable night of sleep. In the same way that golfers will gently hold a club to determine the grade, you can dangle a straight stick or a rope with a weight on the bottom. Trust us; this isn't overkill. A flat sleeping area is crucial. 
It's also important to survey the area around your tent. You may have found a perfectly flat area to discover that the ground around it slopes toward your tent. If you're confident that it's not going to rain, there is no problem. If storm clouds roll in overnight, you'll wake up to a real mess. If the ground is mossy and can absorb water, this will be less of a problem.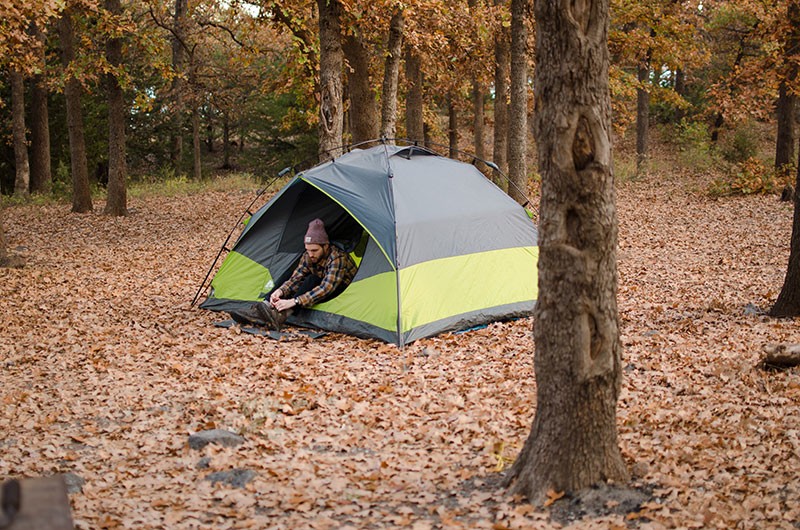 Sleep on the west side of trees when possible
We've all woken up to tents baking in the sun, and it's not a fun way to start the day. If you pitch your tent on the west side of a grove of trees, you'll be in the shade well into late morning (depending on how tall the trees are). If you really want to get some extra shut-eye, toss on a sleeping mask. Sun is very effective at setting off your circadian rhythm, and it's much easier to sleep in when you prevent this from happening.
If it's cold pitch your tent under a large tree
The area under larger branches can be 10F warmer than one exposed to the night sky. This can also help to lessen the morning dew on your tent. Now, we've all heard horror stories about "widow makers," so use this tip with caution. Make sure that the tree is producing foliage and looks healthy. Dead trees fall on campers more often than you'd think. Always avoid sleeping next to trees that look like they're near the end of their lifespan.
When you're armed with a little knowledge about pitching the perfect camp, it turns into a fun challenge. Setting up camp is one of our favorite parts about camping, and it can be exhilarating to stumble upon the perfect site. If you have the time, walk around for an hour to find a spot with all of these qualities. When you wake up fully refreshed, you'll be glad you did.