A good knife is an essential part of any camping kit, and according to some reviewers, the best (or only) way to get a good one is to spend upwards of a hundred dollars.
That's a lot of money for something you could lose, or that you may only use a couple of times a year. Scratch that, that's a lot of money, period.
So here's a handy guide to the best knives you can get that won't break the bank (or your heart if you lose them)
Best Fixed Blade: SOG Ace
If you're looking for a fixed blade knife, you're looking for a few very simple things.
You want a full tang, meaning the metal from the blade goes all the way through the handle. This makes the knife sturdier, stronger and gives you better leverage on whatever you're trying to cut. No fixed blade without it is worth your money, period.
You want a solid, comfortable grip that'll still work if it's wet, dirty, or sweaty.
And ideally, you want a sheath of some kind.
The SOG Ace has all of these. It's 9 inches overall with a 4-inch blade, giving you a solid grip on a reasonably-sized, versatile blade.
Granted these aren't difficult features to find, so what ultimately looking for is going to be durability vs. price.
The steel that makes up the Ace's blade is not the hardest, but it holds an edge well and is easy to sharpen. And it's the best you'll get at this price point.
The handle is a thermoplastic rubber, which means you can get a solid grip, even if the handle isn't perfectly clean and dry.
Finally, it comes with a sheath that includes a belt-clip and a cord-cutting groove, which makes it easy to cut twine and cords without needing to unsheath the knife. All of these features make it one of the best camping knives under $50.
PROS
Full tang construction
Molded thermoplastic rubber handle
Good size
CONS
The cord-cutting groove feels like a bit of an afterthought.
Finger-grip style molding isn't one-size-fits-all.
It's a cost-effective way to get a reliable fixed-blade knife.
---
Best Folder: CRKT M21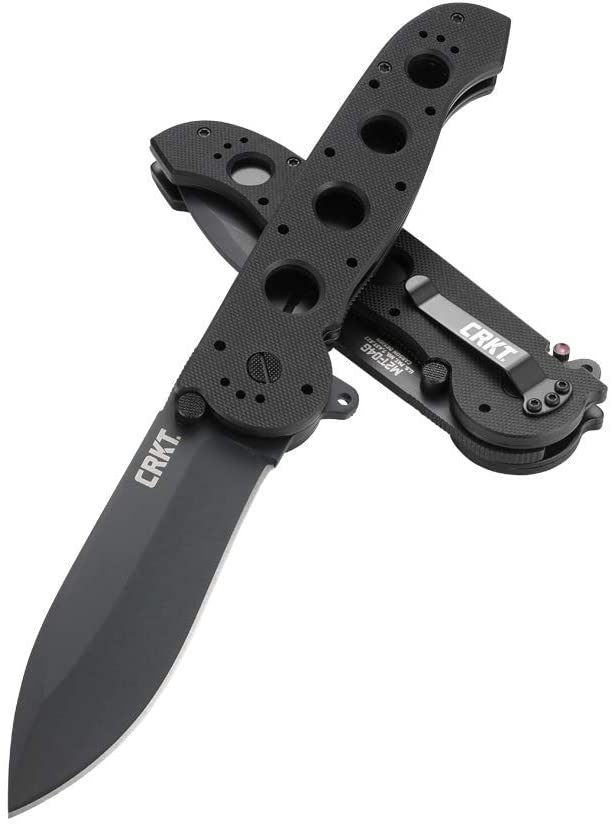 For this review, we're looking specifically at the M21-04G, but the CRKT's M21 series has a variety of blade and handle options, all at the same price point.
Extended, it's a 9.25" knife, with the option for a 3.125" or 3.875"
The CRKT M21 features a propriety one hand opening mechanism called the Carson Flipper that serves as a blade guard when open. This is rare for a folding knife, and why it's our first choice in folding knives. It also features a stud on the blade to assist opening if that's more your speed.
It features a two-stage liner lock, making it a secure when opened. If you've never used a CRKT before, the mechanism is incredibly smooth but feels a bit complicated.
The handle is lightweight fiberglass composite (G10) and the blade is a high carbon stainless (8Cr14MoV), perfectly adequate, and used in even more expensive blades like Spyderco and Benchmade
PROS
Slim, lightweight knife
Easy, one-hand opening mechanism with two-stage lock.
Variety of options for blade length and serration.
CONS
If you're used to a simpler opening mechanism, CRKT knives in general can take some getting used to.
It's on the large side for every day carry.
Once you get used to the mechanism CRKT offers the best folding knives for the price.
---
Best Multitool: Gerber Crucial
You could easily spend even more hunting down a good multitool than you would on a good knife. Typically though, what you're looking for is a solid pair of pliers and a few core tools. If you need more than that, especially a really good version of more than that, be prepared to head towards the $100+ range.
The Gerber Crucial is just that, a few simple tools done well. It includes pliers, a wire cutter, a three-inch blade, standard and Phillips head screwdrivers, and both carabiner and pocket clip.
It's got a smaller number of tools than some comparable options, but it's still a better choice for a couple of reasons. First, the tools are on the outside when folded, meaning you can use them without having to open and then reclose the primary tool. Second, the tools all lock. This makes the knife safer to use, and the screwdrivers much more solid and dependable.
PROS
All tools lock
Knife and screwdriver are more accessible than other multitools
Lightweight
CONS
Fewer tools than other multitools
On the small side.
It might be a bit light on tools, but it's got great versions of the ones you'll need most often.
---
Schrade SCHF36
Schrade's SCHF36 Frontier knife is a larger option than the other fixed blade on this list. It comes in at 10.4 inches, with a 5-inch blade.
It's a full-tang knife, with a high-carbon steel blade. It features a textured thermoplastic handle, making it a more universal grip than some molded options. It's easy to sharpen and handle, making it one of the better camping knives under $50.
It includes a polyester sheath, with a pouch for a sharpening stone and ferro rod.
PROS
High carbon full tang blade
Textured thermoplastic handle
Finger choil offers extra protection
CONS
On the larger side
The sheath isn't very sturdy or durable.
It's great if you want a solid grip on a bigger (but not too big) knife, but the sheath is a bit flimsy.
---
Kershaw Clash
The Kershaw Clash is a handy folder. It's 7 inches overall, with a 3-inch partially serrated blade.
It features a lightweight nylon handle, and a high grade of steel, comparable to more expensive knives. Overall a durable knife that will hold up well to wear and regular use.
It's a case lock knife, making for easy one-handed opening and closing, and includes Kershaw's torsion bar assisted-opening.
Nothing about this knife is going to surprise you, but that's a good thing. It does what you need, well, for a reasonable price.
PROS
Familiar, easy function.
Solid construction, good materials.
Pocket-clip for everyday carry
CONS
The handle isn't ergonomic, not great for extended use
The blade mechanism may need to be replaced or tightened.
You probably already have this knife. This is just a better version of it.
---
Conclusion
Regardless of whether you're looking for a fixed-blade, folding knife, or a multi-tool, the key is to get a sturdy, durable product. It should also be a tool whose size and grip you're comfortable with. You don't need to overpay to get a knife that's worth using, but underpaying is a killer.