Based in Duluth, MN, Duluth Pack is the oldest canvas and leather bag and pack maker found in the USA. With high quality, built-to-last bags, packs and outdoor gear, Duluth Pack strives to maintain the handcrafted American made heritage the brand has continuously valued.
In homage to their founder Camille Poirier, Duluth Pack launches its spring 2021 collection, The Poirier Signature Series – to be released in a limited-edition Heritage Tan cotton duck canvas. The series was specifically launched on March 3rd, as it is Camille Poirier's 182nd birthday. The company's tagline for the line states, "The Poirier Signature Series by Duluth Pack. Stamped With Our American Heritage. Unmatched History. Proven Quality."
Duluth Pack's Marketing Manager, Andrea Johnson, says, "This collection showcases the time-tested techniques and best-selling styles that have been utilized since 1882. It is the best of the past and present. What worked for Camille then, still works for us today." 
Tom Sega, Duluth Pack's President and CEO states, "Because of our innovative founder, Duluth Pack is the oldest canvas and leather bag and pack manufacturer in the USA. That says something. We are incredibly proud of our true American heritage, legacy, and history."
This series includes the best-selling Weekender Duffle, Deluxe Medium Market Tote, Large Grab-N-Go, and the customer favorite Scout Pack. Each bag is offered in the new Heritage Tan colorway and features Camille Poirier's insignia in a timeless black stamped ink, along with the Duluth Pack company name, and Made in the USA statement. All of these options are handcrafted and built from rugged high-quality materials and of course, these bags are proudly Made in the USA. The collection price points range from $50.00 – $300.00. As always, the Duluth Pack manufactured products come with a lifetime guarantee on all craftsmanship and hardware – including all sewing seams, rivets, buckets, snaps, zippers, grommets, and clasps.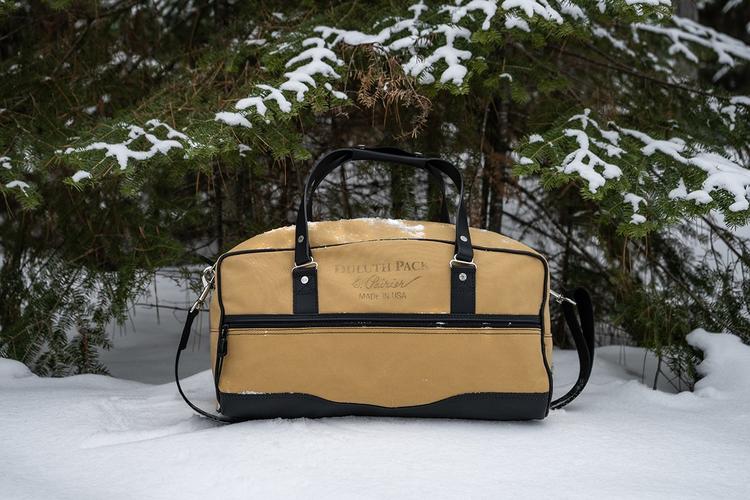 Shop the Poirier Signature Series on Duluth Pack here.