Essential Gear For Overnight Ice Fishing
Even for day trips, ice fishing conditions are unique among other outdoor activities. You're subject to wind, freezing temperatures and ice-cold water. You're often kneeling in frozen slush, your hands are constantly wet and, above all, you're trying to stay warm so you can get a full day of fishing in.
So why do people do it? Because, as the members of the all-women ice angling team based in Minnesota, Women On Ice say, "you never know what's going to happen." At any moment someone could beat their personal record or catch a species of fish they've never caught before.
What's better than a day of ice-fishing? Making a camping trip out of it! The Women on Ice slept on the lake for four nights, which presented all sorts of unique challenges. Here's the gear they used to stay comfortable, prepare epic meals and (of course) catch fish.
GCI Kickback Rocker
The Kickback Rocker works well as an ice-fishing chair. It's a little lower than other models, which made it easier to switch bait and tend to the hole. It folds up small and uses a peg closure system rather than a bag, making it easy to set up when scouting for a fishing spot.
Fireside Outdoor Pop-Up Fire Pit Outdoor Grill Bundle
We can't think of a more ideal firepit for ice fishing. The heat shield eliminates the possibility of melting snow, and the total weight is just under six pounds. It sets up in a minute and easily handled roaring bonfires all night long.
Buy the Fireside Outdoor Pop-Up Fire Pit
Briggs & Stratton P4500 PowerSmart Series Inverter Generator
Sleeping on the ice for four days meant a lot of things needed power, from electric ice augers to camera gear. The Briggs & Stratton got it done easily with power to spare. The electric start is an especially handy feature.
Buy the Briggs & Stratton P4500 PowerSmart Series Inverter Generator
Cabela's Glyde Jig
It's important to have a variety of presentations because you never know what the fish are going to hit. The Glyde Jig has gliding motion on the fall and acts erratically when snapped upwards. One of the Women On Ice gave it a shot when we were filming and caught two bluegills in a few minutes. Not too shabby!
Disc-O Bed XL
If two people are sleeping in a pop-up fishing shelter, a bunk bed cot is the only way to go. The Disc-O Bed XL offers a great setup. It allows two people to get a good night's sleep and left enough room for angling in front of the bunks.
Ascend Hex 0 Degrees Mummy Sleeping Bag
Sleeping overnight on the ice tends to get a little chilly to say the least, so a solid zero bag is a must. The Ascend Hex Features a full-length draft tube and a chest baffle to lock in heat. The offset seams help to eliminate cold spots. Bonus: It actually fits back into the stuff sack.
Buy the Ascend Hex 0 Degrees Mummy Sleeping Bag
Princeton Tec Byte LED Headlamp
Running across the ice in the middle of the night to check tip-ups is a lot easier with a good headlamp. The Princeton Tec Byte is small, light and comfortable to wear over a stocking hat. The 100-hour burn time on the low setting easily lasted for several days of night fishing.
Buy the Princeton Tec Byte LED Headlamp
Camp Chef Artisan Pizza Oven 90
The Women On Ice ate like queens all weekend One of the highlights was homemade pizza straight from the Camp Chef Artisan Pizza oven. It fits on top of the Pro 90X three-burner stove and, wow—talk about a killer slice of pizza!
Buy the Camp Chef Artisan Pizza Oven 90
Women's Muck Boot Arctic Ice Extreme
Standing on the ice all day requires a warm, rugged boot, and the Arctic Ice Extreme from Muck fills the bill. The Vibram sole is specifically designed to provide maximum grip on ice, and the upper's slip-on style is great for quick runs to the tip-ups at night.
Buy the Women's Muck Boot Arctic Ice Extreme
Carbin Monoxide Detectors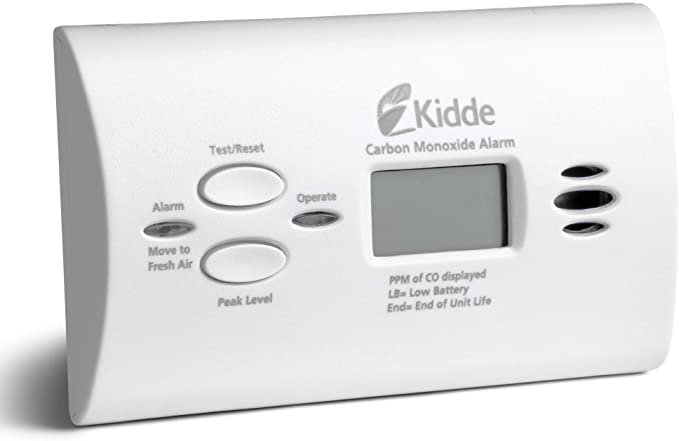 When you're using propane heaters in a pop-up ice fishing shelter, safety is the number one priority. Even though shelter heaters typically have CO2 shutoff features, you should have a backup. An additional carbon monoxide detector ensures a safe night's sleep.
Buy a Kidde Carbon Monoxide Alarm
Princeton Tec Helix Basecamp Bluetooth Lantern
This is one clever little lantern! The adjustable legs make it easy to hold in multiple positions, as well as function as a table lantern. The Bluetooth feature makes it easy to turn off and on from bed, and it compresses for easy storage.
Buy the Princeton Tec Helix Basecamp Bluetooth Lantern
CLAM Thermal X-600 Hub Shelter
You're not going to last more than a night on the ice if you don't have a comfortable home away from home. The CLAM Thermal X-600 retains hear and has an optional floor that attaches to the sides. Add a few rugs and you've basically got an efficiency apartment that you never want to leave.
Buy the CLAM Thermal X-600 Hub Shelter
CLAM Rise Float Bibs
You can never be too safe on the ice, which makes the CLAM Rise Float Bibs a smart choice, in the rare but unfortunate event you fall into the water. It's something you never want to rely on, but if it happens the extra buoyancy could save your life. They're warm as can be, and the waterproof phone pocket is a nice bonus.
Mr. Heater
Mr. Heater has been around forever, and its portable heating devices are probably the number one thing that makes an afternoon of ice fishing truly comfortable. No matter how cold you get out on the ice, you can always hop in the shelter and fire this little guy up.
Fish Monkey Wooly Gloves
When you're ice fishing, your hands go from wet to dry all day long. The Fish Monkey Wooly Gloves are great because wool insulates even when it becomes damp. The studded synthetic later also provides a solid grip for angling.