Camping as a couple can be a challenge, especially in cold weather, and it's hard to snuggle when you and your partner are both cocooned in mummy bags, sliding around on separate sleeping pads.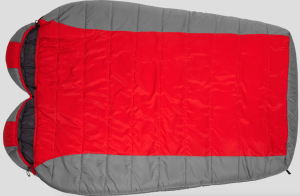 The ultra-light Teton Sports Tracker +5°F Double-Wide mummy bag is designed to keep you and your partner warm, even infreezing weather. Most mummy hoods pull into an oval shape, leaving ears exposed, but the three-piece no-gap hood of the Tracker Double-Wide contours your face, keeping your ears and head tucked in tight. Longer than most mummy bags, and lined with soft, breathable PolarLite insulation, this double-wide bag provides an extra layer of fill in the built out foot-box, offering toes some extra room and keeping them warm without the need to sleep in wool socks.
The Tracker Double-Wide is a super light couple's bag that weighs only 8.2 pounds with the included heavy-duty compression sack. The Tracker Double-Wide unzips from either side, so you don't disturb your partner when getting out, and each zipper has full length baffles to stop cold air from seeping in through zipper teeth.
If you and your partner sleep at different temperatures, the dual zippers allow venting from either side, and also prevent one person from having to crawl over the other to get out of the bag in the middle of the night. A center anchor loop and toggle keeps the bag drawn tight between you and your companion, and offers leverage for cinching down hoods and holding out unwanted cold.
The Teton Sports Tracker features a Velcro safety tab, and all zippers are fully taped with an anti-snag design made from engineered acetal resin for extreme temperature and pressure, keeping them lightweight but still durable. Longer and wider than the average sleeping bag, the Teton Sports Tracker +5°F Double-Wide is designed to fit larger frames — 86.5" x 63" at widest point x 44" at narrowest point – and is lined with Teton's innovative PolarLite insulation — keeping both of you     warm, even though the entire bag is thin and light.
Price: $169.99