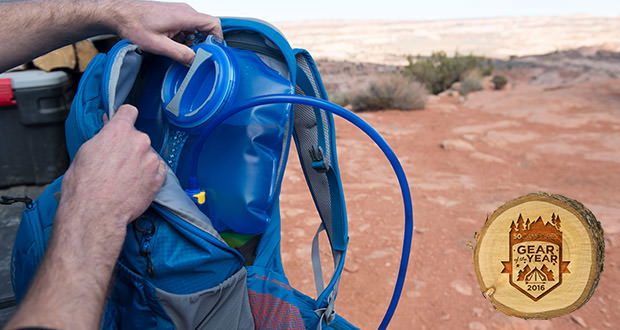 Gear of the Year Awards 2016: Camelbak Crux 3L Reservoir
The Camping Authority Announces Annual Gear Award for the Camelbak Crux 3L Reservoir..
Camelbak's new Cruz reservoirs are their way of letting customers know they are listening and even welcoming feedback. Customers wanted a reservoir that would deliver more water per sip, with an ergonomic handle for easier refilling, and an on/off lever to make leak prevention easier. Crux reservoirs have been put though exhaustive stress tests to ensure they won't fail you when you're hiking that next trail.
The leak-proof cap is even easier to open and close, so no more accidental leaks in your pack. There will be no more annoying drips down your face either, thanks to a big bite valve that self-seals after each thirst-quenching drink you take. The on/off lever allows you to seal your drinking tube shut with the use of one hand instead of two. One of our favorite features is the built-in Hydroguard technology, which inhibits the growth of nasty bacteria both in your reservoir and the tube itself. No more germs for you! Purchase from the Cruz line and expect a delivery of high-flow hydration while keeping weight positioned low on your back for better stability on the trail.