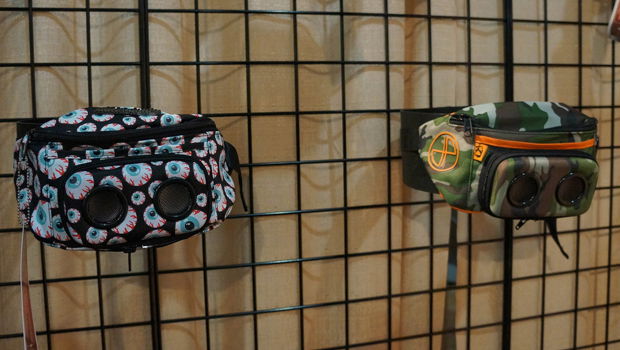 JammyPack Keeps You Jammin' Anywhere
If you are looking for the most stylish, loud, portable way to play music on the go then the JammyPack is perfect for you. The JammyPack is original and fun. It's a fanny pack with a portable speaker system. The JammyPack is a fashion statement with a practical use, the waist bag design is the best fit to function and allows you to easily bring your music with you. JammyPacks pump loud because they only use the highest-quality, water-resistant, mini-speakers that help create great sound. It comes equipped with 2 speakers that can zip completely out of the pack, making it super easy to wash the bag. If you choose to zip the speakers out of the pack you are then also able to use those speakers to play music on your laptop etc. Now that is an awesome feature.
The JammyPack speakers have a USB plug-in and a phone jack so you can easily connect to your phone or Mp3 player. The JammyPack is meant to be used on the go, but no one wants to plug there phone in for music and then drain the battery. Jammy Pack has solved this issue by including a AA Alkaline Battery box that can charge your phone. They also have a 2200 mAh battery pack to charge your phone or mp3 player and would recommend just buying that as it easier and provides clean power. The Jammy Pack comes in over 15 colors/designs, one of which is sure to match your style. This pack is excellent for campers who want portable music at their campsite or are out on a hike or geocaching. The Jammy Pack is a high quality waist bag and is a great accessory with the ability to play music.
Price: $50-57