Are you prepared for a Disaster?
A natural disaster can happen to anyone at anytime. This unfortunate event disrupts the community's ability to cope and use their own resources and involves human, economic and environmental struggles. Nature is unpredictable with when and where it strikes next, so always being prepared is extremely important. Disaster preparedness begins with knowing your risks, making a communications plan and having an emergency supply kit.
Here are some of the essentials to add to your Emergency Supply Kit:
Water
One gallon of water per person per day for three days. This DIY water station is a great way to store the water you need and have a wash up station.
Food
You will need at least a three day supply of non-perishable food for everyone. Backpacker's Pantry makes some delicious non-perishable food.
Battery/solar-powered NOAA Weather Radio
The Eton Raptor is an all-in-one device that will connect you to weather radio and much more.

Flashlight and extra batteries
We like the Coast flashlight and why not add a headlamp to leave your hands free?
First aid kit
The Daytripper first aid kit is a perfect choice for a disaster prep kit.
Light signal for help
Coghlan's Adhesive Signal Lights will offer over 80 hours of flashing light to alert the rescue personnel.
Dust mask
Uline is one of the best brands available for dust masks.
Moist towelettes and garbage bags
You need a resourceful way to keep up on personal sanitation. Squeeze Pods makes a one-time use hand sanitizer that is a great addition for your disaster prep kit.

Pliers
In a disaster situation, first thing you should do is turn off utilities.
Manual can opener
Gerber Greenhorn is a great tool to open your non perishable foods and can be used for many other tasks.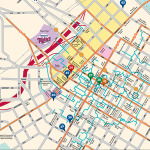 Local maps
These can be picked up at your local gas station.
Cell phone with chargers or solar charger
Sunjack makes the most portable and powerful solar charger, why not grab on to keep many devices charged up at the same time?

To further prepare for a natural disaster, check out
Digital Preparation for Natural Disasters
.