Camping Wharton State Forest in South New Jersey
Camping Wharton State Forest in South New Jersey
Camp New Jersey: I'm talking with Rob Auermuller today. He is the Superintendent at the Wharton State Forest in New Jersey. Rob, why don't we get started with a little bit of history of that area? I was looking on the website and there is certainly a lot of rich history there, so maybe give us a quick rundown of that area.
Rob Auermuller: Well, Wharton State Forest is in the Pinelands National Reserve in Southern New Jersey. And we are known for our Pinelands industries that occurred here for the last two hundred years, starting with iron industries in the late 1700s, turning into a glass industry in the 1840s, 1850s, and then ultimately we became a State Forest in the mid-1950s.
Camp New Jersey: Okay. And so, there's camping there. There are a lot of other things going on. Let's talk about the camping first maybe. What sort of accommodations do you have for camping?
Rob Auermuller: Well, Wharton State Forest is really unique in the New Jersey State Park service. We have primarily what we call primitive camping, and primitive camping offers a number campsite with a fire ring and no flushed toilet facilities or even running water in some locations. So, you'll have a hand pump for drinking water and a place to sleep, and that's about it. We do have one family-style camp at Atsion Lake, which is in our Atsion Recreation Area. And that does offer the amenities of flushed toilets, hot showers, and so on.
Camp New Jersey: Okay. And what are the most popular activities for campers that are staying in that area?
Rob Auermuller: Well, we've got some of the best hiking in Southern New Jersey. The majority of the Batona Trail, which is a 50-mile-long trail through three State Forests; I'd say about two-thirds of it run through Wharton State Forest, and it is a beautiful trail through some New Jersey wilderness. We have four paddle-able rivers that cut through the Forest, through Pinelands habitats, and we also have a swimming lake. We're rich in cultural history, where you can go out into the Pinelands, into some of our wilderness areas. Use your four-wheel drive vehicle to get out to some of these more remote locations and explore some of the abandoned towns or, in some cases, they're just open areas that once housed different industries in the Pinelands.
Camp New Jersey: Okay. And there are a couple buildings listed here on the website. So, we have the Batsto Village. I don't know if that's pronounced correctly.
Rob Auermuller: That's correct.
Camp New Jersey: Is that part of the same property as well?
Rob Auermuller: It is. Batsto Village is a historic site within Wharton State Forest, and it is on the National and State History Registers, and it is a look into the various varying industries of the Pinelands Region. We had an iron furnace here in the 1760s. We still have the iron master's house on-site. When the iron industry began to fail, the owners at the time then looked into other industries and they made window-painting glass out of the natural resources that were here on-site.
Camp New Jersey: Very cool.
Rob Auermuller: Again, that industry did not take on and last as long as they probably would've liked, and ultimately Joseph Wharton bought the property. At the time, it was about 90 thousand acres in Southern New Jersey, and that was in 1880, I believe, or there about. And then that is period of which Batsto Village actually interprets today, because the buildings still reflect that time period and a lot of the amenities and changes that Joseph Wharton himself put into those buildings.
Camp New Jersey: Is Wharton State Forest still that size?
Rob Auermuller: Today Wharton State Forest is about 125 thousand acres.
Camp New Jersey: That's a massive piece of land.
Rob Auermuller: It is.
Camp New Jersey: Is it mostly hiking trails? Are you able to get around on the whole property?
Rob Auermuller: A lot of the property is open. We have four-wheel drive access roads through a lot of the forest. There are probably hundreds of miles of those roads that can get you to varying locations, none of which are numbered or named. There are no signs directing you, but we offer varying maps in our Visitor Centers to direct visitors out into the forest. We also have about 140 miles of hiking trails. And as I said earlier, we have the four paddleboat rivers, two of which you can go out and paddle to a primitive camp, spend a night or two, and then go on your journey downstream the following day.
Camp New Jersey: Fun. Now, what are some of your favorite attractions in and around that area in addition to Wharton State Forest?
Rob Auermuller: Well, I am drawn to just the vast wilderness, especially for New Jersey, that we have here. You can get out into the forest and explore areas, and not see another individual for as long as you're there. You can get on some of these navigable rivers and feel like you're going back in time. It really transcends and takes you to a different place, especially in such a built up, metropolis state, between Philadelphia, Atlantic City, and New York.
Camp New Jersey: Sure.
Rob Auermuller: It's really nice to be able to have a location like this to get away.
Camp New Jersey: Is dispersed camping allowed out there? Because it's 125 thousand acres, if someone heads way out, they still would have to come back and stay at the campground.
Rob Auermuller: That's correct. Most of our campgrounds are strategically located so that you can find one in the area of which you are visiting. Along the Batona Trail, in Wharton State Forest, we have three primitive campgrounds staggered throughout the trail so that you can accomplish a through hike if you chose.
Camp New Jersey: Okay, two more questions for you. If you were just going to spend one hour in Wharton State Forest, how would you spend your time there?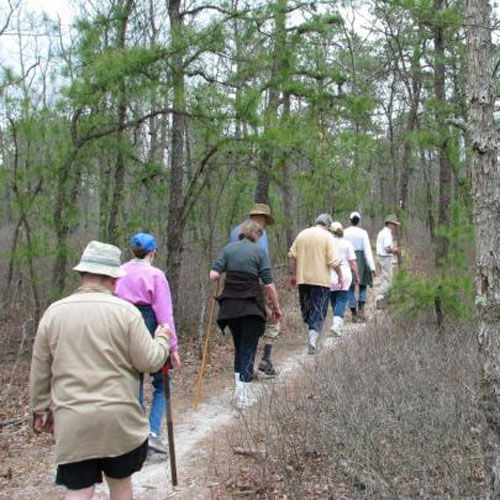 Rob Auermuller:
Oh, I absolutely would get out in the forest and do some hiking. Look at some of the wetland features that we have and the water features. Water is one of the driving, unique, natural features of this region. And it really changes the landscape and creates environments that you will not see anywhere else in New Jersey or, quite possibly, in the Northeast.
Camp New Jersey: Okay. And last question: if you were going to spend just one night at the Wharton State Forest in New Jersey, which specific campsite would you stay at, Rob, and why?
Rob Auermuller: That's an excellent question. For me, personally, I would be at Lower Forge Camp, which is along the Batona Trail. It's about one-quarter mile off the Batona Trail. It is in the heart of Wharton State Forest, and it is right along the Batsto River. So, if you chose, you could actually paddle in from a historic town called Hampton Furance and stay there for the night, or you could hike alone the Batona Trail and get there as well. But it's in a typical pine, oak, Pinelands habitat, but it is across the river from a beautiful cedar swamp. There is road traffic. There is no ambient city lights in the sky. The sky will be as beautiful on a clear night there than anywhere else n the forest.
Camp New Jersey: Awesome. You know, it's incredible how many people, when they finally get out of the city and get that remote, get to see what the sky actually looks like for the first time. A lot of people don't know what the stars actually look like. You can't see it in the city.
Rob Auermuller: You're right. You're right. We host varying events, where we're bring in varying clubs that will help bring the public out to show them the sky at night. And it's really neat to see people's faces when they see it for the first time.
Camp New Jersey: Awesome. Well, that's all I have for you today. Thank you so much, Rob, for taking some time out of your day to tell us about the different amenities at the Wharton State Forest and giving us a little camping tip on your favorite spot. Thanks again.
Rob Auermuller: No problem. Thank you very much.