Seven local breweries serve a wide variety of pale ales, dark stouts, Weizens, spiced beers and specialty lagers that vary with the season. You can buy pints to enjoy on site and growlers to take with you. Each brewery's beers are as different as the atmospheres of their tasting rooms, not to mention their facilities, brewing philosophies, and operations.
With so many foamy offerings, the Fayetteville Visitors Bureau decided to create a fun way to experience each place – the Fayetteville Ale Trail. Celebrating its one year anniversary, this self-guided beer tour lets visitors and residents enjoy the local craft beer scene and be rewarded for it. Just pick up a free Fayetteville Ale Trail passport at the Visitors Center on the downtown square, located at 21 S. Block Ave. or at any of the participating breweries. When you visit a brewery, have your passport stamped. Completed passports can be mailed or brought to the Visitors Bureau for a free chrome metal bottle opener and an 'I Completed the Fayetteville Ale Trail' decal.
On the trail are: Apple Blossom Brewing Company, Fossil Cove Brewing Co., Tanglewood Branch Beer Co. and West Mountain Brewing Co. in Fayetteville; Core Brewing and Distilling Co., and Saddlebock Brewery in Springdale, and Ozark Beer Company in Rogers. Other breweries are in the works and will be added to the trail when they officially open.
"We're very proud of the Fayetteville Ale Trail's success and the positive impact it's had," says Marilyn Heifner, executive director of Fayetteville Advertising and Promotions. "We want to celebrate with the community and the breweries that have helped make it so successful. We hope that locals and visitors alike will join us to celebrate this anniversary milestone."
Since its inception, the ale trail has garnered local, regional and national media attention while distributing more than 17,000 passports. The state's first craft beer tasting adventure, the Fayetteville Ale Trail celebrates its anniversary next week with a series of events and giveaways.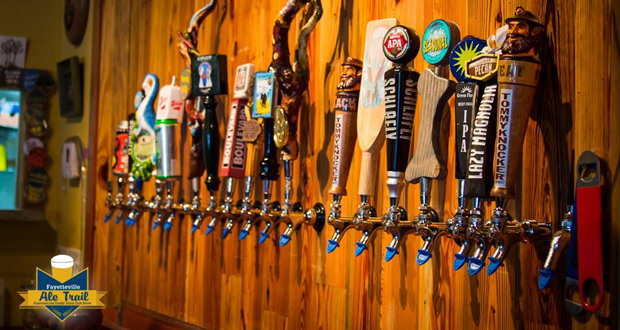 Date: Monday, Sept. 15
Location: Ozark Beer Company
Details: There will be trivia, giveaways and a food truck.
Date: Tuesday, Sept. 16
Location: Fossil Cove Beer Co.
Details: The event will feature a screening of the film, "Strange Brew," giveaways and food truck.
Date: Wednesday, Sept. 17
Location: Core Brewing and Distilling Co.
Details: Core will host a game night with yard games, giveaways, barbecue and live music.
Date: Thursday, Sept. 18
Location: Apple Blossom Brewing Company
Details: The culminating event of the celebration will be a birthday party with food, giveaways and birthday cake hosted by Apple Blossom Brewing Company (by reservation only).
Fayetteville and Northwest Arkansas already have an energetic and vibrate nightlife and dining scene. The thriving craft beer culture further complements that atmosphere.
Lora and Dustin Murphy are making sure folks can experience it in style. Hop aboard their classic 1970 Volkswagen Van and enjoy the journey with Hogshead Tours as your designated driver. You'll get behind-the-scenes access to the area's best local breweries so you can see the brewing process, taste multiple craft beers (many only available on-site), and enjoy the company of friends and other beer enthusiasts. Wine and culinary tours are also available. You can take public or private tours. Check them out on Facebook and visit HogsheadTours.com.
Keep up-to-date with all the beer happenings in Northwest Arkansas, ale trail anniversary plans, and see profiles of each brewery at FayettevilleAleTrail.com. You can also like the Ale Trail Facebook page.