Thanks to years of dedicated trail work, Bentonville, Arkansas has finally sealed its reputation as the mountain biking capital of the nation. Last month, USA Cycling named Bentonville the new home of the U.S. National Mountain Bike Team. With the next summer Olympics coming up in 2028, that could turn out to be a key move.
The announcement came as a surprise for some Coloradans, who have long prided themselves on hosting the team in Colorado Springs, where USA Cycling is still headquartered. Colorado has been at the center of mountain bike development over the last three decades, and it's still a popular place for both downhilling and bike touring. Still, it's hard to argue with Bentonville's recent dedication to the sport. Over the past few years, the town, located in Northwest Arkansas, has seen incredible new trail development, excellent trail maintenance, and a boom in mountain biking popularity.


Some of that growth is thanks to millions of dollars in donations from the Walton Family Foundation and the Runway Group. (Both are funded by the grandsons of Sam Walton, who founded Walmart in Arkansas in 1962.) However, the local government has also played a role.
In 2021, Governor Sarah Huckabee Sanders established an Arkansas Office of Outdoor Recreation to help grow the state's outdoor recreation economy. And this year, she created a Natural State Advisory Council to help facilitate further trail development and maintenance.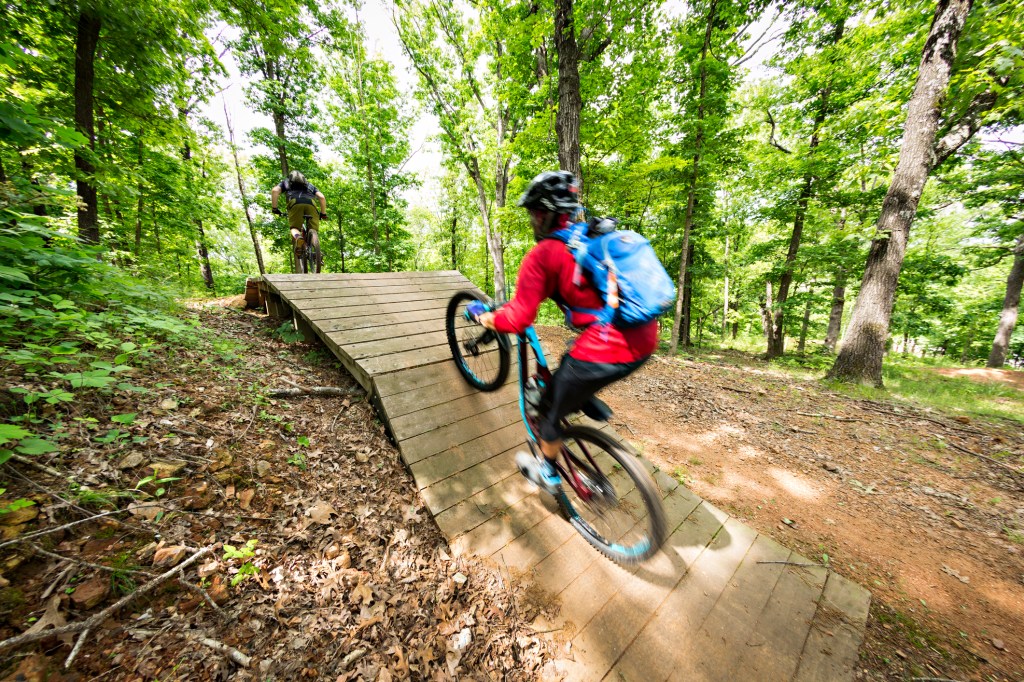 Mountain bikers have been taking notice of the state's momentum. Cycling brands Rapha and Hellion Bikes both moved their headquarters to Northwest Arkansas over the past few years, and Specialized established a new shop in Bentonville in 2022. Now, USA Cycling is joining them, opening a satellite office in "The Ledger," which has been dubbed the "world's first" bikeable building.
The move isn't just good for Bentonville; it should also be beneficial to the U.S. National Mountain Bike Team. Bentonville's temperate climate means team members can ride year-round without having to break out the fat tires in winter. The area also has the infrastructure to support expanded youth programming, USA Cycling said in a recent press release.
"Having training and support facilities based in Bentonville will provide our riders with an ideal launching pad to succeed on the world stage," explains Jim Miller, USA Cycling's chief of sports performance. The release adds that a complex network of singletrack and gravel paths will also give the team an edge in their endurance training.
Who knows? As the team sets its sights on the 2028 Olympics, Bentonville might just prove to be its secret weapon.