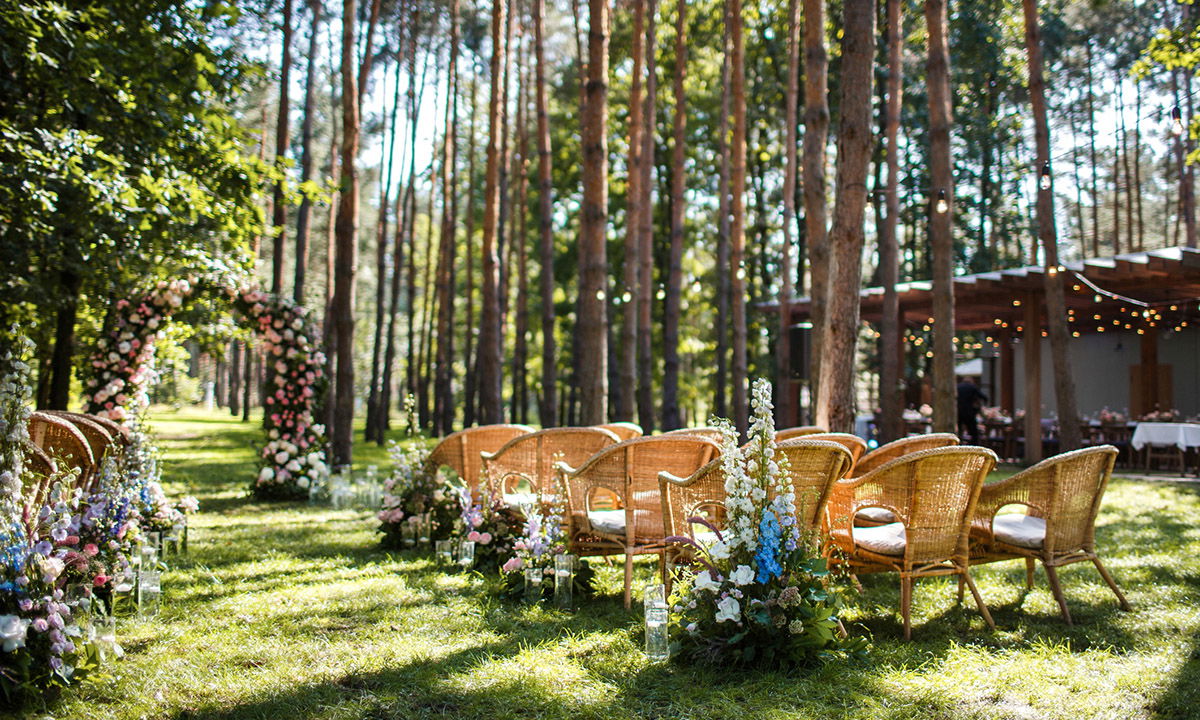 10 Stunning Outdoor Wedding Venues Near Los Angeles
So you've taken the next step in your relationship and got engaged. It's time to let the wedding planning commence. With what seems like an endless to-do list, the best starting point is selecting the ultimate venue for your special day.
If you live in or near Los Angeles, the land of endless sunshine and gorgeous views, an outdoor wedding is a must. Whether you are looking for a ceremony at the beach, a hotel rooftop, a garden, or with a city skyline as the backdrop, the City of Angels has an outdoor venue for you.
Nestled in the Santa Monica Mountains, this 37-acre hilltop property makes you feel like you are right on top of the world, with its all-encompassing views of the Malibu mountains and the Pacific Ocean.
This estate has multiple ceremony sites, including a beautiful vineyard lawn, an intimate garden with a romantic fountain, and a rustic barn with vintage charm. The elegant ballroom, with its high ceilings and grand crystal chandeliers, is perfect for an unforgettable reception. Whether you're planning a lavish celebration or a more intimate affair, this estate can accommodate up to 400 guests.
Your guests will be delighted with delicious gourmet cuisine crafted by a talented team of chefs, plus superb service. The estate also offers an upscale bridal suite, a charming groom's cottage, and ample parking.
With its luxurious accommodations and exceptional hospitality, Malibu Rocky Oaks Estate Vineyards provides an extraordinary experience for couples looking to tie the knot in an outdoor setting near LA.
Malibu Rocky Oaks Estate Vineyards Capacity: 250 (seated) – 400 (standing)
This urban oasis is located in the heart of sunny North Hollywood. The Garland is a captivating outdoor wedding venue perfect for those who crave a natural environment when they walk down the aisle. This venue presents impressive, well-manicured landscaped grounds, complete with serene waterfalls and colorful, fragrant gardens that are sure to take your breath away.
At The Garland, weddings are tailored to each couple's unique style, with a variety of locations available for ceremonies and receptions. The outdoor ceremony garden provides an intimate setting for exchanging vows, while the patio area is perfect for celebrating with a cocktail hour under the stars. The stylish and modern ballroom provides the perfect spot for a reception, complete with a large dance floor and stunning views of the surrounding scenery.
Not only does this venue have breathtaking outdoor spaces, The Garland also offers a range of exceptional catering selections, with menus featuring locally sourced ingredients and customizable choices to suit all tastes and preferences. Upscale accommodations for wedding guests are available on-site, with 257 newly renovated guest rooms and suites that feature stylish, modern amenities that ensure the ultimate in relaxation.
The Garland Capacity: 240 (seated) – 500 (standing)
With incredible city views in the heart of West Hollywood, The London exudes elegance, sophistication, and undeniable charm. An oasis amidst the commotion of the city, this magnificent hotel is a prime location for couples looking for an outdoor setting in LA.
From the moment you step foot on the property, you'll be transported to a magical world of immaculate grounds, beautiful landscapes, and a unique energy that is captivating. This hotel has panoramic views of the Hollywood HIlls, the glitzy LA skyline, and the famous Sunset Strip. As you exchange your vows in front of your loved ones, the sun will set behind you, casting a warm glow over the ocean of smiling faces.
They offer a variety of wedding packages, each customized to suit the unique wants and needs of the couple. From florals and decor to the catering and entertainment, every last detail is executed flawlessly, guaranteeing your special day is pure magic.
The hotel's exceptional cuisine is crafted by renowned chef Anthony Keene. From classic American fare to global cuisine taking inspiration from the hotel's home on the West Coast, the culinary creations at The London are a feast for the senses.
The London West Hollywood Capacity: 250 (seated) – 600 (standing)
When it comes to finding the perfect outdoor wedding location, there are many factors to consider. You want a place that is beautiful, unique, and captures the essence of your love story. Look no further than Muzeo Museum and Cultural Center Plaza in neighboring Orange County.
The Muzeo Museum of Anaheim features a beautiful fountain, perfectly manicured gardens, and one-of-a-kind architecture, all of which will make your wedding feel like a fairytale come to life. The greenscape and flowers create the perfect ambiance for your ceremony and wedding photos.
This venue allows you to customize the space to reflect your personal style and vision. You can add your own decor, lighting, and entertainment to bring your overall vision to life. If you need help executing your vision, the Muzeo offers professional event-planning services. The expert team will help you every step of the way, from choosing the perfect ceremony spot to coordinating food and beverage service.
Muzeo Museum and Cultural Center Plaza: 250 (seated) – 400 (standing)
Near the Hollywood Hills lies the grandeur and charm of the restored Wattles Mansion and Garden. This estate is a true marvel, a beautiful haven filled with romanticism and a sense of wonder. Every inch of its carefully tended gardens ooze with elegance, and the opulent, stately home stands as a living, breathing monument to a bygone era of sophistication. Those who explore the halls of this magnificent mansion are transported on a journey of illustrious history.
The private outdoor ceremony site, set within a cascading waterfall, is a serene background to exchange your nuptials. It's the exquisite gardens that really steal the show, though. From rose gardens to cactus gardens, Japanese gardens to Mediterranean gardens, there is an oasis to suit every taste and theme.
Wattles Mansion and Gardens Capacity: 40-300 (guests)
This secret garden is what dreams are made of. Located in a hidden enclave, veiled from the crowded streets that snake through the urban jungle, lies a secret garden urban loft like no other. A sanctuary of serenity, where the vibrant colors of exotic plants dance in the dappled sunlight that filters through the rugged brickwork walls encasing this sanctuary of calm. A labyrinth of twisting vines and budding blossoms guides you through the corridors, enveloping you in a whimsical wonderland that ignites the imagination and soothes the soul.
With every step, a new botanic wonder unfurls before your eyes, tempting you to explore further. The scent of heady blooms and fresh foliage hangs in the air, mingling with the gentle buzz of hummingbirds and the distant sound of trickling water from a hidden fountain. This is a world of enchantment, where walking down the spiral staircase to pledge your love in front of family and friends, your dreams will come to life.
With flexible outdoor event spaces, this venue offers a myriad of options to meet your needs. From intimate and cozy to an extravagant celebration, the Secret Garden Loft offers varying packages to suit your personal preference. What's more, the attention to detail and exceptional service provided by their experienced team is second to none.
Secret Garden Capacity: 80
Who needs to walk down the aisle, when you can fly? Make your grand entrance to Hangar 21 by arriving in a helicopter. This unique venue sits in the heart of Fullerton in the OC. Hangar 21 stands tall and is simply awe-inspiring. This airfield turned event venue has cemented itself as an amazing outdoor space for unforgettable weddings. The unique blend of vintage aviation charm, breathtaking natural beauty, and elegance make Hangar 21 a truly unique spot.
This industrial-inspired masterpiece combines modern design with vintage aviation aesthetics. The spacious hangar features high ceilings and wide-open spaces, giving you ample space to create your perfect wedding extravaganza. The courtyard and outdoor areas are equally impressive and provide a perfect area for cocktail hour—or even as an alternate ceremony site. With up to 20,000 square feet of space, the entire property can accommodate up to 1,200 guests.
Hangar 21 Capacity: 1,200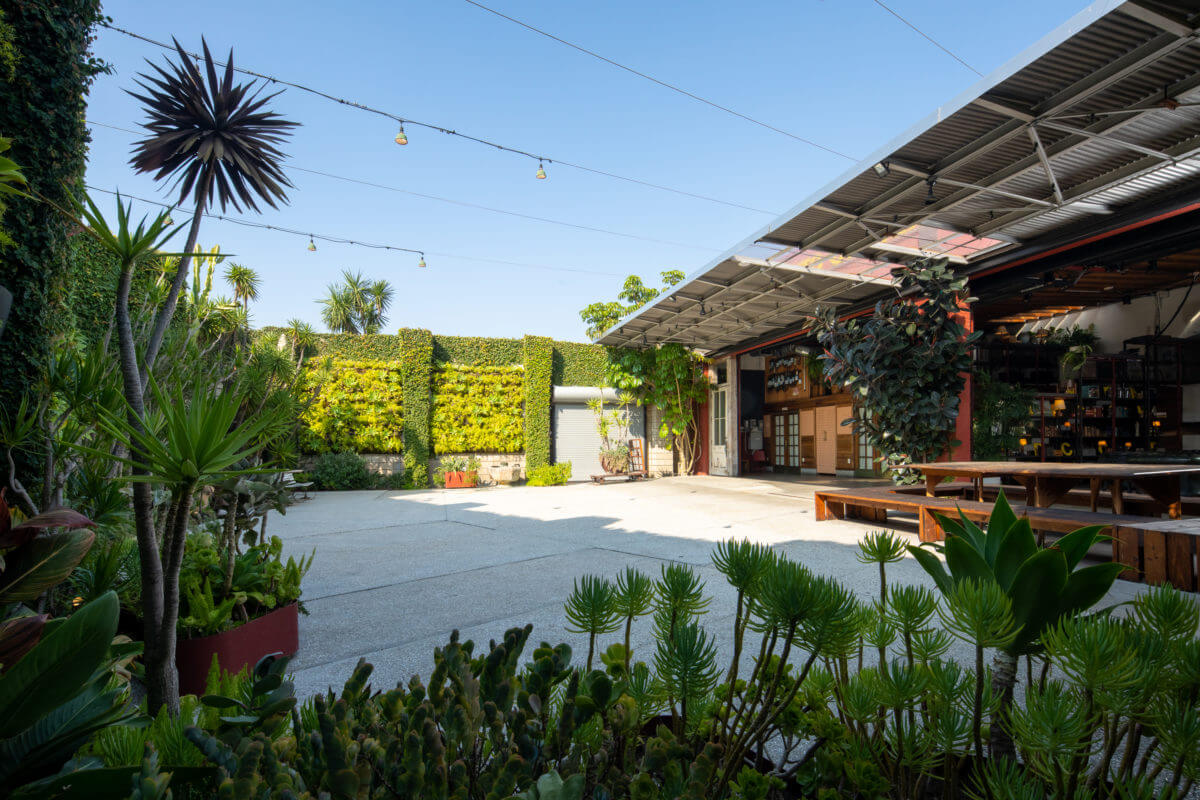 This whimsical space defies conventionality with an allure of irresistible charm. The aura of this quirky venue seems to resonate with the calming energy of a forest, transporting you to a realm of fantasy and enchantment that feels like a contemporary fairytale.
The repurposed 1980s warehouse delivers an unforgettable ambiance with its concrete walls, high ceiling, and natural lighting, which provides an edgy yet elegant backdrop that enhances the overall beauty of the space. The courtyard features a beautiful mural, large-scale garden beds, and a grand fireplace.
The garden features succulents, a pebble walkway that welcomes guests, and the reception area, which can accommodate large crowds, making dancing and dining under the stars a definite option.
This event space has become popular for outdoor wedding settings because of its eco-friendly features. The venue is powered by solar panels and uses sustainable materials and recycled fixtures throughout its indoor and outdoor spaces.
This environmental awareness not only makes the SmogShoppe a uniquely green event space, but it can also make its guests feel good about contributing to a more sustainable future.
SmogShoppe Capacity: 150-person garden ceremonies
150-person formal sit down dinners
250-person cocktail parties
With its rustic Spanish-style architecture, this venue screams sophistication and luxury in equal measure. With over 126 acres, the ranch's tranquil beauty offers a retreat where couples can exchange vows surrounded by nothing but the sounds of chirping birds and rustling leaves.
One of the most striking features are the spectacular Simi Valley views. In addition to the stunning mountain views, the space also features a central mosaic tile fountain and endless greenery with olive trees.
From the open-air chapel to the elegant barn, every inch of this property is infused with an unmistakable aura of romance and grandeur. It's the perfect place to bring your love story to life.
The Hummingbird Nest Capacity: 200 (seated) – 300 (standing)
This stunning outdoor wedding venue sitting on 94 acres offers coastal views of the Pacific Ocean and Catalina Island that stretch out to the horizon. What's more, from almost everywhere in the garden you have a view of the property's beautiful vineyards.
It's not just the views that make this venue remarkable; the attention to detail is beyond comparison. From the carefully designed space and the perfectly maintained grounds to the oak trees that create a natural canopy, this event space is a show stopper.
With ample space both indoors and outdoors, Catalina View Gardens is fully equipped to accommodate weddings of all sizes, offering full-service catering, a bar, indoor restrooms, ample parking, and a dance floor space for you and your loved ones to dance the night away.
This space truly has it all—from the charm of a rustic country setting and the sophistication of the luxurious garden to the coastal bluffs.
Catalina View Gardens Capacity: 125